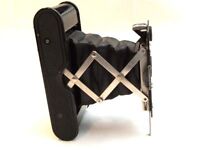 Kodak Vest Pocket Autographic - 'The Soldiers Camera'

With sales of 1,750,000 many of these cameras were taken to the battlefields of WW1 - hence the nickname.

The Kodak Vest Pocket Camera was produced from 1915 to 1919 after which there were changes in finish and more models were produced.

Now around 90 years old the black enamel of this example is in near perfect condition showing the high quality of finish that was obtained. The lens on the basic model was a simple achromatic meniscus but there were many better lenses offered (at appropriate prices!) and the diaphragm was marked in the us fashion of the time - nearview/portrait; average view; distant view; clouds and marine) and there was a four speed shutter (1/25, B,T,1/50).

Still capable of taking remarkably good shots providing you can find a source for 127 film

The Autographic system, which by the use of special film enabled the user to write a short comment on each photo on the actual film was a feature of many early Kodaks and was invented by Henry J. Gaisman.

The camera is still fairly readily available but in many cases the condition is poor as you might expect after nearly a century!

How much is it worth?

That is a difficult question and depends not only on condition but also on the lens fitted

The more common well used example in working order is around £15 to £20

For a perfect example in the original box with instructions and the highest spec lens (f6.7 Zeiss or Bausch & Lomb) take your best guess and double it!