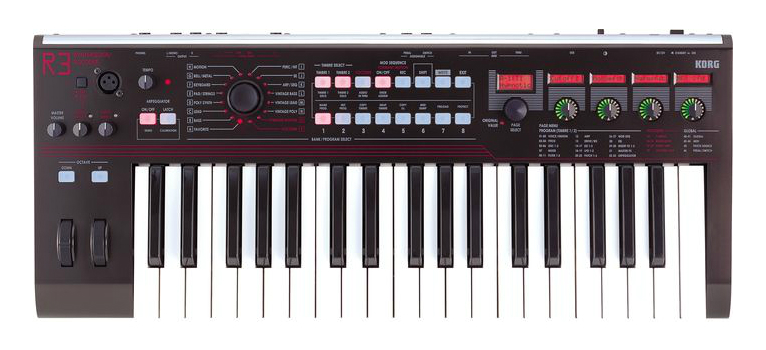 Korg is a Japanese manufacturer of electronic musical instruments and equipment, including electronic synthesisers.
About Korg Synthesisers
Synthesisers are electronic musical instruments. They have different types of user interface, typically a keyboard or other instrument controller. Other types of audio controller known as sound modules are also commonly used, often using Musical Instrument Digital Interface (MIDI) links.
The sounds produced can be either imitations of other instruments or new sounds. Sound is produced by the generation of electrical signals that are then converted into sound by amplifiers and loudspeakers.
Types of Synthesis
The various types of synthesis include additive synthesis, subtractive synthesis and ring modulation. Each type creates distinctive types of sound by generating and modulating sound waves in various ways. The use of synthesisers in popular music led to the development of the synthpop music genre in the late 1970s and throughout the 1980s and beyond.
Digital or Analogue
Synthesisers may be either analogue or digital, with analogue the original type and most frequently used. The components of synthesisers include electronic oscillators, which generate the raw sound signal, filters that modulate it and amplifiers that boost it. Synthesisers also contain envelopes to shape the sound as well as other modulating and effects processing components.
Korg has manufactured synthesisers since the early 1970s, producing products aimed at both amateur and professional musicians. Today the product range includes a variety of synthesisers, mostly with keyboard controllers. The expertise that Korg brings to synthesiser manufacture has resulted in products that are high quality, portable and capable of delivering high performance, superb sound.
Choosing a Korg Synthesiser
Considerations when it comes to purchasing a Korg synthesiser include the type of synthesiser, functionality with regards to significant features and different types of effect available.
Type of Synthesiser and Features
Most of Korg's synthesisers are analogue synthesisers with a keyboard controller. Features to look out for include the number of sounds, capabilities for sound combination, number of different effects, panel layout, editing software, connectivity and keyboard features such as the number of notes and key sensitivity.
Synthesisers range in size and complexity, from portable mini synthesisers with compact features to large analogue synthesisers with incredible functionality and 61 note keyboards.
Sounds and Effects
Part of the appeal of synthesisers is the access to hundreds of different sounds, including a variety of piano sounds, strings, guitar, wind, brass, and synth sounds. Some Korg synthesisers have over 500 different high-quality sounds. These sounds may also be combined to create new and innovative complex arrangements. A synthesiser with a decent effects system will negate the need for an external effects processor, so it is worth checking this out both from a cost and convenience perspective.
Korg synthesisers also offer the ability to insert different effects into the track, such as equalisation (EQ), delay, reverb, chorus, phaser, and flanger, allowing the sound to be modulated, customised and synchronised as required. Synthesisers may also be able to process external effects and add vocal characters. Vocoders are used to reproduce vocals and speech, which can then be added to sounds.
Panel Layout
The design of the panel affects how user friendly and intuitive the controls are and, therefore, how easy and enjoyable the synthesiser is to play. Panel layout varies in complexity depending on the type of synthesiser and number of functions and features. Features such as LED lights and indicators can be a nice touch.
Keyboard Features
Keyboard features to consider include the number of notes and key sensitivity. Some Korg synthesisers have 61 note keyboards running from C to C over five octaves. This length is more than sufficient for most purposes, although pianists may prefer a longer keyboard.
When it comes to how the keys feel to play, this can be a matter of individual taste and preference, so try out an instrument if possible before purchasing.
The keyboards on synthesisers respond quite differently to piano keys to touch. Piano keys generate louder sounds depending on how hard they are struck, a characteristic known as velocity sensitivity or touch sensitivity. Keyboard keys have a different construction and mechanism for generating sound. Most keyboard synthesisers are able to imitate the effect of piano keys to an extent, by generating louder sounds with stronger playing. This feature of keyboards allows for more natural and expressive playing. Always check to see if the keys are velocity sensitive or touch sensitive if this is an important consideration.
Keys may also have a characteristic known as aftertouch. This is which continued pressure on the keys encourages sound to be modulated after being generated. Aftertouch is another way to inject expressiveness and creativity into playing, but it is not typically considered as important a feature as touch sensitivity.
Korg Synthesisers
| | |
| --- | --- |
| | A compact, portable keyboard synthesiser with user friendly interface and high-quality sound. Keyboard consists of 37 touch sensitive keys. Effects include EQ, delay, chorus, phaser and flanger. Other features include vocoder, battery power operation and high visibility LED lights and indicators. Retro styled. |
| | A compact and versatile keyboard synthesiser with strong, powerful sound across the frequency range. Highlights include an external signal processor and highly flexible sound settings. |
| | A compact keyboard synthesiser with restyled retro keys and added functionality including ring modulation. There is an impressive array of effects, the ability to process external effects and a vocoder for adding vocal characteristics. |
| | A compact keyboard synthesiser with more added sounds than the MicroKORG XL. Includes a sound selector with new music genres. Vocoder and microphone included. High-quality components and stylish retro design. |
| | A compact, lightweight synthesiser with 37 touch sensitive keys, user friendly control panel and vocoder. Delivers professional-quality sound. |
| | Lightweight design with 61 note keyboard. Features 512 high-quality sound programmes which can be combined to create customised sounds and a powerful effects processor that allows the use of up to four effects simultaneously. Includes editing software. |
| | Professional-quality synthesiser with a responsive touch sensitive 61 note keyboard and intuitive panel layout. Features 440 superb-quality sounds and includes editing software. |
| | Professional-quality synthesiser with 61 note keyboard, powerful oscillators and intuitive panel layout. Effects processor includes six effects types in three master categories. Combines superb sound with classic vintage style and champagne gold finish. |
| | Ultra compact analogue synthesiser with multi-function ribbon keyboard, selectable oscillator and real time dynamic loop. Excellent connectivity with the capacity to link to multiple units and built in speakers. |
| | Ultra compact analogue synthesiser with ribbon keyboard and easy to use control panel. |
Find a Korg Synthesiser on eBay
Korg synthesisers can be found listed in the Musical Instruments section on eBay. The Musical Instruments section can be accessed from the eBay home page. Go to the left hand side tabs, scroll over All Categories and select Musical Instruments from the menu. Select Pro Audio Equipment followed by Synthesisers & Sound Modules. Under Type select Synthesiser and under Brand select Korg. Inclusion of various features, such as vocoders and aftertouch, can be specified under the Features heading. Condition and price range can also be specified.
Alternatively, to search directly for a Korg synthesiser, the search bar at the top of the eBay home page can also be used. Type in terms such as "Korg synthesiser" or a specific model to bring up listings.
Conclusion
Synthesisers are electronic musical instruments, often with a keyboard controller or another type of instrument controller. Korg has manufactured synthesisers since the 1970s and has a strong reputation in the field, producing high-quality synthesisers aimed at all levels from beginner to professional. Synthesisers range in complexity, from small ultra-portable units to advanced 61 note keyboard synthesisers with professional-quality sound and functionality. They benefit from access to hundreds of different sounds and excellent effects processors delivering customisable effects such as EQ, delay, reverb, chorus and many more. Vocoders add the capability to inject vocal characteristics and several models come with included microphones. Added to this are features such as intuitive panel layouts, high visibility LED lights, touch sensitive keys and excellent connectivity.