Ebay is better for sourcing bargains in venetian mirrored furniture but buyer beware! Read this review to help you understand mirrored furniture ranges available now ...
Laura Ashley, Graham & Green, Next, M&S, John Lewis and Harvey Nicks - all sell mirrored furniture BUT at a cost. We travel overseas DIRECT to the manufacturers that make for Laura Ashley, Graham and Green, Next, John Lewis, etc. in order to bring back the best value mirrored furniture just for you! We believe we are import experts at mirrored furniture which will add to your understanding of the style: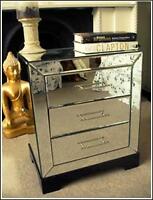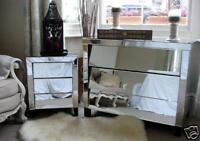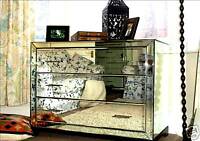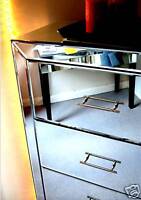 These pieces are all sold on the High St but do not belong to any particular brand since they have been copied from the Gatsby era of the early 1920's or are taken from the Art Deco era some years later. The ones featured above are sold by us. A little known fact about these items is that even antique collectors who seek out the original are now advised by specialists to buy from current suppliers because they are far better made and will last much longer than the originals.
5 THINGS TO LOOK OUT FOR WHEN BUYING MIRRORED FURNITURE
1) Does the seller only show a generic photo which is available all over google images? If so, how can you be sure of what you are really getting? Ask for more of the item you will be getting - the more in detail the better.
2) Do the mirrored drawers have a nice slide-action? Or are they simply a clumsy 'box-fit'? Ask the seller and you will soon become clearer of the quality on offer since 'box-fit' can chip easily. We never sell 'box-fit' only better quality slide-action.
3) Does the seller offer a delivery service? If not, you may be in for a terrible surprise upon opening via a standard courier... make sure the seller offers to deliver for you with their own van and man (you'll realise why in a moment) and that they also offer an insurance upon the item in transit, as we do.
4) Does the seller send the item in pieces and expect you to put it together? Or do they offer a service to put together for you upon delivery? If they don't... expect damages when you put it together which you will be liable for and not the seller. We have heard sad stories from people who have put on their own handles too tightly and the item has broken into pieces for which they were liable - we have asked Trading Standards about this which is why we always deliver ourselves and put the handles on for you.
5) Does the seller have 100% feedback - generally, the better the feedback the better the service - sorry for stating the obvious here but it's true. The sellers that care are NOT buyer beware! Look closely at any seller with feedback less than 95% and find why on their feedback.
*** We hope this review helps you to make a more peace of mind purchase! Please feel free to contact us for more information on glass and mirror quality via our ebay member id: laura_green_ashley_graham_mirrored_furniture
Mirrored furniture is so classic in style and will never date. It will compliment any room and will go with any other style of furniture or furnishings which is why it can either stand alone as a signature piece or blend in with other eclectic styles. Whilst it came back into fashion early in 2008 we believe the style will run and run because people are looking for a little sumptuous elegance in their own homes so why not start with something that exudes sheer beauty... just be sure you are aware of the facts! Happy bidding on ebay!