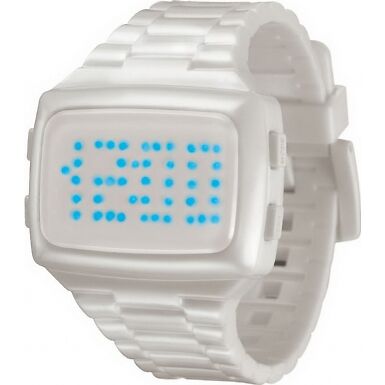 First introduced to the market in the 1970s, LED, or Light Emitting Diode, watches were considered to be a huge technological advancement in watch industry. Originally, LED watches featured only a digital display. However, these days LED watches come with both analogue and digital displays. LED watches come with a range of features, ideal for any type of lifestyle or personal preference.
LED watches can be purchased from various jewellery stores, major department stores, selected designer retailers, and various high street stores. Online stores, such as eBay, offer buyers a wide selection of LED watches of varying brands, types, styles, and materials. eBay features items for sale from sellers located across the United Kingdom and around the world. Learning about the different types of LED watches, the range of features available, and the types of watch strap options consumers have to choose from helps them make an intelligent purchase decision.
About LED Watch Technology
The first digital electronic watches were LED watches. Pulsar invented them in 1970, and the first LED watches were sold to the public in 1972. Many early LED watches required the user to press a button to see the LED display because they used up so much power to light up. These early versions of LED watches displayed time in numerical format. LED watches became less popular when LCD (Liquid Crystal Display) watches were introduced. However, with new technology and design innovations, LED watches have increased in popularity once again.
Analogue or Digital LED Display
Buyers have the option of choosing an LED watch that has either analogue or digital display. Analogue LED watches often have LED lights that illuminate numbers. Some brands make LED watches where the entire watch face lights up. These watches are often styled as dress watches.
Digital LED watches display the time in numerical format and tend to be styled as a more casual type of watch. Storm makes a range of LED digital watches that are quite unique, such as the Storm Volcanic Lava range of men's and women's digital LED watches. Casio is another brand that sells a wide range of digital LED watches, from the classic A159 and A178 models through to the modern LW-200 range. Analogue and digital watches are available in a range of LED colour displays.
Popular LED Watch Features
Inexpensive LED watches tend to offer fewer features than expensive designer branded watches. The particular features an individual may want is dependent on his or her budget as well as how and where the watch is to be used. Popular features of LED watches include a date window, alarm, chronograph, water resistance, multiple time zone displays, and heart rate monitor.
Date
Dress watches and everyday watches often come with a date display. Analogue watches tend to show the date in a small window, while digital display watches show the date in numerical form. This is a popular feature many individuals look for when buying a new LED watch.
Alarm
Digital display watches tend to offer alarm capabilities. LED watches with an alarm feature are popular on sports watches. Many watches that have an alarm also have stopwatch capabilities.
Chronograph
A chronograph watch is one that can be used as a stopwatch. Chronograph watches have a second hand that can be stopped and started with the press of a button. They can be quite expensive to buy due to their complex mechanisms. Many modern chronographs watches feature several smaller dials. One dial often has a revolution time of one second, a second dial has a revolution time of 60 seconds, while a third dial can have a revolution time of 60 minutes. All dials work in time with each other when the start/stop button is pressed.
Water Resistance
Water resistance in a watch is useful for everyday watches and sports watches. Scuba divers are recommended to purchase a watch with water resistance over 100 metres, while those who want to wear their watch while swimming, showering, or during various water sports can opt for a watch with water resistance up to 100 metres.
Multiple Time Zone
An LED watch with multiple time zones have complicated internal mechanisms. These watches can feature either 12 hour or 24 hour display for one or two other time zones, often showing Greenwich Mean Time or Coordinated Universal Time. Casio sell a good selection of watches with multiple time zone features.
Heart Rate Monitor
An ideal choice for the athlete or fitness fanatic, an LED watch with heart rate monitor can keep track of the wearer's heart rate. Special sports watches, such as the Timex Ironman watch, not only monitors the wearer's heart rate but can also record the average rate throughout a workout, show the amount of calories burned, and memorise up to 10 separate workout recordings.
LED Watch Strap Options
Watch straps are grouped into two categories. A bracelet is a metal linked band that usually has a metal clasp to close it. A band is a strap that can be made of leather, rubber, or fabric, and it is usually secured around the wrist with a belt-type closure, called a tang buckle.
Rubber
Depending on their price and quality, LED watch straps can be made of rubber, silicon, or plastic. Plastic watches tend to be the cheapest type available because they are not as durable as rubber or silicon straps. Watches with rubber or silicone straps are usually more expensive than plastic straps as they tend to be more durable, comfortable to wear, and easier to clean. Many good quality sports watches, designed for outdoor pursuits and water activities, are made of silicon.
Leather
A watch with a leather strap is a popular choice for many individuals. Leather straps are comfortable to wear, breathable, and hard wearing. A slim, black leather strap is a good option for a formal dress watch. A comfortable soft leather strap is also ideal for an everyday watch. The disadvantage with leather is that it needs to be conditioned, so it stays soft and supple, especially if it has been able to get wet. A leather strap that is not conditioned regularly is more likely to harden, crack, and break.
Metal
Ideal for dress watches or everyday watches, metal strap LED watches are stylish and look sophisticated and elegant. Hardwearing and durable, metal bracelet bands tend to be quite expensive to buy. They can be made of a wide range of metals including more affordable options like stainless steel, gold plated, or silver plated. Metals like platinum, titanium, or carbon fibre are far more costly to buy.
Fabric
Many diving watches and sports watches are made from various fabrics. Nylon and canvas banded watches tend to be the more popular choice for men's watches. The benefit of fabric watch bands is that they are available in a wide range of colours and patterns.
Fitting a Watch Strap
The ideal watch strap is neither too long nor too short. It needs to sit securely on the wearer's arm, without being too tight or uncomfortable during warmer weather when a person's wrist can expand. Watch straps are available in different sizes. The following table provides a list of men's watch strap sizes and their corresponding lengths.
| | | | | | |
| --- | --- | --- | --- | --- | --- |
| Men's Strap Size | Short | Regular | Standard | Long | X-Long |
| Length (cm) | 16.5 to 18.4 | 18.4 to 19.7 | 19.7 to 20.3 | 20.3 to 22 | 22 to 23.5 |
Men should look to the above chart for a quick overview of the various sizes. Below, the following table provides a list of women's watch strap sizes and their corresponding lengths in centimetres.
| | | | |
| --- | --- | --- | --- |
| Women's Strap Size | Short | Regular | Long |
| Length (cm) | 15.8 to 16.5 | 16.8 to 18 | 18.3 to 19.6 |
When buying a watch, it is important to try it on to ensure it fits correctly. Wearers should take into consideration how the strap may feel in cooler or warmer weather conditions.
Buying a LED Watch on eBay
The easiest way to find a LED watch on eBay is to type "LED watches" into the search bar on eBay's home page. This gives you an overview of what is available. Because eBay offers such an extensive choice of LED watches for sale, it is best to further refine your search. You can do this by using the search category options to filter the results to a more specific type of watch. Choosing to search for a men's or women's watch, specific brand, price range, and the condition of the watch helps buyers find exactly what they are looking for. Alternatively, buyers can also search for a specific type of watch, such as a women's Storm LED watch or a men's carbon fibre LED watch by using the search bar.
Buyers are recommended to choose a LED watch from a reputable eBay seller. These sellers are easily identified by the Top-rated seller badge located next to their listing. In order to receive Top-rated seller status, they must consistently achieve 4 and 5 star ratings, receive excellent feedback, provide accurate listing descriptions, and ship items quickly.
Conclusion
A LED watch can be an elegant piece of jewellery or a sophisticated everyday accessory. From inexpensive watches to top quality luxury designer brands, LED watches come in a wide range of displays, materials, and styles, all offering various features and functionality. Sports watches, dress watches, and everyday watches for men, women, and children are available with attractive and colourful LED display.
Consumers looking to purchase a new LED watch may like to consider whether they would prefer their watch to have analogue or digital display, what features they want their watch to offer, and the type of watch strap they would like. LED watches range significantly in price depending on what brand and type of watch an individual chooses. In order to find the perfect LED watch at a competitive price, many buyers opt to search on eBay. eBay makes searching for any type of LED watch simple and effective. With useful buying tools and secure payment options, buyers can purchase their new LED watch with confidence.