Is a Chromebase right for you?
What is it?

The LG Chromebase is the first all-in-one desktop computer that runs on Google's Chrome operating system. Made up of a monitor, keyboard and mouse, it's a more affordable alternative to a desktop Windows 8 PC or Apple iMac.

What does it do?

The Chromebase does all the things you'd expect a computer to do when you are online, like browse the web, check emails, watch video and perform work tasks. One of the biggest advantages over Windows and Apple desktops is the rapid boot-up times.

Like Google's Chromebook laptops, the Chromebase is powered by Intel's latest generation processors and when combined with Google's streamlined, browser-based operating system can help the all-in-one jump into life in seconds.

You can also easily access popular Google applications like Gmail, Google Maps and Google Drive to store files in the cloud as well as create and edit documents. Google's growing Chrome Web OS Store gives users access to thousands of games, productivity tools, web extensions and apps both free and paid for.

How does it work?

At the heart of the Chromebase is Google's browser-based Chrome operating system. This means everything from work to play is done inside the web browser. There's no shortcuts or applications on the desktop as software runs on separate browser tabs.

To get the best experience you need to be connected to the internet. This ensures you can store and save content in the cloud which is a key principle of using a Chrome-based computer. You can still access some software offline as Google continues to improve the ability to use many Chrome apps when you are not online but an internet connection is vital here.

You'll also need to set up a Google account which is free and very easy to do. This gives you access to Google's numerous online services including Google Drive, Google Docs and Google Sheets. If you own an Android smartphone or tablet, you can create a unified experience carrying over bookmarks and access files across devices.

Why should I want one?

If you live most of your life online and want something that's simple, easy to use and quick to boot up, the Chromebase is a good fit. Compared to a big tablet it has a more traditional web experience and of course comes with a dedicated keyboard and mouse.

There's no additional software to worry about as Google automatically updates features like anti-virus security in the background. So, there should be less of a concern about the kind of malware and virus threats that Windows PCs regularly come under.

While LG has yet to reveal an official price for the all-in-one desktop computer, it's highly likely to be a much more affordable alternative to a desktop PC or a Mac making it perfect for students and families who want to set up multiple profiles to share the Chromebase.

What are its drawbacks?

One of the biggest disadvantages of the Chromebase and Chrome-based devices on the whole is the small amount of onboard storage. There's just 16GB of space to store files with a greater emphasis on saving content in the cloud via Google Drive. Initially you will have some free cloud storage to start you off with the option to purchase more.

Another issue is the lack of support for PC-friendly software like Microsoft Office and Photoshop. Google does provide its own alternatives and will let you import Word and Excel documents directly to Google Drive where you can still work on them. If you have a Microsoft Office 365 subscription, you can also use the web-based Office apps.

If you like playing games like Grand Theft Auto or FIFA, this might not be the computer for you. The Google Chrome Web store does offer a wide range of games to play but can not match the more graphically demanding games available to Windows and Mac users.

The Chromebase doesn't include a CD or DVD drive so if you are hoping to watch a film or listen to some music, you are going to have to stream it online or take advantage of services like Google Play Music and Google Play Movies.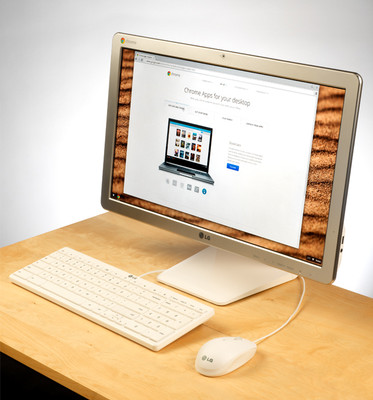 eBay likes:
The quick boot-up times and seamless integration with Google's software and applications make using the
Chromebase
a seamless transition for Google users. There's also a HDMI input so you can use it as a second screen monitor for your games console, desktop or laptop.
Watch out for:
The lack of big onboard storage means you need to rely on saving the majority of content in the cloud. The Chrome Web Store is still growing and currently doesn't include support for services like Skype and Sky Go.


LG Chromebase
Screen size
21.5-inch widescreen Full HD IPS display
RAM
2 GB
Hard Disk
16GB iSSD
Processor
Intel® Celeron® CPU
Graphics
Integrated Intel HD graphics
Price
tbc
Summary
An affordable all-in-one computer that's easy to use when online
Anything else


HDMI input, Keyboard and Mouse, 1.3-megapixel 720pHD webcam, 5W speakers,
USB 2.0 x3, USB 3.0 x1, LAN