WORLD'S RAREST STAMPS in modern philately
(the "Gronchi Rosa" of Libya) ***
In 1986 Libya (The Socialist People's Libyan Arab Jamahiriya) already had many issues dedicated to the Leader Colonel Muhammar Khadafi and one "Ordinary set" issue (12 stamps issued on 01.01.1979 + 3 issued on 02.01.1983). But no "Ordinary set" was dedicated to the Leader until that moment.
So, it was decided to issue a luxury set of 12 stamps (50/60/70/80/90/100/200/250/300/500/1500/2500 dirhams) to be printed with calcographic process.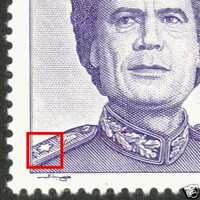 The result was superb. Stamps were officially released on Wednesday January 1st, 1986.
Immediately after the release one of the employee of the Central Postal Office in Tripoli noticed a detail in the stamp. A very small "star" in the military insignia on the right shoulder of Colonel Khadafi. The star had six points and it was similar to the "Star of David" symbol of the Israeli nation. It is well known that there are no diplomatic relations between Libya and Israel. The managers of the Libyan Posts quickly decided to stop the sale of the stamps. They were immediately withdrawn from all the postal offices of Libya. According to Scott Catalogue (confirmed by our sources in Libya) stamps were on sale for no more than a couple of hours.
The logical question which arise from the above is: what is the real rarity of this issue and consequently its value?
First of all we have to consider that we are speaking of an ordinary set with a high total face-value of Libyan Dinars 5,700. As a consequence we can make the following hypothesis:
1) Complete sets MNH - The number of local philatelic collectors in Libya is not very high (even if we have to say that they are more competent and passionate than many philatelic collectors in the world). So, the quantity sold for each new issue is quite modest. Considering the high face-value of this set, the number of sets MNH sold was even less than usual. Then of course we have to consider that the issue was withdrawn after few hours and not all the collectors went to the post offices in time.
2) FDC philatelic covers - Same as above. The usual quantity sold for each new issue was very limited; it was even less for this issue.
Complete set on two FDCs
3) Non-philatelic covers (travelled covers) - The number of genuine non-philatelic covers is supposed to be extremely low, probably few pieces only. In fact we have to consider that the first day of issue only the main postal offices (e.g. Tripoli, Benghazi, Sirt, Sebha) have new issues available and they use together with previous issues already available in their stocks. Finally we have to consider the very short time of existence of this issue (approx. 2 hours). According to some sources order was given by the Postal Direction to stop those letters and substitute (by tearing or covering) "Khadafi" stamps with other stamps having the same value.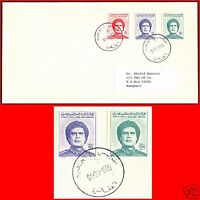 Travelled cover from Tripoli to Benghazi (01.01.1986)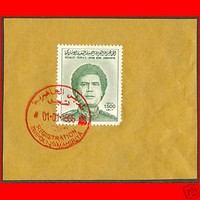 Stamp 1500 dirhams on fragment (postmark "Registration Tripoli Jamahiriya")
*** All the above information will remind to the Italian collectors the similar story of "Gronchi Rosa". The stamp was issued on April 3rd 1961 and withdrawn from circulation the same day because of a mistake in the design. This stamp is the most famous Italian stamp. It quickly reached extremely high catalogue quotations for MNH, FDC and travelled covers.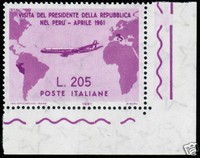 "Gronchi Rosa" MNH
Travelled cover. "Gronchi Rosa" was covered with a new stamp in substitution, having the same face value but modified design and different colour (grey instead of pink)
There is one more legitimate question: was 1986 "Khadafi" set a genuine error or just a speculative operation ??? First of all we have to say that we are not speaking of a widely requested thematic/topical issue. When a thematic issue is involved everything is possible: errors, varieties, imperforated, overprintings, etc! On a principle, the only collectors who could be interested in this ordinary set were the collectors of Libya as a nation. Really not enough to arrange a speculative operation which required the withdrawn of a set of 12 stamps having high printing costs! But, more than every other consideration, we have to say that nobody in Libya would take the freedom to use the image of the Leader of the September Revolution for speculative purposes.
The issue of Libya was always required especially by USA, UK and Middle-East (Lebanon, Syria) collectors. It is a very nice set of stamps and celebrates one of the most famous person in the world in the last 40 years (in 2009 will be the 40th anniversary of the September Revolution). Destiny wants that the same year in April (15.04.1986), Libya and Colonel Khadafi himself, together with his family, were victims of the US air attack; long years of international economic embargo followed.
The most important world Philatelic Catalogues indicate its existence but, with reliability and modesty, prefer not to indicate any value. For special issues like that, it is much better that the correct value comes from the "market" and from the farsigthedness of collectors.
PHILATELICUM