As a collector of LV it pains me to see the number of fake LV on Ebay....
The first point should be that LV do NOT stock wholesalers, market stalls, or warehouses of any description. The only place to purchase 'new from the shop LV' is to visit one of their stores (several in London, Manchester etc).
The other way to buy LV is to go to a reputable LV re-seller - preferably one with 'ALVA' or 'my poupette' recommended next to their Ebay id. However, please check that these sellers are actually entitled to use these site recommendations.
Visit ' my poupette.com' (a site dedicated to LV and stamping out fakes) for excellent advice and also, to see their re-sellers list.
I cannot understand how anyone would want to part with their hard earned cash to carry a cheap and nasty 'rip-off'. Surely it is better to carry a genuine, or good quality item that one can afford than a fake? If an item is advertised at a rock bottom price it's a fake, if the seller is offering 20 LV Almas - they are fakes. A receipt is NO guarantee, these are widely available for sale on the internet. These people prey on unsuspecting buyers - some using photos from sites like 'e luxury.com', this alone is an infringement of copyright. Don't be hood winked - know your stuff, read up on your preferred bag/purse, and if an advertisement is questionable, report it to Ebay. Some sellers cry ignorance as a defence - Ebays listings policy states that it is the sellers responsibility to ensure that the products they sell are genuine. If you are planning on buying LV from a wholesaler or warehouse just remember, it IS counterfeit.
FAKE FAKE FAKE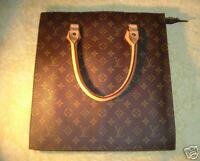 Hope this helps!