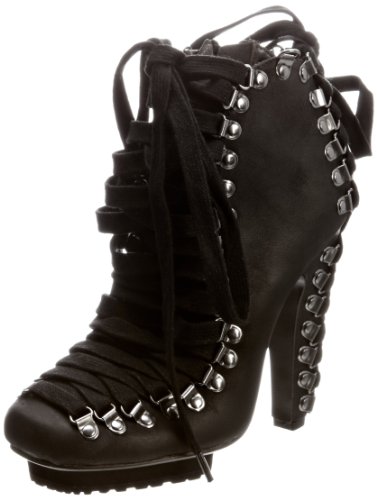 The lace-up heel is a unique hybrid of a couple different types of shoes, with hints of wedges, brogues, and boots visible. This family of shoe includes lace-up high-heeled boots, which gives the shopper more options and occasions to wear her favourite laced heels. Typically worn in autumn and winter, but seen throughout all the seasons, lace-up heels are a trendy combination of style and professionalism. Wearing heels instantly updates an outfit from a casual, everyday look to a classier ensemble that one can wear to a party or date. This guide provides consumers with an overview of the different types of lace-up heels, shoe sizes, heel sizes, colour and materials, and how best to wear lace-up heels with different outfits. A section on how to find and buy lace-up heels on eBay is also included. Learning about lace-up heels aids in the shopper in making purchasing decisions that best fit her personality, wardrobe, and wallet.
Types of Lace-Up Heels
There are two main types of lace-up heels: the first is traditional lace-up heels, which encompasses boot lace-up heels and strappy lace-up heels. The second type are lace-up heeled boots that end at the wearer's shin, knee, or thigh. All of these lace-up heels can be found in multiple colours, styles, and sizes.
Traditional Lace-Up Heels
The "traditional" lace-up heels end right at the ankle, and either are more resemblant to a boot or to a sandal. With the boot lace-up heel and strappy lace-up heel together as part of the shopper's wardrobe, these two traditional heels can be worn in winter, summer, spring, and fall, allowing lace-up heels to be worn all year long.
Boot Lace-Up Heel
The boot lace-up heel style is ideal for winter wear, so feet stay warm but still look fashionable. Because of the full foot coverage provided by these shoes, shoppers can wear socks for added warmth. These heels can easily be paired with cute tights or leggings in colder weather. Boot lace-up heels can be used to evoke a variety of styles and statements, from classic rock 'n' roll with leather or leopard print, to innocent schoolgirl with patent leather or suede.
Strappy Lace-Up Heels
The strappy lace-up heel, or sandal lace-up heel, is ideal for summer and spring, with large portions of the foot often being exposed. The straps, varying in thickness, that hold the laces of these shoes make them very reminiscent of a gladiator sandal with the addition of a heel. These heels should never be worn with socks or leggings; depending on the outfit, opaque tights may be worn with strappy lace-up heels. More will be said on how to wear strappy lace-up heels below.
Shin-High and Above Lace-Up Heeled Boots
Within the category of lace-up heels falls the high-heeled lace-up boot. These boots differ from the lace-up heel boots above because they reach higher than the ankle on the wearer. These boots can reach up to the shin, knee, above the knee, or be thigh-high. Typically made of leather, these lace-up heeled boots include wedge heels, stiletto heels, and normal, sturdy heels that are ideal for everyday wear. The shopper has many styles available to her with heeled lace-up boots, including equestrian riding style, biker, punk, military, patterned, retro, goth, steampunk, everyday, and couture.
Shoe Sizes
With the chart below, the shopper sees the standard UK shoe sizes, as well as the standard US sizes, and these sizes measured in centimetres.
| UK Shoe Size | Size in Centimetres | Size in Inches |
| --- | --- | --- |
| 2 | 22.1 | 8.70 |
| 2.5 | 22.4 | 8.82 |
| 3 | 22.9 | 9.02 |
| 3.5 | 23.3 | 9.17 |
| 4 | 23.7 | 9.33 |
| 4.5 | 24.1 | 9.49 |
| 5 | 24.6 | 9.69 |
| 5.5 | 24.9 | 9.80 |
| 6 | 25.4 | 9.84 |
| 6.5 | 25.9 | 10.20 |
| 7 | 26.2 | 10.31 |
When wanting to measure the height of a shoe, the shopper should start at the back of the shoe, and measure from the bottom of the heel to the top of the shoe. To measure heel height, the shopper should include the heel from where it connects to the shoe to the heel cap at the bottom. And finally, one can measure platform height by starting from the bottom of the sole and measuring to the top of the platform where it connects with the shoe.
How to Wear
With the various types of lace-up heels available, the shopper has many chances to wear these shoes to various events. But with different types of shoes come important and varying rules of fashion that
Boot Lace-Up Heels
When wearing boot lace-up heels that hit the ankle, there are essentially three acceptable ways to wear them: with trousers, with skirts, and with dresses. Boot lace-up heels contain more fashion "Don'ts" than shoppers may expect, and it is important to know exactly how to wear these heels, in order to do them justice.
Trousers
To wear these heels with trousers, one either must have the trouser leg cover up at least half of the boot, if one is wearing dress trousers or boot-cut jeans. Alternatively, one can wear skinny jeans or other close-fitting pants, with the end of the pant leg hitting the at least top of the boot or below. Boot lace-up heels are also commonly worn with chinos that are rolled up a few times right at the top of the shoe.
Skirts
When wearing a boot lace-up heel with a skirt, one is advised to choose either a full-length skirt or a miniskirt. Wearing a mid-length skirt, especially one that is fitted, with boot lace-up heels can make the calves appear short and unshapely. A full-length skirt allows for full coverage while still presenting an appealing figure, and a miniskirt with boot lace-up heels gives the wearer the appearance of having longer legs. When wearing a miniskirt, leggings or tights can be worn, making it easier for these shoes to be shown off in colder seasons while still wearing a skirt.
Dresses
As with when wearing a skirt, when a dress is worn with boot lace-up heels, the dress should either be full-length or hit above the wearer's knee. To make an outfit more interesting, the shopper can wear patterned leggings or tights with a dress and boot lace-up heels.
Strappy Lace-Up Heels
Many of the clothing items that can be worn with lace-up heeled boots can also be paired with strappy lace-up heels, as well as shorts and capris. While a lace-up heeled boot end distinctly at the ankle and, with the full-foot coverage, can shorten the length of the wearer's leg and clash with shorts and capris, this is not so with strappy lace-up heels. These heels often expose some parts of the wearer's foot and add a summery, lighter look to the outfit. Wearers can choose to pair strappy lace-up heels with a skirt or dress of any length; because of the exposed foot, the wearer does not need to worry about creating an awkward or unappealing leg shape with a certain type of skirt or dress. Strappy lace-up heels can be worn with long trousers, capris, or shorts.
Shin-High and Above Lace-Up Heeled Boots
Lace-up heeled boots are popularly worn tucked into skinny jeans, to create a sexy look that still flatters the figure. Perfect for a night on the town, lace-up heeled boots that hit the shin, knee, or thigh can be paired with skirts and dresses for fun evening wear. These boots are suitable to wear with tights or leggings, and a common outfit includes lace-up heeled boots with leggings and a sweater dress, or a long cardigan for a fun, winter-friendly look.
Colour, Heel Size, and Material of Lace-Up Heels
The wide range of colours for lace-up heels available include, but are not limited to, the basics of fashion which are black, brown, grey, and beige, but also purple, red, green, and multicolour. Heel sizes range from low (1.27-3.81 cm), medium (3.81-7.62 cm), and high (7.62-11.43 cm). If the shopper plans to wear these heels primarily for business wear, a low or medium heel is the ideal choice. And as for material, shoppers can choose from 100 per cent leather, suede, rubber, canvas, faux suede, and more. Though leather is more expensive, shoppers who buy 100 per cent leather shoes make an investment, and receive shoes that are durable and long lasting. Shoppers should be aware that suede, while fashionable and attractive, is easily corrupted by rain, snow, and mud, so they should only be worn during dry, precipitation-free days. For shoppers who choose not to wear real leather, faux leather lace-up heels are an alternative option.
How to Buy Lace-Up Heels on eBay
Fashionable shoes such as these different types of lace-up heels can be found at various department stores and women's fashion stores. On eBay, shoes can be found quickly and easily from the comfort of your own home with discerning search menus, and customer reviews to help determine your purchasing decision. To purchase these shoes on eBay, you must first go to the eBay home page, then find the women's fashion category. From there, narrow down your search criteria to just shoes, or boots, then heels, and finally, lace-up heels. To find the exact shoe you are looking for, narrow your search by using the selective menu by choosing your shoe size or a brand you are interested in. You can also narrow your search for lace-up heels by setting the price range to find something that fits your budget. Alternatively, you can simply type what kind of shoe you want into the search box, like "red lace-up heel", or "suede lace-up heel".On eBay, shoppers have a wide variety of choices in lace-up heels, not just limited to strappy lace-ups or boot lace-ups. By using the selective search engines, shoppers can receive exactly the type of heel that is wanted, from differing materials, to colour, to heel size. You also can choose to buy only from trusted sellers, or from people who have very high feedback from previous buyers.
Conclusion
The right shoes can make or break a day, a date, an attitude, or an outfit. Add in the fact that good shoes are considered an investment that will last for a couple years, and this makes finding the right pair of shoes very important. Consequently, it is important for the shopper to be informed about their shoe-purchasing decisions. A shopper must know the different types of lace-up heels and how to wear each type to present a fashionable, classy, flattering figure. Knowing (ahead of time, that is, before the actual shopping starts) what colour, material, size, and heel height the shopper wants out of her shoe is also vital. With eBay, the shopper easily finds the exact lace-up heel she wants, be it strappy, a boot, something simple that can be worn with a variety of outfits, or a bright dramatic shoe for special occasions. eBay provides a easy-to-use platform for shoe shopping, with thousands of different kinds of shoes available and discerning search options that allow the shopper to find the perfect pair.