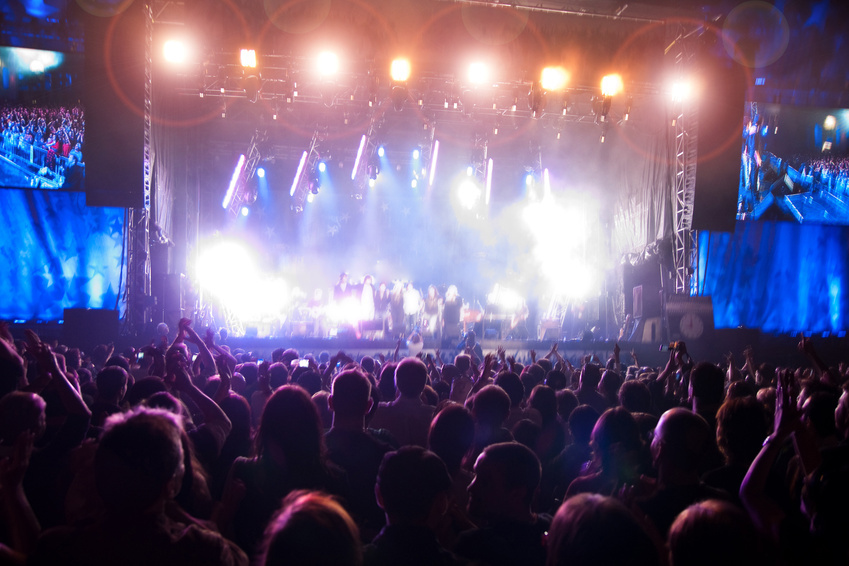 Buying tickets to concerts that boast of popular performers, singers, and bands can be tricky, given that they don't take long to become sold out. In many instances, people log on to given websites on the days tickets are meant to go on sale, only to find out that all tickets have already been sold. With Lana Del Rey touring Great Britain, the surge of people looking for tickets to her concerts continues to grow, and as the concert dates get closer, there's every possibility that getting tickets is bound to get tougher. However, simply wanting to watch her perform may not be enough.
Buying tickets for her concerts, buyers should know, includes exploring online as well as offline options. When it comes to buying Lana Del Rey tickets, options include buying tickets directly at the venue, but given how much in demand they are, finding them at the venue does seem unlikely. People also have the option to turn to ticketing agencies; although online platforms, like eBay, present a better alternative, given that this is where people can expect to find tickets to even sold out concerts. People looking for Lana Del Rey concert tickets who don't know much about her should ideally learn a little about her first, and knowing about her past performances is something that helps show how well-travelled and appreciated she is.
A Little About Lana Del Rey
Lana Del Rey's voice and music has mesmerised thousands of people the world over at concerts and festivals, and fans wanting to find out more about her comes as no surprise. Born Elizabeth Woolridge Grant in 1986, she spent most of her years growing up in Lake Placid, New York, a place where she started displaying her talent in local bars. Born in New York City, she spent some time at a Connecticut boarding school, before she moved to the Big Apple when she turned 18 with the intention of studying metaphysics.
In NYC, she started performing at different clubs, although she wasn't very keen on "pursuing it seriously". When she was 19, she was signed on by an independent label, however, the recording house in question soon went out of business.
Her first recording contract came with 5 Points Record and resulted in a digital album titled, "Lana Del Ray a.k.a. Lizzy Grant", when she was 20 years old. In April 2010, she chose to buy herself out of her existing contract with 5 Points Record, and in October 2011 she joined hands with Polydor, Interscope, and Stranger Records.
"Video Games", her debut single, saw the light of day in June 2011, and the hugely popular YouTube video that catapulted her to fame came out in August 2011. Her second studio album, titled "Born to Die", comprising of hits like "Born to Die", "National Anthem", and "Blue Jeans", has made it to various top 10 charts across Europe, and has sold in excess of 3.5 million copies.
Lana Del Rey's Performances
Lana Del Rey has performed live on numerous occasions since she first started her career, having given 18 live performances in 2006. Mando Diao, in their Berlin MTV Unplugged concert in 2010, featured Del Rey. Her performances in 2011 included those in the U.S., Canada, England, Scotland, Germany, the Netherlands, and France. She performed on "Saturday Night Live" in 2012, which was a performance that did not garner positive reviews. In 2012, she also appeared on the "Late Show with David Letterman", "Jimmy Kimmel Live", "American Idol", "The Voice U.K.", and "Later... with Jools Holland". 2012 also saw her touring countries like Australia, England, Spain, Portugal, Germany, France, Belgium, and Norway.
Her performances in 2013 in Europe, include concerts spread across France, Denmark, Germany, Sweden, Norway, Austria, Luxembourg, Czech Republic, Switzerland, Italy, England, Scotland, Ireland, the Netherlands, Belgium, Latvia, Poland, Lithuania, Russia, Ukraine, Belarus, Finland, and Serbia.
This list of performances is not comprehensive, by any means, and given the number of live performances she's delivered in the past, it is only natural to expect many more in the future.
Looking for Lana Del Rey Concert Tickets Online
With more and more people turning online to shop for various items, this is one medium that businesses can no longer ignore, which is precisely why tickets to just about any concert are generally made available online. However, managing to find tickets to concerts of popular singers, like Del Rey, is easier said than done.
Social media platforms, like Twitter and Facebook, can be used to find out about future touring dates, either through recording companies or through a Del Rey fan's account. There are instances when fans are given the ability to purchase tickets before they actually go on sale through the use of special links or codes, so it helps when people follow their favourite artists online. In addition, promoters of concerts and corporate sponsors are known to offer pre-sale codes that fans can use to buy tickets online before they actually go on sale to the general public. Trying to buy tickets to a Del Rey concert through a ticketing website is always an option; however, on days when tickets go on sale, their functioning can leave a lot to be desired because of heavy bandwidth usage.
Looking for Lana Del Rey Concert Tickets Offline
Some mobile phone companies, banking institutions, radio stations, and other businesses are known to offer their customers concert tickets, which can come in the form of freebies, rewards, or prizes for competitions. Getting in line at a physical ticket sale counter when the public sale begins can be daunting, given the amount of time people may have to wait owing to the popularity that Del Rey enjoys. Hoping to buy Del Rey concert tickets over the phone by calling a ticketing agency can be quite a challenge, too. After all, instances of people having to stay on hold for an hour or so aren't uncommon, and being told that tickets are no longer available after the long wait is anything but pleasant.
More Tips to Buy Lana Del Rey Tickets
Before buying event tickets, not just to a Del Rey concert, but to any concert, buyers should try to find out when tickets to the chosen concert are to go on sale. Paying attention to the convenience and processing fees that some ticketing agencies are known to charge is important, because this can increase the price of a ticket considerably. Also, simply because a show is sold out does not mean that tickets cannot be acquired; almost always, there are people who can't make it to the concert as planned, and want to sell their tickets to recover the money they already spent. When buying a ticket, paying attention to the date, the timings, and the venue, as printed on the ticket, is crucial for obvious reasons.
Buying Lana Del Rey Tickets on eBay
A number of people aren't aware of the fact that eBay can serve as an excellent source when it comes to buying event tickets, which includes tickets to music concerts, sports events, theatrical productions, comedy shows, theme parks, and museums. When it comes to Lana Del Rey concert tickets, eBay users can expect to find more than just a few alternatives, and this platform even gives buyers the ability to look for tickets to sold out Del Rey concerts. Del Rey concert tickets that users can expect to find through eBay not only cover different venues, they also offer users different varied seating and standing alternatives.
Since not all eBay sellers charge the same in the form of postage and packaging costs, paying attention to this aspect becomes important; and the best option when it comes to dealing with postage and packaging costs is to look for sellers who offer free delivery or sellers who gives buyers the option to pick up their tickets in person, again, for free. When it comes to looking for Del Rey concert tickets using eBay, users can use the search box or eBay's intrinsic menu system.
Conclusion
A good concert is not forgotten in a hurry, and going by her past performances, fans can expect Lana Del Rey's performances in Great Britain to rival those people know she's capable of delivering. Getting tickets to her shows ahead of time does seem to be the order of the day, knowing that her concert organisers, more often than not, manage to sell all tickets rather quickly. The good thing is that buyers in today's world have various alternatives to turn to when it comes to buying concert tickets, and the online world, with sites like eBay, does give fans a good alternative.
When it comes to buying a Del Rey ticket from a third-party, buyers should ensure that they are buying genuine tickets, and when in doubt, getting in touch with the organiser to clarify is the obvious way to go. If buyers find ads for tickets that do not offer too much information, getting all questions answered ahead of time is suggested. Importantly, buyers dealing with the secondary market should take into account that while this route may present them with varied prices, it also gives them the ability to look for tickets to sold out events.