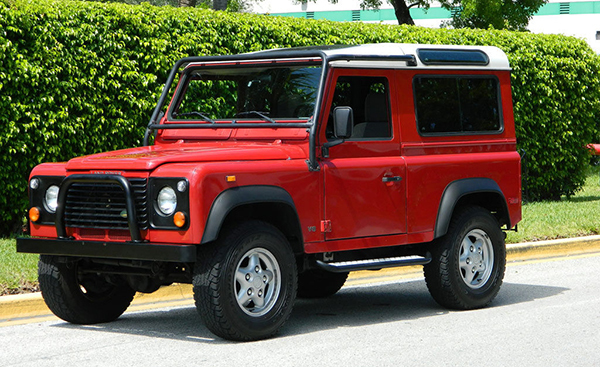 Whether you have a Defender, a Discovery, or a Freelander, you can improve the look and performance of your Land Rover, or repair and refurbish it, with the right body kit. From restoring your paint work to improving your fuel economy and aerodynamics, you can choose from an extensive list of body kits. Gaining a good understanding of some of the most popular Land Rover body kits and their purposes enables you to make a confident purchasing choice and improve the look and performance of your Land Rover.
Land Rover Spoiler Body Kit
Adding a spoiler to your Land Rover improves the aerodynamics of the vehicle. A rear spoiler sits on the rear lip of the roof on a Land Rover and interrupts the unfavourable flow of air across the vehicle. This decreases resistance and helps reduce your fuel consumption, helping you save money. A front spoiler sits below the bumper and not only interrupts aerodynamically poor air flow, but also limits the amount of air passing beneath the car, reducing lift and drag, while helping create stabilising down-force.
Land Rover Wing Body Kit
Adding wings to your Land Rover helps stabilise your vehicle. Wing kits, with proper placement and installation, increase drag on the rear of the vehicle. This reduces lift and increases down-force as the air passes around the wings, helping stabilise your Land Rover when travelling at high speeds.
Land Rover Paintwork Body Kit
Adding wings, spoilers, skirts, and other body accessories only goes so far toward improving the look of your Land Rover. If your paintwork is shoddy, then the overall appearance is lacklustre, regardless of your other accessories. Chemicals, tree sap, bird dropping, insect splatter, and a whole host of other things can damage your paint job, not to mention scratches, scuff, and scrapes. If left without proper attention, the damage goes beyond the top layer of paint and then rust and corrosion eventually set in, resulting in costly bodywork repairs. For small areas of damage, choose a paint repair kit, matching the exact colour of your Land Rover. Clean and prepare the area, and then apply the undercoat, primer, paint, and top coat. You can also choose a paintwork bodywork kit and strip and recoat your vehicle, completely transforming the appearance of it. To forego this need, keep your paintwork clean and protected with a comprehensive cleaning and polishing routine and a kit, such as one offered by AutoGlym. Proper cleaning, polishing, and waxing protects your Land Rover paintwork against degradation from ultraviolet light, chemicals that fly up from the road surface, as well as insect splatter and bird droppings.