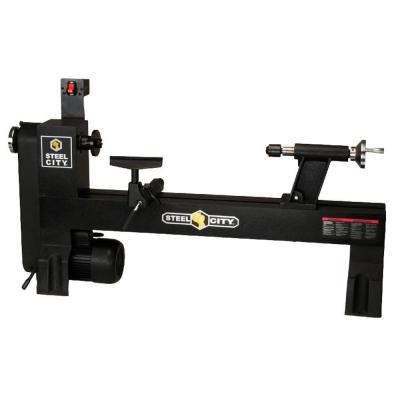 Lathes are a type of machine that can be used to sculpt metal or wood. Lathes may be a common tool found in workshops, but they can also be used to create some very interesting pieces of art if the user knows what he or she is doing. Some of the interesting items that one can create with a lathe includes bowls and wooden and metal sculptures. A buyer who is interested in creating artwork with a lathe should know that there are various types of lathes. Some of the different types include wood lathes, engine lathes, metal lathes, and toolroom lathes. The buyer's choice should depend on what he or she is doing and what materials he or she is using.
When working with a lathe, one should also keep in mind a variety of tips on safety measures and how to properly clean a lathe. Supplies to clean a lathe can often be found in many of the same locations where lathes are found. This includes home improvement and hardware stores and many Internet sites, including the mega shopping site eBay.
Types of Lathes
A buyer may be surprised to learn that he or she actually needs to choose from different types of lathes. Some of the varieties a buyer can select from include wood lathes, metal lathes, engine lathes, and toolroom lathes. The buyer's choice should depend on a number of factors, including what types of materials the buyer is working with and what kind of product the artist is trying to make. Most of the lathes also come in different sizes that are best suited for different projects, and this is another factor to take into account.
Wood Lathes
A wood lathe is the simplest type of lathe available and is used for turning wood. These small machines generally have a head, tailstock, headstock, and tool rest. Because the cutting tools are moved by hand, there are no precision methods such as those that are found on some metal working machines. These lathes also come in different styles. Benchtop lathes can be used for smaller projects, such as pens or yo-yos, while larger machines can be used for making spindles used in furniture and many other items.
Metal Lathes
A metal lathe is needed when steel, iron, or brass need to be notched or cut. Although it was originally designed to be used with metals, some other materials are now used with metal lathes. A metal lathe is usually composed of various parts, including the headstock, bed, and carriage. This lathe cuts materials into various shapes by cutting away at the material that is rotated on the machine. A buyer should be familiar with the different metal lathes, including capstan lathes, turret lathes, and bench lathes. Some metal lathes even use computer technology to help shape pieces of art.
Engine Lathes
An engine lathe is a metal turning machine commonly found in a workshop. These lathes tend to come in a variety of sizes and can be used with almost any type of material. This type of lathe's spindle is generally more complex than the spindle on a wood lathe, so it can provide a wider range of speeds.
Toolroom Lathes
A toolroom lathe is a type of small to medium engine lathe that is designed for precision work. This type of lathe often comes in handy when making custom parts. They are often produced with a focus on spindle accuracy and smooth operation of the machine. A toolroom lathe is generally capable of better accuracy than a typical engine lathe.
Parts of a Lathe
When working with a lathe, it is a good idea for one to learn some of the basic parts of the machine. This can help the user better operate the machine and learn how to follow instructions regarding the machine.
Lathe Part

Description

Headstock

Converts the motor speed into various spindle speeds

Tailstock

Counterpart of the headstock

Has the bearings and spindles

Bed

Horizontal bed where pieces are turned

Spindle

Gives power to the work piece
Knowing some of the basic parts of the lathe helps the user understand how to operate the machine. The buyer should check the owner's manual for more detailed information about the specific parts of a particular lathe. Many lathes also come with many accessories, such as taper turning attachments and fixed and travelling steadies. These tools increase the number of tasks that a lathe can perform and make it a more versatile tool.
Using a Lathe to Create Artwork
Lathes are versatile tools that can be used to create artwork among many other things. It is simple to create stunning wooden bowls using a lathe, but an artist can also create much more with these tools. For example, an artist could create vases or sculptures of fruit to place inside a decorated wooden bowl. These machines can even be used to create interesting lamp bases.
Lathes are a great tool for artists who enjoy working with wood and metal and turning these basic materials into incredible works of art. An artist can look at some of the many displays of lathe art to find inspiration for his or her own work.
Tips for Using a Lathe
When using a tip to create artwork, abiding by certain rules can make it easier for an artist to create the type of art he or she wants. A user should consider how to clean and care for a lathe as well as how to use the tool safely. Of course, before using any lathe, a buyer should carefully read the owner's manual. Following these tips and the instructions should help keep the machine in great condition.
Cleaning the Lathe
It is important to clean a lathe in order to keep it in excellent condition and ensure that the pieces all turn out great. Headstock bearings should be lubricated with oil frequently to prevent damage. The lathe should also be regularly cleaned, especially the bed and the slideways. Cast iron dust can severely damage the bed if it is not cleaned out. The machines should be cleaned regularly and checked before each use.
Safety Tips When Using a Lathe
Lathes tend to be very top heavy, so the owner should be careful when moving them around the workshop. The user should always wear eye protection because he or she may not have time to react to flying pieces of debris. When working with a lathe, the user should dress properly. This means keeping long hair tied back, not wearing any jewellery, and wearing well-fitting clothes without any loose pieces that could get caught in the machine, as this is a particularly serious safety hazard.
Using the Machine Properly
An artist always needs to use a lathe properly, and this includes following all instructions. If the lathe headstock has an oil supply, it should be checked every day. Smaller lathes need extra attention. The user should make sure these lathes are as sharp as possible. It is a good idea to keep as much of the tool supported by a clamp or holder as possible. Before starting any job, the user should check to make sure that the piece can be moved freely on the machine.
Finding Lathes on eBay
You can easily find the kind of lathe you need for creating stunning pieces of art on eBay. One of the first things you should do is use the keyword search. All you need to do is type some keywords, such as wood lathe, into the search box. If you do not want to look through long lists of results, you may need to narrow the results for some searches. You can do this by selecting some of the categories or filters.
You should also check out the feedback tool. This lets you see what other buyers have had to say about a seller and possibly even a particular product. It is always good to consider both the quantity and quality of the feedback before purchasing any items. You can also leave feedback after you have made a purchase. Another useful eBay tool is the option to contact the seller to ask questions about a product. This link is available on every listing, and it lets you contact him or her directly if you want more details about a listed item.
Conclusion
Lathes are often found in workshops, but artists can also use them to sculpt interesting pieces. Lathes can be used to create bowls, vases, and sculptures made of metal or wood. A number of tips can help a user work safely with a lathe. A user should always wear protective goggles when working with a lathe and be careful at all times. Keeping the machine clean at all times is also important so that it lasts as long as possible.
When shopping for a lathe, the buyer needs to consider different kinds of lathes, including the toolroom lathe, engine lathe, wood lathe, and metal lathe. Before making any purchase, the buyer should think carefully about his or her needs in order to select the right kind of lathe. It is a good idea to know a little bit about some of the basic parts that make up a lathe, including the tailstock, headstock, bed, and spindle. Armed with the right information, choosing the right lathe for a particular job is a relatively easy task.