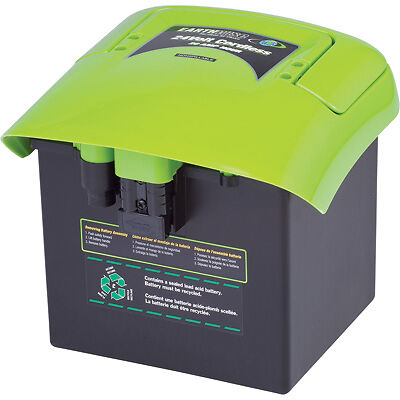 The cost of hiring a lawn service to mow the grass on a regular basis adds up to a significant amount of money year after year. Homeowners who want to have beautiful lawns without paying a fortune could consider investing in a lawnmower so that they can take care of their own lawn maintenance. While the initial expenditure on a lawnmower may seem daunting, especially if a ride-on lawnmower is needed for the size of the lawn, the cost of lawnmower maintenance and replacement parts is minimal.
There are several types of lawnmower, including corded, petrol-powered, battery-powered, and ride-on models. Each of these has its advantages and disadvantages. Which type a buyer chooses depends on the size of the lawn as well as his or her personal preferences. Battery-powered lawnmowers, for example, offer more convenience over corded models and are a great option for average-sized lawns. Buyers should keep in mind that a rechargeable battery needs to be replaced from time to time and should opt for the highest quality batteries for optimal performance.
Brief History of the Lawnmower
The first lawnmower to receive a patent was invented by Edwin Beard Budding in Gloucestershire, England, in 1830. A tool that was used to create a uniform surface for carpeting inspired Budding's design. The lawnmower was made of cast iron and pushed from behind. The rear wheels drove gears that caused the cutting blade to turn. These early lawnmowers were meant to trim the grass on sports fields and large gardens. Therefore, the small cutting area meant that people spent quite a bit of time pushing these devices. Approximately 10 years after the first lawnmower was patented, a design for a horse-drawn lawnmower was introduced.
As new power technologies emerged over the years, these technologies were incorporated into the lawnmower design to create better and more powerful devices. For example, steam-powered lawnmowers were introduced toward the end of the 1800s. The first lawnmower with an internal combustion engine appeared in 1919, and rotary mowers were introduced a few years later.
While scientists have been unable to create a lawn that only grows to a certain height, inventors have continued to improve upon the lawnmower, making them lighter, quieter, easier to push, and more powerful. Additionally, today's lawnmowers offer more convenience than early lawnmower models. Current lawnmowers offer the ability to collect the lawn clippings rather than distributing them over the freshly cut lawn and allow mowers to tackle even the largest lawns in a fraction of the time.
Types of Lawnmowers
In addition to a variety of manufacturers, there are several main types of lawnmowers. When shopping for lawnmowers, consumers should take a critical look at the type of lawn they have, the size of their yard, as well as how many trees they have, and if their yard has any sort of incline. This information will help consumers choose the type of lawnmower that will be most effective for their lawn.
Manual Lawnmowers
The simplest and most inexpensive of mowers, manual lawnmowers require no petrol, cord, or battery. Similar to the earliest lawnmowers, these mowers use gears that are powered by the back wheels. Although these mowers are not recommended for large lawns or those with steep grades, they are an inexpensive option for small lawns and provide the mower with a good workout as well.
Corded Electric Lawnmowers
These lawnmowers rely on electric motors to propel a rotary blade. They are better for the environment than petrol-powered lawnmowers because they do not emit any harmful gases; however, they do require an electrical outlet and possibly an outdoor extension cord depending on the size of the yard. Homeowners with small to medium sized yards will find that these mowers can reach every corner of their yard, but those with larger yards may need a battery or petrol-powered lawnmower to mow their entire yard.
The main thing consumers should keep in mind when shopping for corded mowers is that even with extension cords, the maximum distance the mower can travel from the outlet is approximately 30 metres. After this point, the voltage starts dropping, which will affect the mower's performance. Another disadvantage to corded mowers is that consumers may accidently sever the power cord while mowing if they do not keep track of the cord's location at all times.
Petrol-Powered Lawnmowers
While petrol-powered lawnmowers are usually more powerful than electric models, both corded and battery-powered, they are quite a bit louder and require petrol to run. Consumers who opt for petrol-powered lawnmowers need to purchase petrol on a regular basis and store both the extra petrol and the lawnmower itself in a safe manner so the petrol does not combust. Although consumers are advised to wear ear protection due to the noise, petrol-powered lawnmowers are better than electric mowers at tackling taller grasses, which is why some consumers who may not mow their grass on a regular basis prefer this type of lawnmower.
Battery-Powered Lawnmowers
Battery-powered lawnmowers use a rechargeable battery to make the rotary blades spin. These mowers are more convenient than corded mowers because of the lack of cord, and they can be used anywhere, not just in close proximity to an electrical outlet. This convenience does come at a price. Battery-powered models are typically more expensive than corded electric and petrol-powered models, they are harder to push due to the heavy battery, and they can take up to a full day to charge, which means homeowners must ensure that the battery is charged before mowing their lawn.
Battery-powered mowers are quieter than petrol-powered mowers and typically more economical as well, considering the continually rising cost of petrol. While the batteries included with these mowers can be recharged a number of times, they eventually wear out, which means that consumers will need to purchase replacement batteries from time to time.
Lawnmower Batteries
When a consumer notices that the battery in his or her lawnmower is not holding its charge as long as it normally does, or if he or she is experiencing trouble starting the model up, it may be time to replace the battery. There are several different battery voltages that are common in lawnmowers, so before a consumer can purchase a replacement battery, he or she needs to determine the necessary voltage. This information can be found in the user's manual or by searching the make and model online.
In addition to varying voltages, lawnmower batteries come in a couple of different physical sizes. Consumers may want to measure their existing battery to determine its size so they purchase a replacement battery that fits into the battery compartment.
Shopping for Lawnmower Batteries
Consumers will find lawnmower batteries at a variety of stores, including auto parts stores and superstores. Prospective buyers should shop for reputable brand names so they know they are getting a reliable battery that will not stop holding a charge prematurely. Because prices vary from retailer to retailer, consumers may want to shop around to ensure they are getting the best possible price.
Another way to find the best selection and lowest prices is to search online for lawnmower batteries. Consumers will find a variety of online retailers that sell lawnmower batteries, so they can find the retailer that offers a reliable brand at a great price. Another great resource for finding the best deals on batteries is eBay. The auction site has listings from thousands of different sellers, which means the variety tends to be greater than with other retailers. Before making a purchase decision, consumers should confirm that the voltage of the replacement battery is the same as the existing battery and that the dimensions are the same.
Buying Lawnmower Batteries on eBay
If you are ready to see the variety of lawnmower replacement batteries that are available on eBay, go to the eBay home page and type "lawnmower batteries" into the search box. You can narrow down your search results using the subcategories or other filtering options, such as price range or location. You can also narrow down your search by typing the voltage into the search box. For example, if your lawnmower needs a 12-volt battery, type "12-volt lawnmower battery" into the search box so you only view 12-volt batteries.
Before making a purchasing decision, buyers should review each listing carefully to confirm that the battery is the correct voltage and size. Prospective buyers should also consider the seller's return policy in the event the battery does not work properly or does not fit into their lawnmower. Homeowners who need a replacement battery as quickly as possible should also see if the seller offers expedited shipping before placing an order.
Conclusion
Although some homeowners may not enjoy performing their own lawn maintenance, purchasing a lawnmower and mowing their own lawns can save homeowners quite a bit of money over the years. Lawnmower owners should keep in mind that they need to replace some lawnmower parts, such as the battery, over the years, as well as perform routine maintenance, including oiling and sharpening the blades and cleaning the lawnmower. While routine maintenance and part replacement are added expenses, the cost of the mower itself plus the parts and maintenance is still considerably less than hiring a lawn service to come every week or every other week.
While battery-powered lawnmowers are not ideal for all lawn sizes and types, they are more environmentally friendly and much quieter than other lawnmower models, so consumers should seriously consider them when determining which type of lawnmower is right for them. Additionally, since there is no petrol in a battery-powered lawnmower, it can be stored virtually anywhere, making it an ideal option for homeowners without garages.