Let's face it, you have been thinking about buying a
Le Creuset cast iron pan
for ages. You love the shape, the color, but… the price is making you think twice about "taking the plunge". … I can really understand you as I was in the same predicament a few years ago, but today after collecting the pans for many years, I am now the proud owner of a collection of 10 pieces.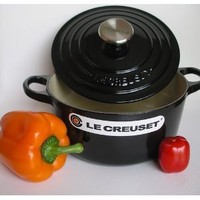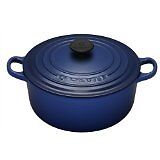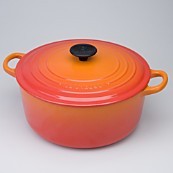 So why do I think that it is worth paying "all that money"?
The Exceptional Quality
Cast iron has been used as "the" material for cooking pots since Roman times. Even with today's wide choice of cooking materials, cast iron, still forged and crafted by hand, remains one of the most efficient cooking materials available.
Quality of the finish
Each piece of
Le Creuset cookware
is unique and made to exact standards. During manufacturing, after each use the mould is broken, then every pan is individually hand finished by skilled craftsmen.
Adaptability and versatility
If you change your cooking hob, you do not have to change your pans. The pans are truly versatile and can be used on the following: Ceramic, Halogen or Induction hobs, Gas, Electric, Solid fuel or Aga/Rayburn.
They are available in a wide range of colors and look equally good in the kitchen or on your dining table
One single pan can do most cooking jobs: Sautéing, grilling, baking, roasting or casseroling.
Excellent performance
The pans are well-known for being energy efficient. Once hot, you require only a low to medium heat setting to maintain a good cooking performance.
They are also perfect to hold foods that are marinating or for storing foods (raw or cooked) in the refrigerator or freezer.
They are easily washed by hand and are also dishwasher safe.
Lifetime Guarantee
Thanks to its durability, Le Creuset cast iron Cookware comes with an impressive LIFETIME GUARANTEE!!!!.
So next time you are thinking of "taking the plunge" remember the quality and the longevity of this cookware, if used in accordance with the manufacturer care and use you may well be passing your pans on to your Grand-children!!!
That's what I call a fantastic lifetime investment!