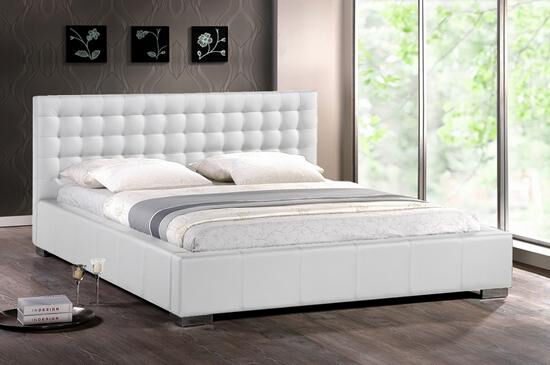 Buying a bed is an important decision since people usually spend eight hours or more every night sleeping. A basic bed usually consists of a mattress, a bed frame, and sometimes a box spring. The bed frame comes in many different types and designs. One type of bed frame that is gaining popularity is the leather bed frame. Compared to other bed frames, leather ones can make a bedroom look elegant and modern.
Before purchasing a leather bed frame, one should think about the style and size of the bed frame compared to the size of the bedroom, among other things. Since leather bed frames are a relatively new addition to the selection of bedroom furniture, some may find it difficult to choose a good one. To make this selection process easy, buyers should know about the styles, advantages, and ways to purchase this piece of furniture, including from eBay, an online marketplace which has a wide selection of leather bed frames.
Getting to Know Leather Bed Frames
Bed frames function to support and keep the mattress off the floor. Also, the extra elevation makes it easy for people to get in and out of bed. Bed frames are usually made of wood or metal, and they come in various sizes, from single size beds to king size beds. A leather bed frame has the same function as any other bed frame. The only notable difference is that it has a leather layering on the main framework, which makes it more visually pleasing compared to other types of frames.
The Frame Structure
A leather bed frame has several components, including the headboard, the footboard, and the supporting legs to keep it standing. Leather bed frames come in varying styles and, while the headboard is present on all leather bed frames, the footboard may or may not be present, depending on the design of the frame. The frame itself is often made of hardwood so the bed is very sturdy and durable. The whole frame is then wrapped in leather of different colours, with the most common colours used being black, brown, and white. The headboard, and if present, the footboard usually have cushioned paddings underneath the leather to make them soft to the touch.
Styles of Leather Bed Frames
Although there are many bed frame designs such as the canopy, four poster, and double-decker bed frame, leather bed frames generally come in only two styles: the sleigh and platform bed frame. A sleigh bed frame has outward-curving headboard and footboard, making it look like a sleigh, thus the name. A platform bed frame has the simplest design with just a straight base, headboard, and if present, a straight footboard. Both these types of bed frames are often fully covered in leather upholstery. Generally, leather bed frames often have concealed legs or very short ones. This helps to highlight the leather surface of the frame and make it look even more elegant.
Pros and Cons of a Leather Bed Frame
Just like every other type of furniture, leather bed frames have their pros and cons. Before deciding to purchase a leather bed frame, buyers should consider these factors as a bed is an important long-term investment. The following subsections discuss both the pros and cons of a leather bed frame.
Pros of a Leather Bed Frame
The biggest advantage of having a leather bed frame is that it looks extremely elegant, and thus helps to beautify anyone's bedroom. Its smooth and clean look can give the room a modern feel. Also, its minimalist design makes a room feel bigger and less cluttered. Leather bed frames are available in many colours, from brown and black to white and even red or pink. With so many hues to choose from, it should be easy to match a leather bed frame to any bedroom theme.
A leather bed frame is very durable and can last for many years without deteriorating. In fact, leather looks better as it ages, and it never goes out of style. Finally, the frame can be easily cleaned, just by wiping the leather with a cloth or vacuuming it.
Cons of a Leather Bed Frame
Despite being durable, elegant, and easy to clean, leather bed frames do have some disadvantages. The biggest disadvantage of buying a leather bed frame is its price. As anyone knows, leather is expensive, and good quality leather bed frames tend to be pricey too. Although there are cheaper faux leather bed frames which look and feel like real leather ones, they just cannot beat the quality and elegance of real leather. However, for those on a budget and who do not mind getting faux leather bed frames, they are still a very good choice.
Since a leather bed frame has a modern look, it can sometimes look out of place in a bedroom with a classic or traditional theme. Nevertheless, those who have a bedroom with a classic decor can get a sleigh leather bed frame since it has a more traditional design than other styles of leather frames.
Lastly, although leather bed frames are very durable, they do require quite a bit of maintenance to ensure they stay in perfect condition over time. Just like any other leather product, leather bed frames need to be cleaned and conditioned with products for leather furniture. Although leather can easily be cleaned by just wiping off any dust or stain, it is advisable to use a leather cleaner and conditioner on the frame every few months to not only clean it, but also to keep it soft and shiny.
What to Look for When Buying a Leather Bed Frame
Before purchasing a leather bed frame, one must consider a few factors. These include the size of the bedroom and of the bed, and the decor of the bedroom. The size of the bed frame depends on a few things, which are the bedroom size and the preferred size of the mattress. It is always important to measure the size of the bedroom to make sure that the bed is not too big. If buyers already have a mattress, they should get a frame which corresponds to the mattress size. The table below illustrates the different sizes of a leather bed frame.
| Leather Bed Frame Size | Dimensions (cm) |
| --- | --- |
| Small Single | 75 by 190 |
| Single | 90 by 190 |
| Small Double | 120 by 190 |
| Double | 135 by 190 |
| King | 150 by 200 |
| Super King | 180 by 200 |
The measurements given in this table are standard measurements, but they can differ slightly from one manufacturer to another. Therefore, when buying a bed frame, it is wise to make sure that the mattress and frame measurements are the same.
Besides the size, the style of the bed frame is important as it should match the decor of the bedroom. Since a leather bed frame stands out more than other frames, one should pick the colour and style of the frame wisely. For a traditional look, the sleigh bed frame design in brown or black can be a good choice, if it matches the colours of the other pieces of furniture in the room.
Purchasing a Leather Bed Frame on eBay
When purchasing a leather bed frame on eBay, you can browse through eBay's categories from the homepage. You can also search for a leather bed frame by typing the relevant keywords into the search bar on any eBay page. By typing in "brown leather bed frame &", the product listings page will turn up, and you can go through it to find the frame that you want. When you see a leather bed frame that you like, you can select it to view more information on the item.
On the item's page, all related information about the product should be available for you to view. You should look at the full item description, price, shipping fee, and return policy. All these details are important, so make sure you read them carefully. Also, be sure to take note of the condition of the bed frame, whether it is new or used. If you have any doubts about the item, make sure you ask the seller directly so you do not get disappointed when the leather bed frame is delivered to your doorstep because return fees may be pricey for such a large item.
Conclusion
A leather bed frame can give any bedroom a modern, elegant look as the frame itself has a minimalist design. The most popular types of leather bed frames are the regular platform bed and the sleigh bed frame. Two of the most important factors to think about before buying a leather bed frame are its size and design. For example, buying a king size bed frame is fine if the buyer has a large bedroom, but it should be avoided if the room is small. The leather bed frame should also match the style or theme of the room. A sleigh bed frame is suitable for a classic-themed room, while a platform frame looks good in a room with a modern decor. With the information obtained from this guide, buyers should be able to choose the perfect leather bed frame for their bedroom, and, with a large selection of leather bed frames to choose from, eBay is a great place to shop for one.