Rivets compress material together for a tight fit and are a preferred fastening method used for many craft projects. An equally favoured craft material is leather which feels smooth as butter and resists tears, making it a durable choice by crafters. Prepare for working through a long list of leather craft ideas using rivets as secure fasteners. You will find that new ideas keep popping into your head as soon as you finish one project and move to the next.
Add Leather Straps to Antique Furniture
It is unlikely that you can find original hardware to match a broken handle on an old piece of furniture. This is an opportune time to use leather instead to serve the same purpose for opening a door or cabinet drawer. Combine leather rivets with the strip of leather you cut wide enough to form a sturdy clasp to hold on to. Simply fold the wrong sides together of one end of the strap creating two thicknesses. You lock each rivet into place by inserting it through the doubled leather into the hole originally used to screw the hardware into the wood. You may need to use a drill to clear an opening through the wood so that the rivet fits the space. Once you connect the other side of the leather strap the same way, you have a useable and long-lasting handle.
Craft a Choker Necklace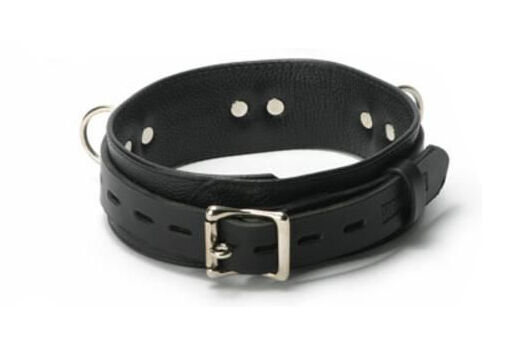 You will look rather mod in a black choker necklace that may require using leather tools such as a leather punch. Fashion a strip of leather that fits easily around your neck and remains comfortable during any physical movement. A leather rivet kit available on eBay contains eyelet pliers, eyelets, an assortment of punches, and different sized rivets. Space rivets evenly along the choker leaving one eyelet close to the edge of each end of the leather. You use the end rivets to tie on the choker using ribbon or a black shoe lace. Hang a small pendant from the centre rivet or decorate the leather with colourful pins or a favourite brooch. Brass or copper rivets are a nice contrast against the dark animal hide.
Add One or More Rivets to Your Belt

Whether your waist is expanding or getter smaller, do not discard a much-loved leather belt because a notch is missing. Make a mark where the rivet needs to go, and use a punch to puncture the leather belt. Should your belt not have rivets at all, insert new ones into the existing holes giving the old notches a facelift. Use aluminium rivets or any metal that looks good against the colour of the belt.