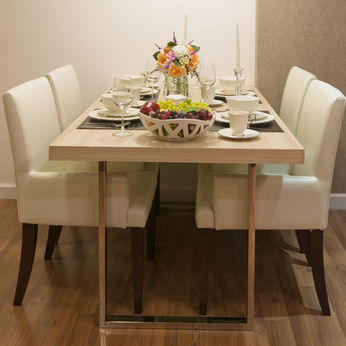 Dining room furniture plays an important role in how guests perceive a home, given that this is a place where friends and family eat and spend time together. Finding the right kind of furniture for a dining room can work wonders in increasing its aesthetic appeal, whilst also making it seem more welcoming. Leather dining room sets, in the recent past, have seen a rapid rise in popularity, and one of the key factors behind this surge in demand is their drop in prices.
Prices of leather furniture, over the last few years, have fallen significantly, and this has translated into greater affordability for the end user. A buyer, in today's world, has a plethora of leather dining room sets from which to choose, and can buy them in shops as well as online through websites like eBay. Since the abundance of options can be confusing, a buyer should know about several aspects, such as: which kind of leather to buy, budgeting, as well as the kind of leather dining room sets available in terms of size and style.
Why Leather?
Leather carries with it an ageless appeal, and although it is very practical for everyday use, it also portrays an air of elegance. When comparing leather with even the highest-quality upholstery, leather stands out as a clear winner. While most types of upholstery come with an average life of around five years, leather can last even more than 20 years if treated in the right manner. Caring for leather furniture is not difficult. It is fairly resistant to sunlight and heat, and the fact remains that leather ages quite well.
Leather is a natural material that continues to breathe, and this allows it to maintain temperatures in accordance with surrounding temperatures. Highly durable, leather also makes for a good alternative in homes that have pets.
Leather Basics
The leather that is used to make furniture is made using a process commonly referred to as tanning, wherein the tanning of hides takes place through the use of a chromium salt solution. The next step is the sorting and grading, wherein the split leather, the lower layer, is separated from the epidermis, the upper layer. The epidermis, commonly referred to as top grain, is where one can find the presence of hair, scars, and pores.
A dyeing process follows, and while some leather is coloured after this stage, this is not always the case. After drying, the subsequent supply is further divided into corrected and uncorrected leather. Corrected leather goes through a certain level of grain correction and is not looked upon as high quality. This is when sanding or buffing is carried out in order to remove imperfections from the leather's surface, and once a uniform grain is achieved, a urethane finish is applied as well.
Uncorrected leather, on the other hand, is of higher quality, which makes it more expensive. These hides come with what is referred to as the "patina", which implies that these leathers carry their own personality, quite like human beings do not have matching fingerprints, no two uncorrected leathers have the same pattern.
Leather Dining Room Sets
Buying entire dining rooms sets, as opposed to looking for tables and chairs separately, provides people with a simple way to furnish their dining rooms. A number of alternatives are made available when it comes to leather dining room sets, and these cater to different tastes as well as budgets. A definite advantage when looking for entire dining room sets is that it takes away the trouble of having to match chairs with tables in terms of fit, style, materials, and so on.
The Budget
Establishing a budget at the very onset is the obvious way to go, and one ought to take into account various factors that can affect the price of a leather dining room set. For starters, the material used to make the furniture, in addition to the leather, has a significant bearing on its price. For example, solid wood furniture is typically more expensive when compared with furniture that is made using engineered wood, even if the quality and quantity of leather used is pretty much the same. What can also have a bearing on the price is whether one is looking for ready-made sets or sets that need to be assembled. What needs to be taken into account when setting a budget for a dining room set is that this could well be a long-term investment, and spending a little extra for better quality is definitely not out of place.
The Dining Table
Although dining room sets do not give buyers the freedom to mix and match, due attention needs to be paid to both the table as well as the chairs. Dining tables are generally made using materials like natural and cast stone, wood, and even metal, and they come with stone or glass tops. The use of stones, like granite and marble, is not uncommon, and neither is the use of different kinds of glass. Buyers also have the option to go through different finishes, from coarse to smooth, gloss to shine, and light to dark.
Choosing the Size
Measuring the dining room is always suggested before one starts looking for a dining room set, and one should also account for some additional space for the chairs and diners to move around comfortably. Leaving around 1 m of additional space at the sides should ideally suffice. Smaller rooms are more suited for round tables, and rectangular tables work better with larger rooms. The following table should help establish how many people can sit at any given table.
| Number of People | Rectangular and Square Table Measurements (m) | Round and Oval Table Measurements (m) |
| --- | --- | --- |
| Four | 0.7 x 0.7 to 1 x 1 (square) | 0.9 to 1.2 (round) |
| Four to Six | 0.7 x 1.1 to 1.0 x 1.5 (rectangular) | 1.5 to 2 (round) |
| Six to Eight | 1.0 x 1.8 (rectangular) | 1.2 x 1.8 (oval) |
| Eight to Ten | 1.0 x 2.2 (rectangular) | 1.2 x 2.3 (oval) |
| Ten to Twelve | 1.2 x 2.7 (rectangular) | 1.2 x 2.7 (oval) |
Although choosing a square, rectangular, round, or oval dining table is a matter of preference, one also needs to take into account how it fits in any given space. Whether the table comes with a centre leg, three legs, or four legs, is also something that requires the buyer's attention.
The Chairs
While buying a dining room set does not require a buyer to match chairs with tables, one still needs to address a few aspects. Chairs are where the leather is predominantly used, and while some chairs could limit the use of leather to the seat, some would also come with leather backs. Paying due attention to who would use these leather chairs is important. For example, a family of tall people should not be looking at alternatives that come with low backs. On the other hand, these are chairs for which families with children should be looking.
The material of the chairs, as part of the set, would match that of the table, although this does not necessarily have to be the case. Dining table chairs come with and without arms, and this is another aspect that needs a buyer's attention. Leaving room in between chairs is always suggested, and this implies that one should not overcrowd the dining table with too many chairs.
Buying a Leather Dining Room Set on eBay
eBay offers its users a number of options when it comes to leather dining room sets. In addition, they have a number of leather chairs on offer as well as scores of different tables. Buyers have the option to go through relevant categories to find what they are looking for, or they can also use the search option that is present on all eBay pages.
Buyers are given the alternative to buy through different sellers on eBay, and this competition between sellers often works in favour of buyers. Different sellers are known to offer different terms and conditions, and this is something to which all buyers should pay attention. For example, while one seller may offer some kind of a money back guarantee, some others may not. If you wish to buy a table and then match it with chairs, this is something you can do on eBay as well.
Conclusion
Finding the right leather dining room set is not very complex. Matching one's existing dining room decor with a leather dining set is highly recommended, and this is simply because what may look good on paper, online, or in a shop may not necessarily have the same effect when placed in one's house. After all, how good would a seemingly contemporary dining room set, no matter how exquisite, look in a home that has a predominantly antique feel?
While buying dining sets does away with having to match the table with chairs, both these aspects do require a buyer's attention. Going through as many alternatives as one can is always suggested as this gives one a clear indication of what is available and for how much. Last but not the least, opting for quality over a cheaper alternative is definitely suggested, and this is simply because a well-maintained leather dining room set can go a very long way.