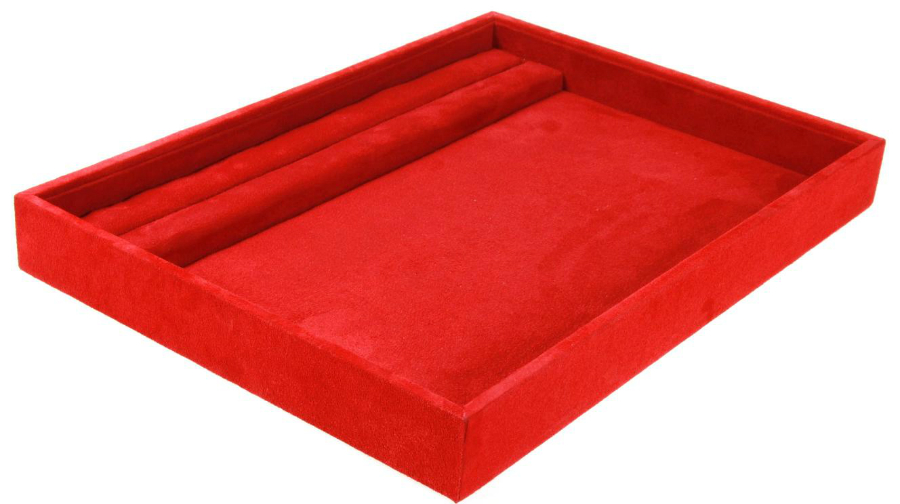 Protecting and categorising different types of jewellery requires a certain amount of knowledge. Simply shoving jewellery into a drawer, whether at home or in a retail setting, can damage these fragile items. Undertaking costly repairs to keepsakes, valuable merchandise, and everyday accessories can be avoided with the right jewellery display. A leather jewellery display offers an aesthetically pleasing storage and protection option that is both durable and attractive. With options that range from necklace cases to ring displays and more, almost any type of jewellery can be stored in a leather display.
Shopping for a quality leather display to showcase jewellery and protect it is not always a simple task. Searching for specific jewellery cases and displays through online marketplaces such as eBay makes the process fast, easy, and efficient. With select leather display options, many consumers discover what they need through the online marketplace. Those shopping for leather jewellery displays should remember to look for a case with a variety of storage options, a quality inner lining, and a secure construction.
Leather Jewellery Display Storage Options
Leather jewellery displays come in all shapes and sizes. When shopping for a leather jewellery display, it is helpful to consider what amount of storage is needed. It is important for individuals shopping for a leather jewellery display to search for a display large enough to hold all of their belongings. Business owners, men, women, and children can all benefit from a leather jewellery display.
Large Leather Jewellery Displays
Individuals who either own large pieces of jewellery or simply need a large space to store many items sometimes struggle to find a quality display. Choosing a large leather jewellery display that contains drawers, swing out arms, and ring holders, consumers are able to store all their jewellery in one place. A consumer should search for a large display that offers at least four drawers in order to properly store pins, earrings, brooches, and other jewellery items. Those who have a large number of jewellery pieces should consider buying a leather jewellery armoire or larger scale display option.
Single Category Leather Display Cases
For those who wish to display just one type of jewellery, single category leather display cases are an adequate option. These display cases are often designed with a leather surrounding and a top manufactured with glass. The glass top allows individuals to showcase fine rings, bracelets, and other jewellery options with an attractive yet protective display.
Single Item Leather Display Cases
Individuals who own a single item such as a family heirloom or diamond ring which is not often worn sometimes opt for single item leather display cases. These leather display cases usually offer a secure locking mechanism for storage of a single item. Both travellers and collectors find single item leather display cases to be a convenient choice for keeping special pieces of jewellery safe and sound. Search for a leather case that is lined with a quality material and offers a secure glass or crystal window for ease of display.
Jewellery Armoire Options
Consumers with an incredibly large jewellery collection should make sure to consider leather jewellery armoires. Leather chests and displays which are designed with sizes similar to a chest of drawers offer enough different drawers and pockets to store almost any amount of jewellery. Those wanting to store all jewellery in one place should consider armoire options.
Leather Jewellery Display Linings
People who shop for a leather jewellery display should make sure to consider the inner linings of the display. Although the outside of the display is important, the inner lining is what protects valuable jewellery from damaging scratches. Jewellery display linings are usually designed with leather, felt, satin, or even velvet linings. Those with expensive jewellery should shop for display cases with a soft, quality interior lining. Skimping on the interior material within a leather jewellery case can result in damaged property.
Secure Construction
Leather jewellery displays are usually constructed with a base material of wood or metal and are lined on the outside with leather. Faux leather options tend to be somewhat more inexpensive, but such options degrade more quickly than genuine leather. When shopping for a leather jewellery display, search for one that is clearly labelled as genuine leather. Remember, however, that lock options and glass thickness are also important elements of a leather jewellery display.
Lock Options
Individuals who are in the market for a display case that is capable of keeping jewellery safe and secure should search for a case with a lock option. Leather cases that come with keys allow individuals to have a bit more piece of mind than a case without such an option. Those who consider securing jewellery as a top priority should make sure to purchase a larger option that is designed with a lock and key construction or a keypad lock design. For the right price, even leather jewellery displays with fingerprint readers can be purchased.
Glass Thickness and Quality
Individuals who are shopping for a leather jewellery display to increase the security of a valuable collection should consider glass thickness and quality when purchasing a display. A leather display with thicker glass is a bit more difficult to break. Thicker glass is usually an element of higher quality leather display cases. Whether it is a watch display case or a necklace case, make sure to shop for a higher quality leather display product.
Simple Displays
Those who simply desire to showcase jewellery to others without a securing option should consider a leather display that offers a simple, soft display surface. Simple leather displays for bracelets and necklaces can be purchased for a fairly reasonable price. These leather displays are designed to have jewellery placed on them quite easily.
Stands
Leather display stands allow retailers to mount a piece of jewellery to attract consumers, and can be used within the home as well to easily access jewellery whenever needed. Leather display stands for bracelets and necklaces are often designed to mimic the way such jewellery is worn. Leather display stands that are designed with soft, black leather help contrast brighter colours for a more attractive display. Leather displays that are designed in the shape of a chest or head are popular choices for both retailers and consumers.
Platforms
Leather display platforms are utilised by those selling items such as pendants and necklaces. These pendant leather displays offer display choices that are easily stored in mass quantity. Shop owners tend to lean towards leather display platforms for their ease of upkeep and storage. Such leather display platforms are also adequate for everyday use accessories which need to be easily accessed.
Used Leather Jewellery Displays
Individuals on a budget should shop for a used leather jewellery display. Leather jewellery displays are quality items that tend to be used over the lifetime of the owner. With online marketplaces such as eBay, however, individuals and business owners are often able to find quality used options. Look for a used leather jewellery display that is still in fair condition for a way to save a bit of money.
Buying Leather Jewellery Displays on eBay
Purchasing a leather jewellery display to keep jewellery safe and secure as well as attractively stored can be difficult. Shoppers searching for a used option or a well priced new product should use online marketplaces such as eBay. With variety of categories to choose from, consumers are able to find almost any product desired. Those interested in shopping through the online marketplace should visit eBay's home page in order to begin searching for a product such as a leather jewellery display.
From any eBay page, a consumer can enter a search term of their choice into the search bar. From there, consumers simply click on search to turn up hundreds of item choices. For example, simply typing in a search term such as 'leather jewellery display&' often turns up money saving display options. Business owners and those with a large amount of jewellery should consider purchasing a bundle or lot of leather jewellery displays.
Conclusion
Keeping jewellery safe and secure is easily done with a leather jewellery display case. Options vary from expensive cases to display platforms, all of which make it easy to store jewellery and are fairly inexpensive to purchase. Individuals who desire to protect their jewellery from damage as well as theft should invest in a leather jewellery display case that comes with a lock of some sort for added security.
Shopping for specific leather jewellery displays designed to showcase bracelets, necklaces, rings, or other types of jewellery allows for many different options to be purchased. Although some traditional stores offer such displays, online marketplaces such as eBay allow individuals to browse through incredibly specific leather jewellery display options. Those interested in purchasing a large number of displays are able to use eBay to find bundles and a variety of specific items. When shopping for a leather jewellery display, consider factoring in the durability of the display, the lining of the display, and even the category of display. These factors allow a consumer to enjoy a leather jewellery display for years to come.