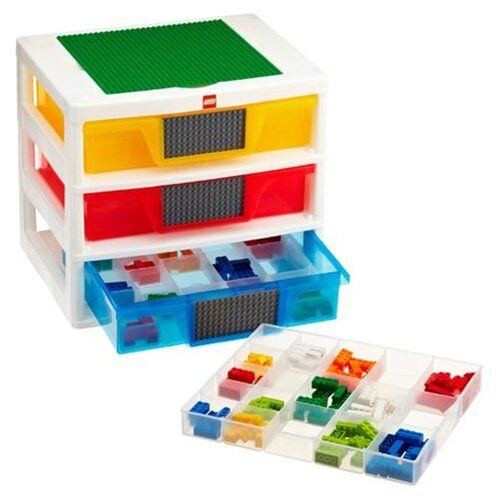 Lego is a popular and widely available construction toy. First becoming available in 1949, numerous different types and themes of Lego have become available since. Today, there are Lego ranges suitable for all ages, and themes to match a wide variety of interests.
From basic bricks and parts to moving parts, robotics and licensed characters, there is a huge variety to choose from when buying Lego accessories and all of these are available on eBay.
Lego Types
There a number of key types of Lego, including the standard Lego parts. These vary in size and complexity, making them suitable for different age ranges. The accessories for some kinds of Lego may be compatible with others, whereas some may only work within their own type.
Lego Duplo
Designed for age 1 to 5, Lego Duplo is twice as large as the standard Lego parts. The larger size of the bricks and accessories makes them safer for small children to play with, as well as easier for them to use.
Many Lego Duplo parts are compatible with standard Lego parts; however accessories may be too large for use with standard Lego.
Lego Duplo has its own version of Lego themes, such as Duplo Castle and Lego Ville.
Accessories for Duplo are available which fit into these themes, as well as licensed Duplo themes such as Thomas and friends.
Lego
The standard Lego range is suitable for ages 6 and up, though the age range can vary depending on the complexity of a particular set. For example, the Modular Houses theme of Lego sets is aimed at adult builders. These sets are recommended for ages 16 and up, and can include more than 2000 pieces.
The accessories available in the Lego range generally fit in with the themes of Lego, and the bulk of accessories are small parts designed to fit in the hands of or onto the minifigures, or to add detail to Lego scenes.
Most available accessories are designed to fit with the Lego range, as it is the most widely available.
Lego Technic
Lego Technic is a more complex range of Lego products, with a focus on mechanics. The range is suitable for ages 8 and up, and includes numerous moving parts distinct from the standard Lego range.
Accessories available specifically for Lego Technic include powered and pneumatic parts. Some Lego accessories may also be compatible with Technic pieces. A popular theme which uses Technic pieces is the Bionical range. Aimed at 5 to 16 year olds, these action figures have a number of accessories available for them, such as weapons.
Lego Mindstorm
Lego Mindstorm is a unique range of Lego products, and among the most complex. Much of the Mindstorm sets are made with Technic and standard Lego pieces, with the key difference coming in the form of programmable 'master bricks' which allow for robotic constructions.
Accessories for the Mindstorm range include complex parts such as sensors, motorised parts and programmable pieces. Lego minifigures and accessories, and Lego Technic parts, may be compatible with Mindstorm constructions.
Lego Themes
The main way that all Lego parts, including accessories, are categorised is through themes. Themes are lines of Lego based around certain concepts, such as urban environments of space exploration.
A wide range of accessories are available which fit into this theme, some to add environmental detail to scenes built with Lego, many to fit onto minifigures. Themes are frequently updated with new styles of accessories and parts, and new themes entirely are often launched, with older ones being discontinued. There are a number of key themes which are popular and widely available.
Lego Space
One of the oldest and most expansive themes, with over 200 sets available, Lego Space offers a huge number of accessories. These include large, flat terrain pieces which can have scenes built onto them, and are based on lunar scenery, and alien worlds.
There are an enormous number of accessories available for Lego Space minifigures. These include apparatus such as air tanks and helmets, as well as tools and weapons. There are also science fiction based accessories such as laser weapons, and equipment for alien and robotic characters.
Lego Castle
Lego Castle is a longstanding and popular theme, based on medieval and fantasy themes. Castles and sieges are a common subject for sets in this theme to cover. Decorations such as flags are available, as are horses for use with minifigures.
Shields, weapons and helmets are also available for use. Fantasy characters such as orcs, elves and wizards also appear in the Lego Castle theme, and accessories for use with these minifigures, such as wizard's staffs, are also available.
Lego City
Lego City is one of the oldest themes, tracing its origins back to some of the earliest Lego play sets. The pieces are based around urban environments, with parts to build emergency service vehicles and characters, as well as construction workers and sites, and civilians. A wide variety of accessories are available in the Lego City theme, and can include utilities such as traffic cones, and hats, helmets and construction equipment for use with minifigures.
Lego Pirates
Lego Pirates is a popular theme. The sets and parts available for Lego Pirates focus on the building of ships, and include pirates and soldiers. Numerous accessories are available for this theme, including cannon for the soldiers, parrots and other animals, and treasure. Hats and numerous weapons are also available for use with the minifigures. The Lego Pirates theme has begun to be replaced with the licensed Lego Pirates of the Caribbean theme.
Lego Racers
The Lego Racers theme focuses on racer characters and their vehicles, and the accessories available fit around this theme, including helmets, visors, spare tyres and similar items. Pit stop crews are also available, along with a selection of accessories such as hand held tools.
Licensed Themes
A number of popular licensed themes are available. These include such popular themes as Lego Star Wars and Lego Harry Potter. The accessories available for these themes vary enormously, and can include creatures, magic wands, and Lego lightsabers, which are among the most popular Lego accessories. Some accessories can also be more complex than others, such as Lego Star Wars characters with light up lightsabers.
Other Lego Accessories
Aside from accessories for use with Lego parts, a number of Lego themed accessories are available. Lego and Duplo tables are popular for the play of younger children, making clearing up and storing Lego pieces easier.
Numerous storage options are also available, which provide practical and entertaining ways to store Lego parts and accessories.
Also available are Lego display cases, intended to display collectable minifigures. Minifigures are an iconic Lego product, and many Lego accessories are designed for use with minifigures.
As minifigures are made of detachable parts, these parts are also available for purchase. Finding replacement heads, legs, hands or torsos is possible, as is buying these parts in large numbers to construct a number of minifigures. Other accessories include Lego minifigure keyrings, and magnetic minifigures.
Buying Lego Accessories on eBay
eBay offers a wide range of Lego accessories. The full listing of Lego accessories can be found in the Toys & Games section. The Lego category can be found in Construction Toys & Kits section. Here, the Accessories section can be accessed. Results can be filtered with categories such as price, distance to seller, and the condition of the item. Lego items can also be further categorised into the themes they are part of, such as Towns and Space.
Key information about an item is generally available in the item listing. This includes the amount and type of the Lego being sold, as well as the type and theme of Lego. Further information about a particular item can be accessed on the items page. This page also includes information about the seller, such as item reviews and feedback ratings, ensuring a purchase can be made with confidence. It is also possible to ask the seller a question about the item. It is critical for the buyer to read these pages properly, as it will undoubtedly help and support the purchasing decision of products.
When looking for specific Lego to match certain requirements, it may be easier and more effective to use the search function available at the top of every page. It is possible to search the whole site, or within certain sections to narrow down the results. For more information on using the search function, visit the Search Tips page.
Conclusion
A wide variety of
Lego parts
and accessories are available on eBay. Different types of Lego are available to suit all ages, and the various themes ensure many different interests can be met. Accessories for Lego can add depth to the theme of a
Lego set
, make minifigures more interesting and encourage imaginative play. They can also provide themed storage, making it easier to keep Lego tidy, and to avoid losing the many small parts.
Lego accessories
are a great addition to any Lego collection, and it is easy to buy them on eBay.