Lego's Ninjago range offers a fantastic opportunity for children to explore an epic fictional world, based on Japanese legends. The huge popularity of the game is partly due to the TV series, which features a large cast of characters and many scenarios involving weaponry, vehicles, and a thrilling storyline.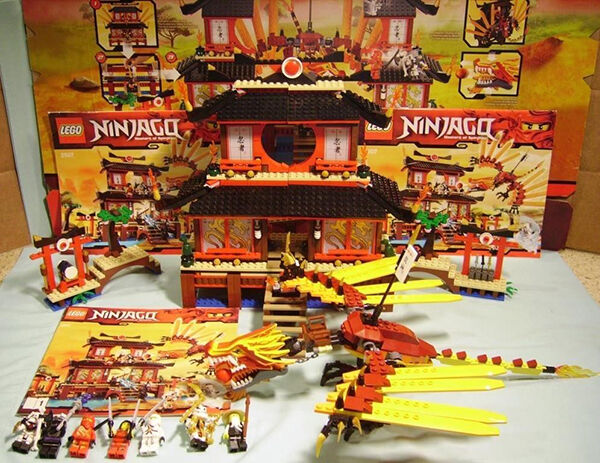 Buying Lego Ninjago
Where to Start - Lego Ninjago Sets
Lego Ninjago Dragons
The Game of Spinjitzu – Spinners
Lego Ninjago Adaptations
Give Lego Ninjago a Go
---


Where to Start- Lego Ninjago Sets
A construction set is often the best place to start if you are new to the Lego Ninjago range. Construction
sets
incorporate Japanese history with fantasy, providing hours of play time beyond the building itself.
The
Temple of Fire
set, which was awarded "The Activity Toy of the Year", includes 7 minifigures with weapons - Sensei Wu, Zane, Kai, Nya, Lord Garmadon, Samukai and Kruncha. You may also want to buy the main characters of the franchise to complete the set:
| | | |
| --- | --- | --- |
| | Kai | Red ninja of fire: overcame his stubborn temper to protect Nya, his sister and Lloyd. |
| | Jay | Blue ninja of lightning: first to master the Spinjitzu technique. |
| | Zane | White ninja of ice: is a 'Nindroid' (robot) so lacks humour and manners. |
| | Cole | Black ninja of earth: first trained as a dancer then ninja. Intelligent planner, calm in a crisis. |
| | Lloyd | Green ninja of creation: son of evil Lord Garmadon, whom other ninjas swore to protect. He struggled against his dark side to become a highly skilled ninja and master of the Golden Dragon. |
The set also includes 4 golden weapons, 14 assorted weapons and the Fire Dragon to defend the Temple, making a set like this extremely good value for money.
Customize figures with different weapons, and create a story with well-designed
figures
and weapons. Each Ninjago set has an objective, and there are a number of missions that you can complete. For example, you can help the ninjas collect their elemental blades, or guard the Dragon Sword of Fire from the attack on the Fire Temple by the Skeleton Army.
Lego Ninjago Dragons
Additional add-ons can then be purchased over time, especially as you become accustomed to the main characters in the story. For example, as
dragons
play a big role in the setting of Lego Ninjago, you can provide the main characters with a dragon companion:
| | | |
| --- | --- | --- |
| | | A 49cm long and 45cm wide lightning creature to defend your ninja heroes from the evil Lord Garmadon. |
| | | Protector of the Fire Temple will burn your enemies with deadly fire bolts. |
| | | The smallest dragon in the set without saddle. |
| | Lego Ninjago Earth Dragon | This mighty beast makes up for a lack of wings with the ability to spit rocks out of his mouth |
The Game of Spinjitzu- Spinners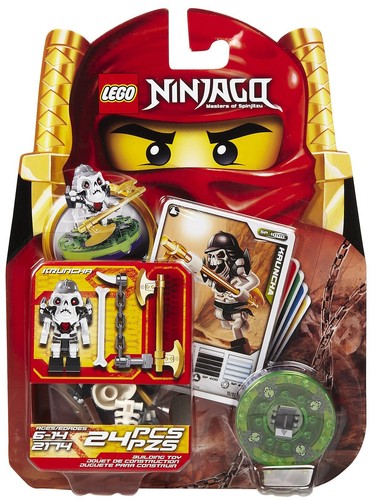 The
Spinjitzu
is a challenging board game set in the Ninjago universe, where players can battle each other using their favourite characters and weapons.
To become a master of Spinjitzu, you'll need:
A character and matching character card

One weapon

Spinner

Spinner crown
Battle deck (which should consist of only battle cards).

Shuffle the deck and draw four cards, which you will play with during the game. You will use one card before using the spinner, and one afterwards, as well as a Scroll card or Challenge card when you lose a weapon.

The official Spinjitzu rules state that you can only pick up one card per turn if you have less than four cards in your hand at any one time. When spinning, weapons can hit your opponent's character and whoever has their character fall off the spinner loses the game.

You can use the spinner in a number of different ways depending on your strategy:
A hard and fast spin is great when your character is not on one leg, or if there are no nearby traps.
Slamming - when tilting the spinner slightly so that it goes in the direction that you want to - can be another great move, although if your opponent knows what you are planning on doing, they may move their character out of the way to avoid being hit.

Lego Ninjago Adaptions

The product range has become so popular, a number of video games have been released which use elements of the Lego Ninjago theme. Lego Battles: Ninjago, released on the Nintendo DS in 2011 is quite popular, and is the sequel to the game Lego Battles, released in 2009.


A movie is also planned, and is set to be written by Dan and Kevin Hageman, who as well as their work on the television series, also wrote for the The Lego Movie. The director of Tron: Uprising, Charlie Bean, is expected to direct the movie.
In addition, the Cartoon Network began airing a series in 2011 entitled Ninjago: Masters of Spinjitzu, featuring several of the same characters and storylines as in the game.

Give Lego Ninjago a Go
There are over 30 sets, 30 spinners, and seven different booster packs that are available for purchase including some great spinner sets, and the product range is expected to expand in the future.
---