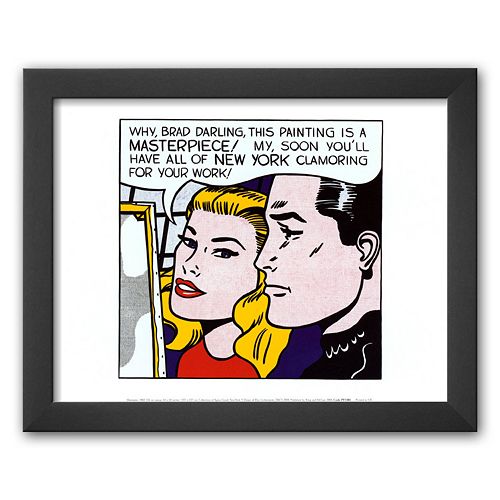 Roy Lichtenstein may not be a name that is familiar to most but in the world of art he is considered a genre-defining individual. During the 1960s he began a rise to prominence in the genre of Pop Art,, it would lead to him becoming a legendary figure in the industry.
Lichtenstein's work would be classed as hard-edged with a humorous touch. The print market has capitalised on the late artist's back catalogue by re-issuing canvas prints of both his well known and not so well known work. Using eBay, buyers will be able to find such canvas prints from Lichtenstein at affordable prices.
Who is Roy Lichtenstein?
Roy Lichtenstein's paintings were exhibited in art hotbeds like the famous Leo Castelli Gallery in New York City. He shared the walls with the likes of Andy Warhol, Jasper Johns and other members of the art elite. Becoming a leading figure in the Pop Art movement put heavy responsibility on Lichtenstein's shoulders, as he strived to remain innovative.
Lichtenstein began to place focus on parody as his career moved forward, he started using newspaper comic strips as inspiration. His work would define the genre by using attention-grabbing colours that appealed to art enthusiasts and members of the public alike.
Famous Prints
Roy Lichtenstein's work has been highly sought after since the 1960s and the originals require millions of pounds to acquire. Due to this, prints are the only affordable option for most. Limited edition prints stand as both an investment and a piece for the home. The following is considered to be among his most famous work.
Sunrise
Whaam!
In the Car
Drowning Girl
M-Maybe
Spray
The Kiss II
Girl with Ball
Woman in Bath
The Kiss V
Girl in Window
Roy Lichtenstein has a large body of work that stems over three decades and there is sure to be something in his back catalogue that appeals to everyone.
His collection of work is large and contains a variety of series, so buyers should take time to explore before deciding on a print of their choosing. Prints of his works are re-issued in limited numbers, so if you have a particular design in mind keep an eye on news updates as to when it will next be re-released. Be prepared for fierce competition in an online auction environment for any and all of Roy Lichtenstein's work.
Price of Lichtenstein's Art
Limited edition prints are exactly what they claim to be; they are limited in numbers. This is doubly so when talking about prints that feature the work of top artists in the industry. Roy Lichtenstein's work is no exception to this and limited edition prints rarely sell for under £500.
Those with a genuine dedication to his art should accept the fact that they are going to have to pay good money to obtain the prints they want.
A fine example of the prices that his work can reach is that his One Cent Life limited edition print recently sold for over £1000. Those who are looking to buy similar prints should be aware of the cost factor involved.
Is Roy Lichtenstein's Art an Investment?
Prints that are based on the work of famed artists such as Roy Lichtenstein present more value than just aesthetic pleasure. They are investments that present the opportunity for future profit. When buying limited edition prints by Roy Lichtenstein factor in the following to ensure what you're buying has investment potential.
How many prints were made in the limited edition production run?
How many times has the print been reissued?
Is the print signed?
Does the print come with official documentation?
Ask sellers the above questions in order to garner a feel for what profit potential a limited edition print has. The term limited edition can often be thrown around loosely and sellers will attach it to work that may not necessarily qualify as such. The above isn't all that determines how valuable a limited edition Roy Lichtenstein print may be but it does provide a base guideline.
Authenticity of the Piece
When purchasing Roy Lichtenstein limited edition art prints it is important to be certain of its authenticity before money exchanges hands. The following will help determine that what you are buying is genuinely limited edition and not a basic reprint.
Catalogue Raisionne – Such will detail information like title, year, size, medium, markings and publisher of any particular piece of art. Limited edition prints should replicate all the aforementioned and if they do it is more than likely authentic.
Artist Signature – Inspect the signature that features on the print and if possible compare it to an original. Take note of any imperfections and be wary of false looking signatures.
Canvas Quality – Limited edition prints that feature work of famous artists such as Roy Lichtenstein are printed on high quality canvases. Those printed on cheaper canvases are a clear indication that it is not a limited edition print.
It's important that buyers look out for signs of authenticity as to not by duped be dishonest sellers.. Always make sure you feel confident in the print that you're buying and become experienced in noticing what makes a limited edition print authentic.
Framing
Once a buyer has acquired a limited edition print of Roy Lichtenstein's work they'll want to make sure it's ready for display. There are many ways to do this, some of which protect the integrity of a piece more than others.
Premier Frame – Considered the best way to display a piece of limited edition art. Created using solely archival materials and UV shatterproof Plexiglas. This type of frame is resistant to almost all forms of damage.
Standard Frame – The most common type of frame used and doesn't offer the same degree of security as its premier counterpart. Built using common wood and glass, it isn't shatter proof and can be permanently damaged quite easily.
Wooden Stretcher – Basic in most aspects, a four-cornered wooden frame in which the canvas is stretched over. Displays the art in its purest form but offers no protection to damage from third party elements.
Framing is a key part of displaying all forms of art and more so in the case of expensive limited edition prints. Make sure that you feel comfortable with the choice of frame when purchasing a piece of Roy Lichtenstein's work.
More often than not framing is permanent so buyers will have to stick to a decision once it has been made. Always get limited edition prints framed professionally to avoid ruining a prized piece.
The Condition of the Artwork
New limited edition prints by Roy Lichtenstein are obviously the preferred choice for shoppers but in most instances they aren't financially viable. Purchasing used prints is more affordable but it does mean that buyers need to be more methodical while searching for what they're after. Here is what to look out for when buying a used limited edition prints.
Superficial Damage – Usually occurs when a print is in transit or has been poorly handled. They can be repaired via a professional under certain circumstances
Heat Damage – This can distort the image and singe the canvas. Damage of this kind can be repaired but it is important to catch it early in order to do so.
Liquid Damage – Easily the most destructive type of damage that usually leaves limited edition prints beyond repair. More often than not it is caused by paintings being left in rooms that contain high levels of humidity.
In most instances damage is avoidable but when it comes to limited edition prints even the slightest damage can be disastrous. Roy Lichtenstein prints that are damage stricken or have been repaired have low resale values. From an investment standpoint they are best avoided. However those looking to buy prints of his work for display purposes only could grab a real bargain.
How to Buy Limited Edition Roy Lichtenstein Prints on eBay
Roy Lichtenstein is one of the founding fathers of Pop Art and has had a profound effect on the art world as a whole. His work influences many of the artists we see today and he has a catalogue of work that will stand the test of time. In order to locate a limited edition print of his, select collectables and antiques from the navigational panel on eBay's home page.. Then select art in order to see all live auctions.
When buying a limited edition Roy Lichtenstein print buyers will need to do one of the following on an item listing.
Bid
Make a Best Offer
Buy it Now
Once an auction is over payment is required. Complete the checkout process via PayPal to ensure that the buyer protection program covers the order.
Conclusion
When choosing to purchase a limited edition art print buyers can't go far wrong with work by timeless artist Roy Lichtenstein. Limited edition prints allow people to invest in the world of art in a far more affordable way than buying original pieces.
With the popularity of prints booming Roy Lichtenstein's work is being exposed to new audiences. Simply put, there is no better time to acquire one of his prints. eBay has all the tools required to make acquiring a Roy Lichtenstein limited edition print a simple and effortless process.