LightwaveRF remote control intelligent remote dimmer light switches supplied on Ebay by
Wireless Lighting Store Ebay Shop
over 2500 feedback a year, leading specialist Wireless Lighting Store seller with leading brands on ebay direct to customers.
Products dispatched 6 days a week and a professional team available to help you select an appropriate dimmer for your needs - Call us free on 0800 043 7004 or email us using the ebay contact us link.
So why choose a LightwaveRF remote dimmer switch
- Control your lighting by remote (ultimate arm chair control)
- Dim LED, Halogen or Incandescent lights using the dimmers
- Create scene dimming and preset setting for example Cinema lighting, Romantic Dinner Lighting etc
- Add a
Wifi Link Box
and control any Lightwaverf dimmer using an Iphone or Android phone for true lighting control
- Lightwave products have a soft start system increasing product life and ensuring your bulbs are not affected from heavy loads
- The range include Wireless Mood lighting switches that can be used when you dont want to run new wires
- The range includes sockets as well so you can match the dimmers with sockets

Why are we excited about these Dimmer products
- 1 year warranty on the entire range
- We sell this with confidence, we are business that has a reputation to protect, so we would not recommend this dimmer if it was not good
- This is not just an intelligent dimmer that uses RF frequency instead of the limited infra red product you will see on ebay
Stylish Finishes include - Chrome, Stainless Steel, Brass and White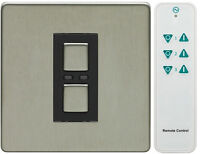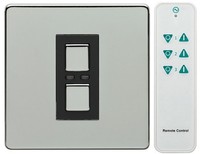 Add Smartphone Control using a Wifi link box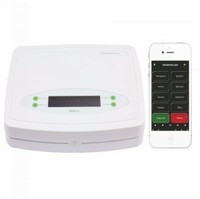 Thank you for viewing this brief guide on choosing your lightwaveRF dimmer for ultimate lighting control - any questions email us and we will be more than happy to help.