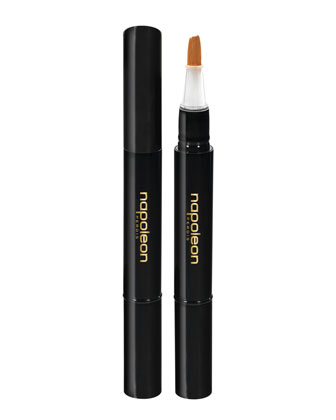 The perfect canvas for make-up application begins with flawless skin, and for most women that means using foundation and concealer to even out skin tone and camouflage flaws and blemishes. Concealer comes in a range of formulations, and liquid concealer is one of the most popular formulations available today and a wide range can be found online, on websites such as eBay.
What is Liquid Concealer?
Liquid concealer is a fluid formulation that is available in a range of shades, which comes in a tube with a wand. The wand usually has a small sponge applicator on the end, which allows the product to be applied directly to the skin. Some people think that 'double dipping' the wand into the product is unhygienic, so may prefer to use a brush or sponge to apply product from the wand onto the face.
Liquid concealer is moisturising and creamy – similar in texture to cream concealer although a little more fluid. It is ideal for those with dry skin or flaky patches and it can help to cover acne when layered with foundation and powder. On websites such as eBay, designer and high street brands of liquid concealer can easily be found for affordable prices.
How to Apply Liquid Concealer
Liquid concealer is usually applied directly to the skin from the wand applicator, but after application there are a number of ways to blend the concealer for a flawless finish:
Fingers – blending the product with clean fingers is the quickest and easiest way to ensure perfect skin – those with acne or irritation may wish to use a make-up brush or sponge.
Make-up sponge – using a make-up sponge aids blending and allows for the level of coverage to be built up – for slightly thicker liquid concealers designed for the under eye area, a slightly damp sponge can help to spread the product evenly.
Concealer brush – these are available to buy online on websites such as eBay and are great for a professional, flawless finish. Blending with a brush takes some practice, but works well to provide greater coverage than fingers or a sponge.
The Benefits of Liquid Concealer
Liquid concealer has a creamy, easy to blend formulation. Because it is liquid, it is easy to spread and blend, so is the perfect concealer for those new to using this type of product. It is important to choose a liquid concealer slightly lighter than the skin tone, to prevent a 'chalky' finish that will look unnatural.
Liquid concealer will not cling to dry, flaky patches of skin thanks to its moisturising properties. Because it is so easy to blend, it can be applied using fingers, a sponge or a brush to suit the individual's skin type, and the level of coverage provided can be built up to ensure a perfect finish. Liquid concealer such as Dainty Doll's range can be used in the under eye area to conceal dark circles. The liquid formulation is ideal here, as when blending it is important not to tug or strain the delicate skin under the eyes. A range of liquid concealers can be found for an affordable price online, on websites such as eBay.
The Disadvantages of Liquid Concealer
Some people believe liquid concealer to be unhygienic. For those who do not use the product on a regular basis, the idea of touching the wand to the skin and then replacing it in the product, which then sits unused for several weeks or months, is not a pleasant prospect. There are those who also feel that 'double dipping' – applying the product to the skin and then re-dipping the wand in the tube – could spread bacteria and dirt on the face, leading to breakouts.
Liquid concealer does not provide as much coverage as cream concealer. Cream formulations usually either come in a pot or a palette, where several colours can be blended to create the perfect shade of concealer. With liquid formulations, it is important to choose the correct shade, as they cannot be blended for a custom finish. A wide range of shades can be found on eBay.
Popular Brands of Liquid Concealer
There are many popular brands of liquid concealer available to purchase – both high street brands and designer concealers are popular with women of all ages. Here are some of the best-selling brands of liquid concealer available today:
| Brand & Product | Benefits |
| --- | --- |
| NYC Smooth Skin Liquid Concealer | Smoothing and moisturising – ideal for under eye area. |
| The Body Shop Lightening Touch Concealer | Light reflective and ideal for under eye dark circles. |
| Avon Colour Personal Match Liquid Concealer | Lightweight concealer ideal for blemishes and dark circles – this can be found for an affordable price online, by shopping on websites such as eBay. |
| Cle de Peau Concealer | Provides long lasting coverage and has won many beauty awards – this high-end concealer does not cake around eyes and provides a natural finish. |
| | This 2 in 1 product provides a creamy liquid concealer on one end and a highlighter, ideal for cheekbones and brows, on the other end. The concealer blends beautifully and hides dark circles and blemishes well. |
Liquid Concealer for Problem Skin
The beauty of liquid concealer is that it can be used on almost any skin type. Because it is moisturising and easy to blend, it is ideal for dry, flaky skin. Many women who suffer from rosacea or acne will have dry skin patches from using medicated skin care or antibiotic treatments, and liquid concealer can hide redness and blemishes whilst being kind to dry, irritated skin. Because blending can be completed with the fingers, a brush or a damp sponge, it is possible to choose the right blending option for the individual's skin type.
Those with problem skin usually find that a clean, damp cosmetic sponge blends the product best, and prevents the need for touching the face and spreading bacteria, which could lead to breakouts. Because liquid concealer is easy to blend and the coverage can be built up, it is ideal for those with redness or irritation, and does not 'tug' at the skin like stick and cream concealers may do.
Choosing the Perfect Liquid Concealer
When shopping for the perfect liquid concealer, on websites such as eBay, there are a number of factors that need to be considered:
Budget – whether to buy a high street brand of concealer or a designer liquid concealer is mostly down to the available budget of the individual.
Packaging – many women are influenced by pretty, elegant packaging, and this may make one liquid concealer stand out above all the rest when shopping online, on websites such as eBay.
Range of shades – finding the perfect shade of concealer can be difficult, and women tend to opt for make-up which comes in a wide range of shades. This way they can use a slightly lighter shade of liquid concealer in the winter, and a darker shade when they are tanned during the summer.
Additional ingredients – some women look for extra ingredients in their concealer. Lancôme add honey and Chamomile to their Effacernes make-up range, which is soothing and moisturising for sensitive skin. Others may look for medicated concealer that contains ingredients such as Tea Tree Oil - ideal for treating and concealing blemishes.
Buying Liquid Concealer Accessories
It is easy to find a range of accessories for liquid concealer application online, on websites such as eBay. By purchasing online, make-up brushes, sponges and other applicators can often be found at a greatly reduced price, meaning more money can be spent on the concealer itself.
Cosmetic sponges can be found in bulk packs on eBay, and are ideal for blending liquid concealer as well as applying a range of other cosmetics, such as foundation. Small concealer brushes can also be found online, and these are great for applying liquid concealer directly to a blemish and blending to a perfect finish.
How to Buy Liquid Concealer on eBay
The easiest way to buy Liquid Concealer online is to explore eBay. Just visit eBay and go to the drop-down menu of categories, which you will find at the left-hand side of the page next to the main logo. Select Health and Beautyand this will open up a list of sub-categories. Go to Make-up & Tools and select Concealers from menu. From here, 'Liquid Concealer' can be typed into the search box at the top of the page.
Searches can be narrowed using a certain term if looking for something specific. Just type the words related to the search, such as 'Tea Tree Concealer' into the main search box. For further tips on how to search eBay, go to the Search Tips page.
Conclusion
Liquid concealer is a great option for most skin types, including dry, sensitive and acne prone skin. Because there is a range of ways to apply liquid concealer, it is a versatile product which suits most skin types and tones. By using a brush, a neat, precise amount of concealer can be applied to blemishes and blended to a perfect finish. Using a damp make-up sponge can help to apply liquid concealer under the eyes or to dry, flaky patches of skin.
Liquid concealer can be used along with foundation to give the appearance of flawless skin, which most women long to achieve. By creating the perfect base, other make-up such as blush and highlighter will last longer on the skin and look beautiful. On eBay, a wide range of liquid concealer brands and shades can be found to suit all skin tones.