London Country Buses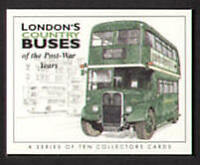 This is one of many illustrated classic London bus guides I've created for the community. I hope you enjoy it. If you wish to find out more about the classic London bus art featured in this guide please click here.
This guide features some of the classic London country buses from the post-war era.
STL Type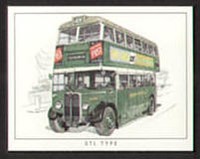 Numbering some 2700, the STL class bus was in production over a ten-year period in a wide variety of body styles. STL bodywork reached a zenith in 1937. The last STLs were withdrawn from passenger service as late as November 1952.
RT Type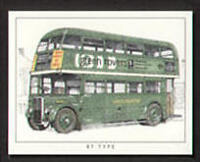 AECs revolutionary Regent RT bus was first seen in 1939 but due to the intervening war years it wasn't until 1947 that deliveries started flowing through. In 1950 alone, LT took delivery of 2000 examples, and by the time the last of the RT family had been put into service, there were 6956 buses.
RF Type (London Country)
Between 1951 and 1953, London Transport purchased 700 examples of the AEC Regal Mk4 fitted with Metro-Cammell bodywork to replace their pre-war single deck fleet. Classified RF and of very modern appearance when introduced, these models were fitted with a front-entrance together with stylish fully-fronted bodywork. Often to be found on the extremities of LTS operations, the first RF entered service on Green Line route 704 (Windsor - Tunbridge Wells) in October 1951. The last of the class were withdrawn as late as 1979.
GS Type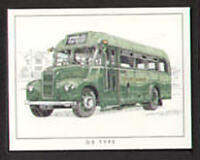 Guy developed a special normal control chassis, designated NLLVP, for London Transport when it needed small buses to replace its prewar Leyland Cubs on Country Area services. Entering service from 1953, these little Guys used Perkins P6 engines and ECW 26-seat bodies. Styling was a curious but successful mixture of Fordson lorry front-end, standard ECW side view and LT rear. The 393 was one of the many low-density routes which the class worked. Total production of the GS class was eighty-four.
CRL4 (RMC4 Green Line)
One commonly seen classic was the fourth of the prototype Routemasters, a double-decker Green Line coach with an ECW body and a Leyland engine. Starting life as CRL4 ( Coach Routemaster Leyland ) in October 1957, it was renumbered RMC4 in August 1961. Shown here in the experimental lighter shade of green used between 1961 and 1963 the vehicle later received a front-end rebuild to match the production RMCs but was still distinguishable by its three piece destination display and non-opening front windows.
RMC Type ( Green Line )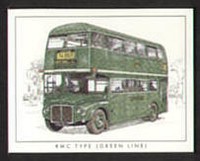 Following the successful trials with the Green line coach Routemaster, CRL4, London Transport ordered a batch of 68 coach RMS (coded RMC) in 1962. It meant that for the first time Green Line had a fleet of double-deck vehicles offering high standards of comfort, standards taken further in 1965 with the delivery of forty-three 30ft coach Routemasters (RCLS).
RML Type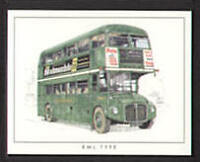 In 1961 twenty-four 30ft-long 72-seat Routemasters were built, easily distinguished from the standard RM by the addition of a small window in the centre of each deck. The RMLs ( Routemaster "long") as they were eventually classified were the forerunners of a further batch of 500 delivered between 1965 and 1968, of which 100 were allocated for the country areas. Few operators other than LT showed any interest in the Routemaster, Northern General and British Airways being the exception.
RF Type ( Green Line )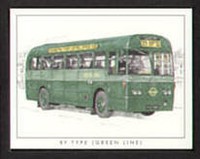 Although the Central and Country Areas shared many common designs, there were some that were exclusive to one or the other, most noticeably the Green Line and private hire fleets. Between August 1966 and July 1967 174 Green Line RFs were modernised inside and out, extending their lifespan for many years and in the process creating a very distinctive vehicle. The roofboards were a feature of Green Line coaches from the start of services in 1930 until the early 1970s, after which time they were removed.
SM Type ( London Country )

Introduced in the Country Area in 1970, the AEC Swifts (coded SM) reached a total of 838 in London Transport and London Country service. The 36ft long Merlins proved to be too long for many routes and hence the shortened 33ft 5inch long Swift. Sadly like the Merlins, the Swifts proved to be unreliable in service and the last bus, a SMS was delivered in 1972.
Thank you for reading my guide and I hope you found it interesting!