London Red Bus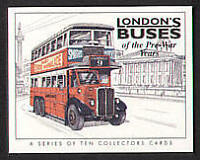 This is one of many illustrated classic London bus guides I've created for the community. I hope you enjoy it. If you wish to find out more about the classic London Bus art featured in this guide please click here.
This guide includes classic London red buses from before WW2.
NS Type Bus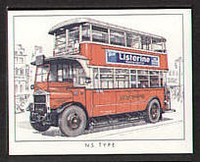 The NS made its first appearance in 1923. With a wheelbase of 15ft 6in, it was able to carry bodywork of 25ft length and 7ft 3.5in width. Fitted with an AEC 4-cylinder 35bhp petrol engine, it had a multi disc clutch running in oil, a 4-speed 35bhp petrol engine, it had a multi disc clutch running in oil, a 4-speed constant mesh helical gearbox and double reduction rear axle. The NS type was initially fitted with solid tyres, although many were later converted to pneumatics. Models 405-408 were produced exclusively for London General Omnibus Co and its associates and it was not until 1925 that the 409 model was introduced and made available to other operators. Production ended in 1927 with the arrival of the advanced NS model, the 422.
ST Type Bus
The first 4-wheeled AEC Regent chassis entered the LGOC fleet early in 1930 when ST1 was placed in service although the original ST vehicle in the fleet of London Transport's predecessors was built in 1929 and entered service in July of that year with Autocar Services Ltd. of Tunbridge Wells, before being transferred to East Surrey Traction. This bus did not receive its London Transport fleet number, ST1139, until after 1933 when the East Surrey Company (by then London General Country Services) ceased to exist and became part of London Transport. A total of 1139 ST type chassis were built, the class becoming a standard for London.
LT Type Bus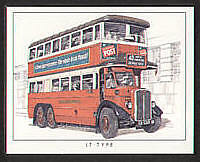 The Lt class of AEC Renown six-wheelers was still a mainstay of the fleet in 1947, with 1184 licensed double-deckers of this type forming the second largest class. Most used AEC 8.8-litre oil engines, the majority of these being converted from their original petrol specification.
LTL Type Bus

Nicknamed the "Scooters", the single-deck LT class first appeared in 1931. These vehicles had fleet numbers which ran from LT1001 to 1201 (except for LT1051 and LT1137), although the technical classification was LTL, which gave a clue to the fact that they were longer than the double-deck LT class AEC Renown six-wheelers. Built on the 664-model chassis giving nominal overall length of 30ft, they were originally provided with petrol engines, normal clutch and crash gearbox, but later the petrol engine on a large number was replaced with a 7.7-litre oil engine salvaged from the withdrawn doouble-deckers in 1949-50.
STL Type Bus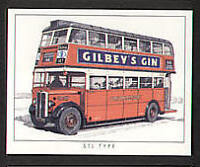 The standard double-decker in London for over a decade, 2649 STL type vehicles were constructed for service in London up to 1946. Introduced in 1932, only 10 years after the first NS type, the differences in design were extensive. The original STL had 60 seats in a box-like body, being built at Chiswick and following the ST and LT designs. In 1933 the capacity of the vehicle was reduced at the design stage to 56 and the London Passenger Transport Board started to build its first bus. The model employed a greater slope at each end, so getting away from the box effect of earlier LGOC STLs but reduced the upper deck capacity by four.
Q Type Bus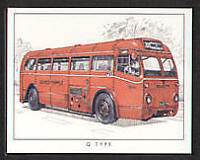 The revolutionary Q type design was produced in 1932 for service in London. The AEC Q type design featured a diesel engine mounted slightly inclined on the offside chassis. The positioning of the engine in this manner enabled the whole of the body floor to be utilised for passengers so that as many as 37 could be seated within the width of 2.29 metres (7 1/2 ft) and 8.38 metres (27 1/2 ft) length. The production models of this type were all single deckers with all-metal bodywork constructed by Park Royal Vehicles Limited. Probably too far ahead of its time, the Q type didn't find favour with many operators and sadly production ceased in 1936.
G Type Bus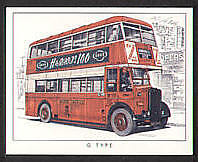 Only 435 wartime Guy Arab buses were allocated to London Transport and most were of the Arab II type with forward-mounted radiator. All had the Gardner 5LW engine and therefore rather limited performance with their increased weight due to the non-availability of aluminium together with a rather ponderous gearchange.
T Type Bus
A total of 801 vehicles carried the classification T over thirty-three years, this label used to group many of the single-deck fleet of London's buses and coaches,whether petrol or diesel-engined. In this manner the T class could lay claim to be the longest running class in service, although later examples bore little resemblance to the original types. Based on the Regal chassis type 662, or, if oil-engined, 0662 the first vehicles in the class were fifty rear-entrance 30-seat buses bought new in 1929.
Trolleybus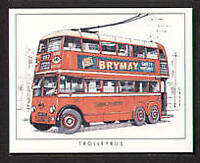 When the London Passenger Transport Board was formed in July 1933 it absorbed the tram and trolleybus system of London United, among others, and decided soon afterwards to replace the trams with trolleybuses, due to their greater flexibility and lower renewal costs. Conversion of tramways to trolleybus operation started in 1935 and over the next few years a vast network emerged of over 1800 vehicles that for many years formed the largest system in the world. After the war,it was decided that the future lie entirely with oil-engined buses and in the short space of three years (1959-1962) this vast system was dismantled.
Thank you for reading my guide and I hope you found it interesting!