Make up brushes absorb product and skin debris everytime you use them, and therefore create a perfect breeding ground for bacteria.
In addition, as they become clogged with product they become less efficient at ensuring you end up with the look you are after; from flawless complexion to full on goth!
So what is the best way to store and care for your brushes?

There are two ways of storing your brushes which ensures they keep their shape and reduce the risk of damage. Neither way involve chucking your brushes in your make up bag or drawer with the rest of your make up!
The first is to store them in a brush holder or pot - a large mug, pencil pot or jar will work just as well. It needs to be large enough to hold your brushes without crushing the bristles but not so large that the brushes are not supported and rattle about as then they will get scratched. It is also important that your container is not made of metal - as you do not want rusty brushes!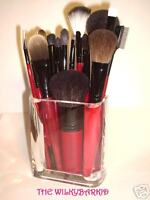 The other way is to store them in a brush roll or brush case. All good brush cases will have slots for the brushes and a protective flap to cover the brush heads - not only does this protect the bristles, it all ensures that product from your brushes doesn't soil your bag.
So what about cleaning?
There are a number of daily brush spritzes / cleaners on the market - Smashbox do one, as do Bare Escentuals, Mac and many other premium brands. These generally contain an antibacterial base and allow you to wipe clean your brushes in between uses. They do not replace the need for shampooing your brushes; they just allow you to go for a little longer between washing, and also enable you to use the same brush for more than one product, as you can spray on and then wipe away product residue on a tissue, thereby reducing product contamination.
All make up brushes need regular washing. How often depends on the purpose of the brush and how often you use them!
Close work eye brushes, such as Smashbox liner #9 and #8 should really be washed every time you use them. Powder eyeshadow brushes can be washed less frequently - once a week would be fine.
All other powder brushes can usually go a week between shampoos. Cream blush, foundation and lip brushes should be washed every 2-3 days.
So what is the best way to wash them?
Well - this is the way I do it
Lay a soft towel over a chest of drawers or dressing table - somewhere that you can lay your clean brushes down to dry without risk of damage from the cat jumping up or you dropping stuff on them etc

Get all your brushes together ready

Run a bowl of warm water and have some good quality liquid soap (I use l'occitane) or a gentle baby shampoo - (depending on the quality of brushes you have, remember that you are in essence washing 'hair').

Dip the head of the brush in the clean water - be very careful not to immerse the whole brush in water - you do not want to get any water where the ferrule (the metal part of the brush) joins the wooden handle, as that can seep into the wood and cause it to rot.

Gently work some of the shampoo into the brush - foundation brushes and cream products will feel greasy and will need to be thoroughly massaged to ensure the shampoo is worked all the way through.

Rinse in the water and repeat if necessary.

Finally rinse under clean running water checking to make sure the water runs clear.
Drying
The way you do this is crucial to ensure that your brush retains it shape.
Once you are happy that you brush is clean, gently shake it to remove excess water then, holding the handle of the brush in one hand, gently pull the bristles back into the required shape using your thumb and index finger.
Powder brushes really benefit from being pulled through the circle made by your thumb and index finger. Smaller brushes can simply be pressed between the pad of yout thumb and your index fingertip. In gently pulling the bristles in this way, you remove the excess water and ensure that the brush retains it shape.
Don't store your brushes upright to dry as again, this can cause water to pool and seep into the wood. Lie them flat on your towel - yes...the one you prepared earlier (I have always wanted to say that!). Lie them in such a way that the head overhangs the surface thereby allowing air to circulate.
Your brushes should then dry quickly and naturally; in the correct shape. Soft and fluffy (for powder brushes) and compacted and firm for your cream application brushes. Once dry, give the handles a quick polish with the towel, before storing them as described above.

Cared for in this way, your brushes should give you years of service - and look and more importantly feel, as good as when you bought them.