Beware! Most of the MAC brushes sold on here are FAKES! If you want real MAC brushes either buy off their website or go to the store. If you must shop on ebay for them here are some ways to find out if what you are bidding for are fake or not.....
MAJOR DIFFERENCES BETWEEN AUTHENTIC AND FAKE MAC BRUSHES
1. PACKAGING
Authentic MAC brushes come in a clear plastic sleeves with a bar code printed on the sleeve. Many fake brushes I have seen come in clear plastic sleeves without the bar code. In addition, many fake face brushes come with additional hard plastic protectors for the hairs. Real MAC face brushes do not have this additional plastic protector. They come in the simple clear plastic sleeves with bar code.
2. HANDLE
Real MAC brushes come with black wooden handles and the neck (the part that connects the handle to the hair) is silver. I've seen some bad fake brushes with black plastic necks.
3. LETTERING
Authentic MAC brushes are labeled "MAC ###". ### being the number of the brush. On real brushes, the lettering is printed on the handle and easily rubes off with your nail. On most FAKE brushes, the lettering is engraved into the handle and very hard to rub off. Try it.
4. BRUSH SETS
Keep in mind that MAC has never offered a set of full sized makeup brushes except until November 2006 called the Pret-a-Porter brush set and the 2008 Holiday Set for Nordstrom only. The Pret-aPorter set includes 8 full size brushes (187, 190, 129, 213, 224, 266, etc). The set comes with a black satin brush roll. So if you see a full size MAC brush set on Ebay but it doesn't have the 187 skunk brush, it's FAKE. For Christmas 2008 MAC released a full set for Nordstrom only. It came with 4 full size brushes (187, 168, 222 and 208). See photo below.
Therefore, 99% of the brand new full size MAC brush sets on are FAKE.
TRAVEL SIZE BRUSHES
MAC does make many travel size brush sets with brush numbers ending in SE. *UPDATED* - The last photo below is of a fake travel size MAC brush set I found on Ebay recently (Jan. 2008). Authentic travel brush sets usually come in sets of 5 brushes with a cute brush case, the brush handles are usually some unique color, not black. The fake set below, however comes with plain black handles and a generic looking brush roll.
5. THE SELLER
Never buy MAC products from a seller you don't trust. Sellers to watch out for are a) Newly registered sellers with no or little feedback, b) sellers in other countries such as in Asia, Australia and Canada, c) sellers selling a lot of other MAC brush sets (you have to wonder where they are getting the endless supply of brush sets). Don't let 100% feedback fool you. Look at the seller's completed listing and see if week after week they list full size MAC brush sets. That's a sign the brushes are fake!
Please do yourself a favor and
click on the "View Sellers's Other Items"
link on the right hand over below the sellers info. If the seller is selling other MAC or designer makeup products that week, ask yourself how this person gets their hands on cheap makeup products. 99.99% of the time everything that person is selling are FAKES.
FEEDBACK ISN'T ALWAYS RELIABLE
Plenty of people buy fake MAC brushes on Ebay without realizing it. They leave positive feedback for the seller and in turn convince more victims to buy. There are plenty of sellers with 99% or higher ratings who are selling fake MAC brushes. Bottom line - don't trust feedback. Do your research instead or buy from a store. Don't try to save money but end up paying for a fake brush set.
6. THE PRICE
$50 for a set of new and authentic MAC full size brushes? That's too good of a deal to be true!! The best way to avoid buying fake brushes on Ebay is to buy brushes one at a time, instead of in a set. I am noticing more and more fake 187 brushes on Ebay. They look very similar to the real thing except the seller seems to have an endless supply of them and happily sells them for 50% off of retail. This is a sure sign they are fake.
Watch out for seller ids: "goldenseller23","dalilakahlo1","videopizazz2008", "consoledcat", "best_makeup". All their items are fake.
Stock Photo of the Pret-A-Porter Brush Set (Authentic).

2008 Set for Nordstrom (real)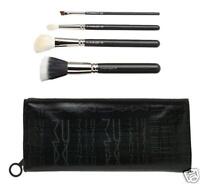 EXAMPLES OF FAKE MAC BRUSHES AND SETS
Real brushes don't come with the brush covers you see on the 3 brushes in the middle

(note the plastic cover that's not found on authentic brushes)
Full sized images here:
http://i13.tinypic.com/42midcx.jpg
http://i17.tinypic.com/3z8dgna.jpg
http://img.inkfrog.com/pix/number10/IMG_0671.JPG
More Photos of FAKE brush sets


Fake Travel Size Set
Really fake looking set. The real brush necks should be silver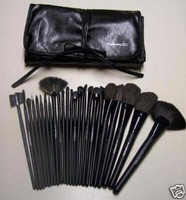 FAKE 187
being sold by sellers
"goldenseller23","dalilakahlo1","videopizazz2008", "consoledcat", "best_makeup"
and
"best_makeup"
. In real life if you compare this to the real 187, you will see that the head of the real 187 is much smaller. The hairs on the real 187 does not spread out so much.