Welcome to my Guide for the Amazing Mazda MX-3 V6 24Valve
here are some common things to look out for when buying :
1 . RUST !
~ like many japanese cars rust is a killer , check the rear arches , and if you can get the whole underside Waxoiled .
2. ENGINE SMOKE ON START UP
~ the V6 is an amazing engine , nut needs to be looked after ( i change my oil and filters every 3000 miles , and use HLA valve treatment ) oil = Castrol Magnatex , and use a drop of redex every 3 months .
3. BRAKES ~
because of the weight of the V6 at the front , brakes will sometimes suffer , make sure and check these .
check the CV joints , and wishbones , and any other underside parts , as they can be very expensive to replace !! ~ Example :
front pipe on a mazda 323 =
£40 - £50
front pipe on a mazda MX3 =
£280 - £350 !!!
Please check out my ~ MAZDA MX-3 V6 - SERVICE & REPAIR MANUAL for help regarding any of your Mazda MX3 issues , and also check out PROBE STORE ( do a Goggle search , as Ebay does not allow me to list outside links !) for loads of hard to find MX3 items

my own Mazda MX3 about a year ago .



and now :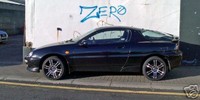 ** check out The upcoming Mazda MX-4 Kabura concept , at the bottom of the page ! **
The Mazda MX-3 was a four-seat hatchback produced from September 1991 to 1998.
The MX-3 was based on the EC platform.
* 1 Engine
* 2 Performance
* 3 MX-3 Modifications
* 4 Future Model
* 5 References
Engine
The MX-3 came with two engine options — a 1.6 L I4 and 1.8 L V6. The straight-4 was available in two versions, an 66kW (88hp) SOHC B6-ME unit which powered 1992 and 1993 models, or a 79kW (106hp) DOHC/16-valve B6-D unit which was found in 1994 and later models. The more powerful DOHC 24-valve V6 K8-DE produced 101kW (135hp) and was available with an optional automatic. There have been many cases of GS owners upgrading the engine to a 2.5 L V6 (either a North American-spec 125kW (168hp) KL03 (Most Commonly found in 2nd Generation Ford Probe GT or the Mazda MX6) or the Japanese-spec 150kW (199hp) KLZE found in such vehicles as the Efini MS-8, Xedos 9, & Eunos 800). Upgrading to this engine size added the unofficial GSR trim to the MX-3. The 4-cyl RS could be modified to fit the BP, B6T or BP-T engine. Either of these engine modifications gave the added performance comparable to many modern sport cars, a popular enhancement among MX-3 enthusiasts.
Performance
The MX-3 was marketed as the Mazda MX-3 Precidia in Canada, the Eunos 30X in Australia, and as the Eunos Presso, Autozam AZ-3 and Mazda AZ-3 in Japan.
The MX-3 is notable for having one of the lowest displacement V6 engines ever fitted to a production vehicle, with a 1.8 L V6.
It had a top speed of approximately 200 km/h (120 mph). The MX-3 GS could accelerate from 0-100 km/h (60 mph) in 8.5 seconds, and could travel a quarter mile in 16.6 seconds. With a turning rate of 0.89 g (8.7 m/s²), its handling capabilities were one of the best in its class.
The V6 engine was impressive for the time, belonging to the Mazda K-series, which were used in a range of Mazda vehicles. These engines were designed to be smooth, very long lasting, and hold a high torque across the RPM range. These engines used a variable length intake manifold (VLIM), in order to provide optimal torque using intake resonance. Mazda called their system on the MX-3 the "Variable Resonance Induction System" (VRIS). This engine had a 7000 rpm redline, and a 7800 rpm fuel cutoff. It is rumored that Porsche designers helped to create the K series engine.
The MX-3 used Mazda's proprietary Twin-Trapezoidal Link (TTL) for the rear suspension. It passively allowed the rear wheels to turn slightly in order to enhance handling. It has been used on a range of Mazda vehicles, providing a smooth ride, yet delivering responsive handling while minimizing body lean.
In 1993, Mazda Canada offered a limited Special Edition model of its Mazda MX-3 GS to celebrate the company's 25th year in Canada. At the same time, Mazda USA offered a similar model as a Special Edition as well. Only a total of 2,000 Special Edition models were supposedly made. The special edition MX-3 featured the V6 engine, leather interior (including seats, steering wheel and shift knob), heated seats (Canada only), and custom Enkei manufactured 15 inch alloy wheels. Most special edition models came in the color Raspberry Metallic; however, there were also Blaze Red and Brilliant Black colors available for the Special Edition.
MX-3 Modifications
The Mazda MX-3 is becoming a rare car, so modifications for it can be difficult to find unless you know where to look since it has not been manufactured in North America since 1996. Since the MX-3 has two engine classes (I4 and V6) many of the engine performance modifications are dependent upon what platform is installed.
MX-3 RS with the 4-cylinder engine can upgrade to the BP 98kW (132hp), B6-T 110kW (147HP), BP-T 134kW (179hp) and BPD-T 154kW (206hp) engines. This can bring it's low power up to a very healthy rating and transform into stiff competition for many modern performance vehicles on the road today.
The most common engine swap for MX-3 GS owners with the V6 engine is a 2.5 L V6 (either a North American-spec KL-DE 125kW (168hp) or the Japanese-spec KL-ZE 149kW (199hp), found in such vehicles as the Efini MS-8, Xedos 9, & Eunos 800). A 2.0L V6 known as the KF-ZE is also available, but this swap can proved to be quite difficult due to the unavailability of required components. For this reason, this particular engine swap is not often attempted.[1]
Swapping of the 4cyl RS engines can be slightly more complicated than the V6 GS mainly due to ECU, wiring harness, and MAF combinations as well as motor mounts. V6 swaps require specific ECU, intake manifold, and VAF sensor combinations, but there are far less variables to deal with. Many improvements can be made after the engine swap & during the engine tuning process to find the best combination of engine peripherals.
There is now a growing range of Body modifications for the MX-3 along with performance brakes and suspension.[3] Most extensive modification must be entirely custom fabricated due to limited availability. This is mainly where the vast knowledge and support of MX-West is beneficial to the MX-3 enthusiasts. The experience of other owners in the MX-3 community along with hands on advice from club members quickly becomes a valuable asset. The MX-3.com forum also contains a wealth of information.
Future Model
Since the final discontinuation of the Mazda MX-3, many enthusiasts continuously hope for a return of the MX-3 model.
The upcoming Mazda MX-4 Kabura concept, planned for 2009, is similar in concept to the MX-3.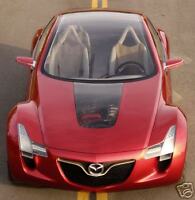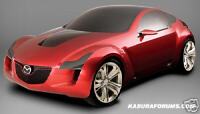 Anybody else nursing a semi ! lol
The Kabura is said to borrow significant mechanical components from the Mazda Miata while the styling appears as a blend between the MX-3 and RX7.
THANKS FOR LOOKING , AND IF YOU HAVE ENJOYED THIS GUIDE , PLEASE CLICK YES AND HELP OTHER DRIVERS (ESP HONDA ! ) TO COME TO THEIR SENSES AND BUY MAZDA !
Thanks
Timz.Bargain.Bin