Steven McGovney and Tammy Camarot are no longer married, but the festive, functional ceramic artwork they created together lives on. Their playful designs include fanciful and brightly colored contemporary teapots, vessels, urns, menorahs, and tabletop wares such as pitchers, plates, bowls, ashtrays, cups, and saucers. Best of all, despite the number that reside in celebrity collections, their pieces have so far remained affordable for the average collector.
Steven McGovney holds a Master of Fine Arts degree from Otis Art Institute. He has lectured nationally on mold making, art pottery, and the "masochistic joys" of ceramics. Tammy Camarot is a "recovering biology major" who took a meandering route into the art world, eventually landing a paid apprenticeship at McGovney's ceramics studio. Love blossomed, and so did their collaborative art-making talents.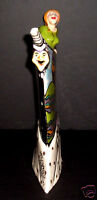 Together they created a distinctive body of work that they call "Accident By Design", which drew on their mutual strengths to create something beyond both of their individual abilities: a unique artistic statement. McGovney's background in sculpture and ceramics provided reference for the three-dimensional and technical side, so it is he who designed and slip cast each piece in low-fire white clay, hand finishing it with pulled spouts, handles, and other sculptural additions.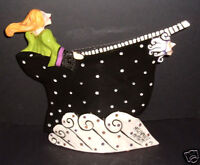 Camarot's intuitive sense of pattern (a holdover from her biology days?) led her to design and hand paint the wares' two-dimensional surfaces. After the first firing it it was she who took control, painting underglaze colors and scribing delicate highlights clear through to the clay for an additional design element. After a second firing, each piece was dipped into a clear dinner-safe glaze before being sent to the kiln for a third and final time.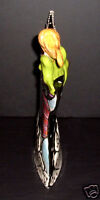 Because they are hand made, each piece is only in very limited production. And because of the breakable nature of ceramic, they bode well to become scarcer as time goes on and therefore to appreciate in value. Prices for smaller tablewares such as cups, saucers, bowls, plates, and ashtrays currently start at $24.99, while prices for their often elaborate teapots range from $160 to $540.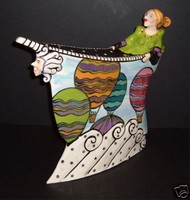 The impressive and distinctive clay art of McGovney-Camarot is owned by Molly Ringwald, James Whitmore, Terence Stamp, Michael Douglas, Loni Anderson and Bill Clinton. It is shown nationally in many fine galleries, and the artists have participated in many national invitational shows, especially for their wildly original teapots. Their work also can be found on eBay.
Thank you for reading our guide. If you found it helpful, please vote by clicking "Yes" below.