How to replace the battery in remote control fobs
For MG and MG Rover cars
Remote's are for the Pektron SCU - Aug 2003 and onwards
Guide by Remobilise Ltd
This
is a 3 Button MG fob made by CEL, and it's the
433mhz version, some fobs are 315Mhz.
Both have the same battery and the same procedure
is used to change them.
These Fobs have the MG logo on the front and the Frequency and Makers name on the back In this case CEL & 433Mhz. They also have 3 Buttons, an oval shape, and are two tone in colour.
Looking near the top on the reverse side you can see that there is a small slot for your screwdriver to go in.
Insert the Screwdriver blade and twist either left or right and the top section will slide away from the body of the fob.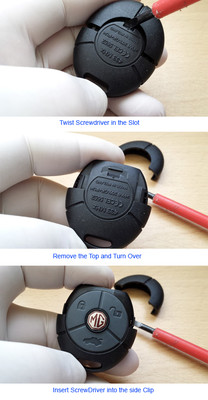 Now
turn it over so that the face with the logo is to the front and insert your screwdriver blade into the two side clips GENTLY just give each of those clips a gentle twist 5-10 degrees or so.
This action will make the opening the case easier.






Grip
the fob case in one hand with the top edge showing.
Then insert the screwdriver blade, and taking care
not
to push it all the way in and scratch the PCB inside, gently twist till the case opens.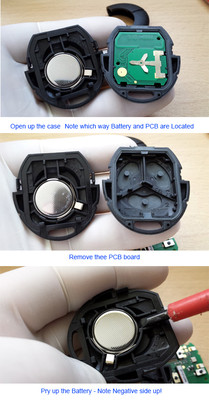 Put
the two half's down and then using the screwdriver blade remove the battery. Try not to handle the new battery with bare fingers as
you will deposit oils onto it and cause problems in the future.
The battery goes POSITIVE side
down
as noted by the symbol on the case.
Whilst you have the circuit board out make sure the NEGATIVE flexible battery connector is reasonably tight.
(does not move by itself)
(silver coloured clips on the left side of the PCB )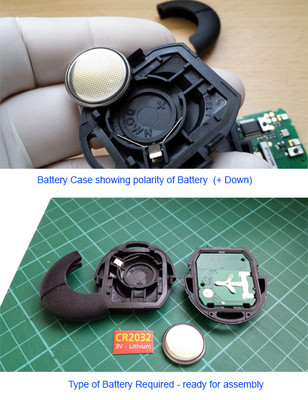 On
the PCB board the earth clip attaches to the board via two bent clips and the 3 prong connector is on the reverse side.
Assembly is the just the reverse….PAY attention to the circuit board, and that you get that back in the right way up and in the correct orientation.
If you have no gloves then handle the battery with a tissue while inserting it.
A word on the Lithium Batteries in the MG & Rover Remote Fobs.
We send these remote's to many countries around the world but due to the new Lithium Battery restrictions by the International Civil Aviation Organisation – there are some restrictions.
Some Countries will NOT allow the batteries to be sent via airmail, some have restricted ALL lithium batteries via Airmail and Normal surface mail.
Due to these restrictions customers buying fobs in countries with restrictions will not receive a battery and will have to buy and insert their own Battery
---
MG3B 1 © Remobilise Ltd 2014 Tel: 01792 896404