I Have had Problems with an MP4 Player from the moment it arrived at my door.
On the listing they sound great, Click The link to take a look: MP4 PLAYER LINK
Here is a picture of the MP4 Player in question.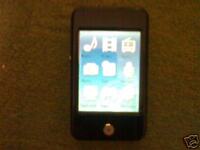 The software disk did not work, i contacted the seller an he sent me a new disk, this also turned out to be a blank disk. I contacted the seller again and he sent me a link where I could download the software, This link did not work. So I still do not have any software for the mp4 player.
I First found problems when I tried to load a video on to the system, It just says unable to view. I have tried MP4, AVI, Nokia video files and alot of others. None of them work. I think it must be a video codec that they use only in china/hong kong and other far east countries.
PRODUCT REVIEW:
The Mp3 player works well with headphones.
The built in speaker is not very good.
The touch screen works well.
I like the way it can record off the radio, although you will need a good signal.
Radio will not work with the built in speaker because the headphone lead acts as the antena.
Video playback is none existant as the device will not recognise our video files.
As a storage devise to move files from 1 PC to another it is great.
Battery life is not bad.
HOW CAN YOU AVOID GETING CONNED:
My first piece of advice it to buy from your won country and buy a well known brand.
If what your buying is cheap for what it does, then that says it all. ( I paid £10 and £20 P+P)
Do internet searches before you buy and find out as much and you can and also if other people have had problems. (google, rockchip mp4 player) you will find that other people have got the same problem as i have, If i have had know this i would not have purchased this product.
DO NOT HAVE AN MP4 PLAYER SENT FROM CHINA/HONG KONG
If this guide has helped you then pleave vote for it, Thanks for reading.