I bought a great little media player (mp5 player) from 'digital-e.hk', and well over a year later it is STILL working perfectly!!
It proves that you don't need to shell out hundreds on iPods and the like. This MP5 player does many things; it plays music, videos, view .TXT files, it has a 'Tetris' game, and you can view your pictures too! It also included a little pouch to keep him in! Below is the actual player in all its glory back when it was brand new...

...These pictures I took over a year later, 2nd July 2011: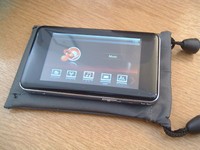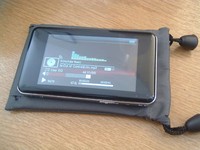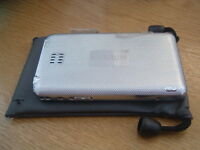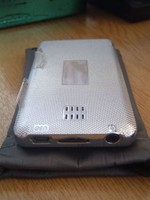 Since I've had him, I've had to replace some of the buttons as they've lost their 'click' over use, hence the tape over the outer buttons in the above pictures to keep them intact during repairs. I did this by removing a button from an old media player player, then using a soldering iron to fit the replacement button in.
(It has the following image on the listings)

For the price, it is absolutely amazing! The build quality looks quite sturdy, with a metal casing on the back. The sound quality is brilliant; you can use preset equalizers to get the most from your listening experience. Not sure what it means, but on the MSEQ equalizer, when you set it to 'Base', it sounds phenomenal, such powerful sound! In addition, it also displays album art, if available, and the title, artist, and file name while playing, as well as the frequency chart.
The video function is pretty cool; sometimes, you have to re-encode video, as it may not play real-time, i.e. like slow-motion, or it may not play at all. But it can play certain files without conversion, and once the video is converted and playing, the picture quality is superb! Sharp, vibrant images make sure you get the most from your videos.
As an animation student myself, it is a particularly useful feature, as I can show off my work (e.g. my 'Agent: Shadow' film) to people when I'm out and about, which adds another new dimension to this great feature.
The photograph viewer is too a great feature. It allows you to rotate pictures, zoom in/out, set slide-show at different speeds; 2 second, 5 second and 8 second, I think. Again, the image quality is brilliant; sharp, crisp and clear. Great for showing your holiday snaps, or your photos of a night on the town!
On a new subject, the headphones that are supplied don't do the MP5 player justice in my opinion; I myself use Sennheiser MX160 headphones; they really bring the great sound quality to life, with powerful bass-driven, stereo sound. But back to the MP5 player. It boasts a built-in Micro SD card reader, which I needn't mention, brings the player even more flexibility, which will allow you to watch more videos and, in my case, show off more of my work, show off more pictures, and take even more music with you. A word of warning however; I hear it won't work with 'High Capacity' versions of the Micro SD card. In other words, the maximum you can use is 2GB, which is still great, and they're only about £4 too, at cheapest!
The MP5 player also has a built-in speaker, which would be great as a shower radio perhaps. Yes, of course, the sound quality obviously isn't as great, but it adds yet another feature to this super little media player.
Now, one negative. The charger was very short-lived. Listening to my music, when suddenly, I heard a pop/bang, and I discovered the charger had blown. It wasn't a problen though, as I did have two others already to replace it. As long as the player dosn't break, as I really do like it! :) So be prepared for that!
It hasn't happened to mine yet, but the firmware (that is the operating system), appears to go wrong on these MP5 players occasionaly, from reading feedback, and from previous experience! One I used to have (before I lost it on a plane!) had this problem, and I did fix it. If it happens, IT IS SOMETIMES REPAIRABLE! I backed up my MP5 player's firmware incase of this happening, so I can hopefully restore it if it does go wrong (hope it won't!)
So to back up the firmware, visit Google, search for the file 'rkusb.tag' (should be on 'mympxplayer.org'). Get it, and put into the player's flash drive. Then disconnect the player, then connect it again. That file should have revealed a hidden drive, which is about 60mb. (you may need to repeat few times, I've found to make it work). You know it's worked when the computer detects a new device. So finally, go to the drive, and there should be four folders, and maybe some random files. Copy and paste them to a safe place, but DO NOT CHANGE THE FIRMWARE FILES ON THE PLAYER! Also, keep the 'rkusb.tag' file safe too, as this is like the key to unlock the firmware partition (it is not part of the firmware, so keep it seperate to those files).
So if the player ever becomes corrupted (ie won't switch on, but will connect to the PC as a flash drive), you can try to recover it by copying these files back to the firmware drive of the player!
So from playing music to showing off your photos, this is, in my mind, a pretty cool gadget!