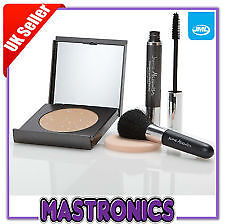 Makeup Mineral for all Seasons
If you have tried may different brands of make up and find your spending way to much on your makeup, why not buy a makeup with the benefits in one without having to carry everything in your bag. Then Magic Minerals by Jerome Alexander is for you. Jerome Alexander has been a makeup artist to the stars for many years and he loves you make your skin look flawless.
Magic mineral powder the only foundation and concealer with built-in colour corrector to give you flawless skin all day and night, the built in colours are; Pink -This brightens pale complexions, Mint - This helps dull redness and conceals skin discoloration, Lavender - This camouflages yellow and pallid skin and Yellow - Coverage for your under and over eye areas.
Magic minerals is a plam size compact with a mirror and the professional stubby brush that is soft on your skin and a mascara to finish your look. Magic minerals is suitable for all skin tones, and so easy to use, just brush on the minerals and have flawless skin.
http://www.ebay.co.uk/sch/MakeUp-/31786/i.html?_nkw=magic+minerals+jerome&_frs=1
this link will direct to ebay sellers that sell Magic mineral
http://www.ebay.co.uk/itm/JEROME-ALEXANDER-NEW-YORK-MAGIC-MINERALS-MAKEUP-SET-GIFT-PACK-KIT-BLUSHER-/381053238648?pt=UK_Health_Beauty_Make_Up_Sets_LE&hash=item58b88afd78
here is a magic mineral set being sold on ebay uk
So if you want soft glowing skin that everyone wants and will be asking you how you glow and stand out from the crowed then let Jerome Alexander Magic Mineral be your gift to tell thge world, you'll never find anything like this again.