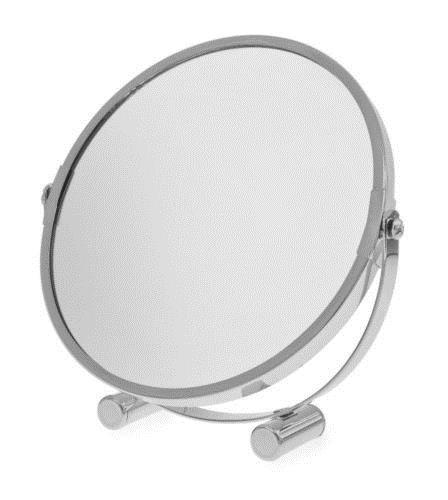 Probably the very first mirror was a pool of still water into which humans first saw their reflection. But things have come a long way since then, and now there are a multitude of different types of mirrors to choose from. The same is true of how to buy things too. Today, consumers are only a few clicks away from whatever they need by using the internet, and nowhere offer more choice for today's shopper than the eBay website.
Everything you can possibly want is listed on eBay's site, complete with useful images, consumer ratings, prices and much other information along with the protection of payment via PayPal. Magnifying mirrors are not overlooked, with an extensive listing of the range available including price, size and technical specification.
A Choice of Mirrors
When it comes to choosing mirrors, the size really does matter. Magnification in a mirror makes seeing a particular area of the face easier but at the price of restricting the bigger picture. A small but powerful x15 magnifying mirror is ideal for tasks such as applying eye make-up but checking a hair style or fit of clothing is very difficult if not impossible using such a small compact.
The simple fact is that a variety of mirrors are needed for different applications, and fortunately there is a very wide choice of magnifying mirror types available on eBay. They range from tiny magnifying mirrors for use with makeup that can be popped into a small handbag, through to large wall mounted LED backlit versions that can be used by men for shaving as well as by the ladies for makeup applications.
Compact Mirrors for Travelling
Thanks to the advent of eBay, people may not spend so much of their lives shopping on the High Street as they used to but a great deal of modern life is nonetheless spent on the hoof commuting to work, pursuing leisure activities or going on holiday. All this rushing about makes it difficult to keep up with those all-important appearances, especially where work is concerned.
Apart from office workers lucky enough to have their own private office with some wall space for a large magnifying mirror, most women have to resort to carrying small magnifying mirrors in their handbags for tidying their make-up during the long day at work. The same is true when travelling on holiday or for work, where space and weight are usually at a premium and the extreme fragility of larger mirrors is an important limitation on their use on the go.
Mirrors with Lights
It is surprising how much difference a well lit mirror can make. The lighting can come from the built in room lights but there really is nothing quite so effective or revealing as a magnifying mirror with built in lighting. There is a wide range of sizes and types of magnifying mirror for sale on eBay, with an equally wide range of prices, offering something for every pocket and purpose.
The advantages of magnifying mirrors with built in lighting are varied:
* There is no need to strain eyes or build in extra room lighting.
* Everything on the face is revealed in great detail so make-up can be applied accurately and effectively.
* They are available for wiring into the mains or come with built in batteries to save on the cost of expensive electrical work.
* Many models have low energy but remarkably bright LED lighting.
* They come both as freestanding or wall mounted models.
* They are particularly useful for men when shaving as it can help prevent accidental cuts or missing out areas of facial hair with the razor.
There may be a need for at least two such magnifying backlit mirrors, one each for him and her (and not to mention more mirrors for teenage kids), to avoid queuing for access at critical moments.
Magnifying Mirrors for the Wall
Although magnifying mirrors can be bought on eBay either in portable form, free standing or fixed to a suitable wall, the latter format has clear advantages. Consider the following:
* It will not go on an inconvenient walkabout just when it is most needed.
* It can be positioned at the ideal height for the user.
* Some wall mounted models are adjustable.
* It is particularly suitable for built in lighting.
* It saves on vital shelf space, especially important in smaller bathrooms.
* Wall mounted mirrors are generally larger and more effective.
* Wall mounting reduces the risk of accidental breakage.
Compact Mirrors for Everyday Use
Modern life involves high levels of mobility, from commuting through to holidays, not to mention the school run, while maintaining appearances is considered to be very important. Compact magnifying mirrors play a vital part in a woman's make-up armoury with the emphasis on compact as it has to compete for limited space in the handbag. Fortunately, eBay offers an excellent range of such mirrors to suit every pocket, purse or handbag.
Packs of Compact Magnifying Mirrors
In spite of the old superstition that broken mirrors bring bad luck, compact mirrors do have a hard life and can often get badly scratched, broken or lost. A trawl through eBay shows that, as with other goods on their website, big savings can be made by buying compact mirrors in bulk packs. These can be split up between family and friends as well as providing spares, so reducing purchase costs by a considerable amount.
Anti Mist Magnifying Mirror
There can be few things more frustrating than having a steamed up mirror when trying to get out of the house in a hurry. This is especially likely with a wall-mounted mirror in the bathroom, but luckily there are anti mist versions of magnifying mirrors on eBay that minimise this problem. So, with such a mirror, those eyebrows can be comfortably tweezered after a bath while skin pores are still open, and men can achieve a clean, cut-free shave.
Buying Affordable Magnifying Mirrors
Not only does eBay offer a wide range of types and sizes of magnifying mirrors: it also offers a huge range in prices. The cost of each product is clearly displayed along with any delivery charges, which are often much less when a number of items are bought. Just follow the easy step by step instructions on the website to make a purchase.
| | | |
| --- | --- | --- |
| Type of Mirror | Benefits | Ideal Uses |
| | Being able to see without having to turn on additional lights | Anyone plucking their eyebrows, shaving, cleaning pores |
| | Being able to see the skin close up, then turn it around for a more 'normal' viewpoint | For applying makeup, for cleaning pores, for shaving and for tweezering to see what it looks like close up and from a normal stance |
| | Being able to use it in the bathroom after steaming the skin to open the pores | These are ideal for anyone who likes to steam their pores open before getting rid of blackheads, shaving or tweezering |
Tweezering Made Easy
It is often said that there can be no gain without pain and this is certainly true when it comes to plucking those wayward eyebrows into a nicely arched shape. A magnifying mirror from eBay is an essential tool for this task to avoid creating gaps or accidental pokes in the eye, plus the tweezers themselves can also be sourced from eBay's website.
Shopping on eBay for Magnifying Mirrors
Shopping on eBay is something that anyone can master from avid online shoppers right through to first timers. Magnifying mirrors can be used for a number of different reasons from plucking eyebrows to getting a close shave and finding the exact mirror needed for the job can be done by using the search tool bar at the top of the page. This can be used to narrow a search down by using specific search related words such as LED mirror.
Another way to search for products on eBay is to go to the drop down menu under the shop by category section and click on Health and Beauty. From here, another list of sub categories will come up and shoppers can continue to click through until they find what they are looking for. Anyone needing more tips on how to use eBay to shop should check out the Search Tips page for more information.
Conclusion
Ever since Narcissus fell in love with his reflection in that pool and probably long before then, humans have been considering their reflected appearances. Those appearances may be deceptive and yet great importance is placed on physical appearance. This is why mirrors play such a key role in our lives. Be it selection for a job, impressing a partner or just improving a sense of self, the humble mirror reveals the truth and yet enables us to disguise and improve it.
Most homes need a number of mirrors to serve different purposes: some, for instance, have mainly decorative functions, effectively making a room look longer or wider. The magnifying mirror, on the other hand, is there to enhance personal appearance and again a number of such mirrors are needed for different occasions. The wide choice of such magnifying mirrors on eBay will meet every possible need and all bought from the comfort of the home, or perhaps even from a mobile phone or tablet while on the move. Convenient, comprehensive and financially secure, eBay offers the modern consumer the very best in modern shopping.