Everything You Could Ever Need to Make a Killing at Auctions
Written by Research Team Government Auctions UK (type it in Google to find us)
NO RESERVE AUCTIONS
Get an Amazing 25%, 50% or Even a Massive 97% Off Property, Cars, Vans, Computers, Plasma TVs, LCDs, Videos, Cameras, Antiques, Mobile Phones, Household Goods... In Fact, Just About Anything!
Make a Killing at NO RESERVE Government Auctions Part 5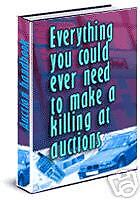 ASKING THE RIGHT QUESTIONS
You should, of course, take as much time as possible to view the lots on offer at the auction house and during this time feel free to ask any of the staff the questions that you may have. The better auction houses generally have more knowledgeable staff and a range of specialists that you can consult.
At some auctions - particularly in the field of antiques or collectibles - authenticity is the most important consideration. Never suspend your natural caution and skepticism, even on the basis of the auction house's well deserved reputation and expertise. You must develop an all important sense that tells you when you are in the presence of "the real thing".
The only way to build up this knowledge is through study as well as comparison with known similar works either in museums or in other private collections. However, a discussion with the expert from the auction house who wrote the catalogue entry in the first place is time that is not wasted.
Always ask them the question "what convinced you that this work is genuine?", a question that a reliable expert will be only too happy to address as it is allowing him to demonstrate his expertise in that field.
After authenticity, subject matter, form and condition must be the next most important items in determining what it is worth bidding for at the auction. In certain cases, particularly at the high end of the antiques and collectibles market it is recommended to hire a highly qualified restorer in a particular field to render a professional written opinion as to the quality of the item. Time, money and effort spent to acquire this opinion will be amply rewarded in the long run. For many collectors, the success comes from knowing when to say no and wait for another example in better condition to come on to the market.
Rarity is also an important key. The whole issue of what constitutes rarity is a matter which varies considerably from category to category and from time to time.
Also, the issues of provenance and historical significance may give an otherwise reasonably common object of art a distinct rare quality. For example: Winston Churchill's hat is rare whereas my hat which hangs on the hat stand in my hall is undoubtedly not (although it is quite old and I am rather fond of it).
Kind regards
Government Auctions UK Team
e-mail: http://www.governmentauctionsuk.co.uk/contact-form.html