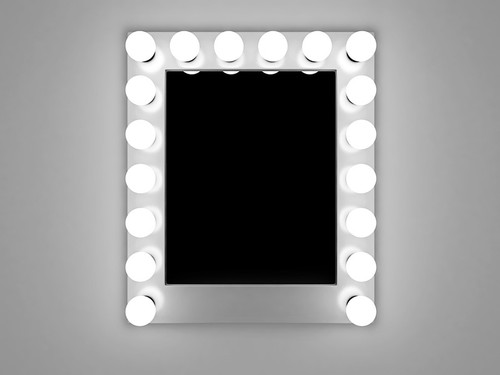 There are many types of make-up mirrors, cosmetic mirrors, and shaving mirrors in a variety of sizes and styles. They may be wall mounted, illuminated or portable/free standing. Some make attractive ornaments on dressing tables, others have their own jewellery boxes or drawers as part of the whole piece. In order to apply make-up and check any facial blemishes, a mirror needs to sit where it receives good natural light or else is artificially illuminated. Because of this requirement, most make-up mirrors are either portable for carrying to a well-lit window sill or shelf, or turned optimally on a dressing table when in use. They can then be returned to their usual spot afterwards so that the balance of any display is restored.
Smaller Mirrors
Among the portable mirrors ideal for travel use or to slip into a handbag are small mirrors with pouches or integral protective cases and stands. Leather provides excellent protection for a travel mirror as it is stiff enough to withstand accidental knocks and bumps so the mirror doesn't become scratched or cracked. It also is a great means of providing a hinged stand so the mirror can be angled to suit. Novelty pouches and frames make small mirrors fun and terrific stocking fillers at Christmas time or an extra little something to include in a birthday present. Make-up mirrors on stands are easy to carry and move from room to room. Some have fixed pedestals while others have hinged bases that fold back to provide a stand. They may offer features such as swivel, swing, or tilt functions for adjustable positioning. When grooming, plucking eyebrows, trimming moustaches, or fitting false eyelashes, close detail viewing is necessary. Magnification is a great way to observe things in more detail. If such a function is desired, a mirror with one side magnified and the other offering an ordinary view will suffice. Another method is the application of small, suction-cupped magnifying circles to an existing mirror, giving it a dual function. The versatility of these circles is that they are removable and adjustable, and they won't damage any other mirror to which they are temporarily attached.
Medium-sized Mirrors
Medium-sized make-up mirrors may be portable or fixed. On dressing tables there are often three mirrors that fold which are terrific for seeing side views when fixing hair or applying make-up. Vanity units often have mirrors attached to them with a swing/tilt facility to suit the user when sat in front of it. Small drawers for cosmetics or jewellery sometimes come with elegant free-standing vanity mirrors which would look amazing in a guest room as well as providing a practical purpose. These types of mirrors are useful for transporting downstairs if perhaps watching TV while setting hair in rollers, for example, or playing dress-up with children. When the fun is over, they can be returned to their proper place. On walls, make-up mirrors benefit from an advantageous position that receives plenty of natural light.
Larger Mirrors
Larger mirrors are usually fixed to dressers or mounted on walls and are not readily portable. With a larger mirror, not only may the face be seen, but the upper body as well, so necklines can be viewed to straighten ties, centre jewellery, or make final adjustments to hairstyles when using straighteners or curling tongs. Light, as always, is important so the mirror should be in a room with good overhead lighting or near a window to benefit from bright daylight.
Illuminated Make-up Mirrors
There are various types of illuminated mirrors which may be fixed or portable. Some are integral parts of bathroom cabinets, others are offered as shaving mirrors which sit on lever or extendable arms for adjustable positioning. If using an illuminated make-up mirror in a bathroom, it must be placed in either Zone 2 or 3 according to manufacturer's guidelines. Many LED illuminated mirrors are suitable for wiring in both zones. Some lighting types are only suitable for Zone three areas. According to IEE Wiring and Building regulations, Zone 1 areas in a bathroom are where there is the possibility of direct moisture contact, such as in a shower cubicle or directly above the side of a bath. Zone 0 is inside a bathtub. A Zone 2 area above a basin is the area 60cm high and 120cm wide directly above the fitting. It follows a 60cm radius from the centre of the fitting. Beside a shower, Zone 2 is the 60cm band from the outer edge of a shower or bath side, running 225cm from the floor/base directly on the wall side of the bath. Zone 2 is like a large band of wall space 2 foot wide, surrounding the wet area fittings. Zone 3 [as it used to be called] is the area outside Zone 2. Exceptionally large bathrooms stretching 240cm horizontally and up to 225cm vertically may have enough Zone 3/non-zoned space to permit non-IP rated fittings. Illuminated Make-up Mirrors
| Illumination Type | Free Standing | Fixed | Power Source | Benefits |
| --- | --- | --- | --- | --- |
| Candescent bulb | | * | Electricity | All round lighting by multiple bulbs for close observation. Usually a large portrait style mirror reminiscent of theatre dressing rooms. Can be fitted over dressers or on separate wall space. |
| LED | * | * | Battery or electricity | Bright light for close detail viewing with low power consumption. Suitable for portable mirrors as a battery operated appliance or for wall mounted mirrors. Versatile application because of the small fittings. Slimline, backlit LED mirrors with IP44 rating are suitable for use in bathroom zones 2 and 3. Some models come with de-misting pads. Ideal for extendable shaving mirrors and mirrored bathroom cabinet doors as well as illuminated wall-mounted mirrors in other rooms. |
| Fluorescent | * | * | Battery or electricity | As fluorescent bulbs are available in different shapes, they encircle round shape mirrors for even light distribution. They provide strong white light allowing close inspection in a mirror. Suitable for cabinets with strip lighting fittings to make an attached mirror well-illuminated. |
Electricity Initials and Acronyms Explained
Knowing what the electricity acronyms actually mean is the best way to making an informed decision on the mirror to buy.
RCD
Residual Current Devices less than 30m are required in bathrooms to provide protection for electrical circuits. A 3m distance, beyond the outside edge of Zone 1, must be observed when installing standard sockets, which should be fitted to a circuit with RCD protection. Standard electrical fittings for walls do not have an IP rating and thus are unsuitable for installation in Zones affected by water ingress, areas 0, 1, or 2.
IP
Ingress protection: essential for electrical fittings in a wet room. This excludes shaver power points with BS EN 60742 compliance which may be used in Zone 2. IP ratings include numbers X or Y for information. X refers to mechanical protection and Y refers to moisture protection. So an item rated as IP44 has level 4 mechanical protection and level 4 moisture protection. Higher numbers mean higher protection levels. Zone 2 IP ratings should be at least IPX4.
PELV
Protective Extra-Low Voltage: with earth wiring.
SELV
Separated Extra-Low Voltage: input and output are isolated. The transformer for an SELV requires location in Zone 3.
How to Find Make-up Mirrors on eBay
Call into the eBay site and press the arrow beside Categories to be directed to all categories with listings. As most make-up mirrors are found in the bathroom, start the search there by first looking through Home, Furniture & DIY. Choose Bath and from there select Mirrors. Options are provided to make increasingly refined choices to suit the desired make-up mirror type. If, for example, a magnifying mirror was needed, instead of going through the procedure described, type in words that will provide search parameters close to what is required, possibly 'close make-up mirror' to see if there are any current listings that match. Should there be no match, follow the suggestions offered in related searches to see if the product appears elsewhere on eBay. New listings are entered every day so it is worth saving a search for speedy access to the latest arrivals from the summary page. This way, one click will call up the saved search and on the 'sort by' function selecting 'newly listed' will show the most recent additions to the category.
Conclusion
Personal grooming is important and the correct mirror will make it easier. A small make-up mirror for a handbag means a discreet appearance check is just arm's length away. When travelling, life is easier with a foldable mirror in a case which protects it from damage. Small, novelty mirrors make ideal inexpensive gifts. Elegant dresser top mirrors may also serve a jewellery boxes with their storage provision. Most portable mirrors are adjustable and will swivel, swing, and tilt into a desired position. Illuminated mirrors ensure light is available where and when required. Some wall-mounted shaving style mirrors have extendable arms which allow them to be set in a preferred position. Bathroom cabinets may offer integral lighting with some LED models operated by infra-red motion sensors to switch them on or off with the wave of a hand.