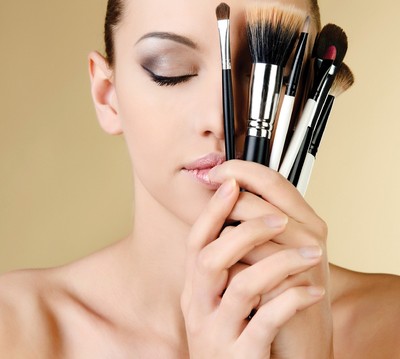 Products every make up kit needs

I recently had a big event coming up and decided to book a make up artist. I excitedly got up on the day of the make up trial with inspiration pictures in hand hoping to see my make up done in a way i'd never seen before. After the trial it was clear my expectations were WAY too high. Don't get me wrong I wasn't hoping for a miracle and expecting a celebrity to stare back at me in the mirror but I was expecting my make up to be done better than I could do myself.. and, it just wasn't.

So I realised that after many years of interest in the make up world and testing out thousands of products that I would be better qualified to do my own make up seeing as nobody knows my face better than I do. After lots of research I developed a list of every product I would need. Below is a buying guide based on what I found is key to a perfectly flawless face.

1) PRIMER.
I can't stress this enough. As someone who doesn't do the cleanse/tone/moisturise as much as I should ( once a month if that) primer is a big help. It hides all the uneven skin and creates a smooth base for your foundation to glide over. My favourite ended up being "Maybelline - baby skin" - RRP £8

2) FOUNDATION.
There are so many good foundations out there I find it easy buying foundation. I heard a lot of good things about Nars sheer glow but as they don't send out samples and I couldn't get their store finder to work on my iPad I didn't know what shade to order online. I ended up buying "M.A.C, Studio sculpt foundation" (RRP £22.50) . After I bought this I ended up trying out my mums foundation which was "NO. 7, stay perfect foundation" (RRP £14.50) which I actually preferred. Both give a nice coverage without giving you that caked on look.
A good tip is to apply your make up with a beauty blender. I bought "Real Techniques Miracle Complexion Sponge" (RRP £6) and I thought it was amazing.

3) FINISHING POWDER.
To stop your foundation wearing off through out the day it's best to brush on a thin layer of powder to set your foundation. I use "M.A.C, studio fix powder" (RRP £19.50) although i've asked used "M&S, Powder limited collection" which is nearly as good and RRP's at £4. Also M&S make up isn't tested on animals so you'd be saving the bunnys if you go this route!

3) EYEBROW PENCIL/ POWDER.
A defined brow can take years off you as well as being a big trend right now. The best pencil I found was "Smashbox, Brow Tech To Go" (RRP £19). Saying that I prefer using an eyeshadow with a slanted eyeliner brush as I find it gave an even more subtle look. I used the eyeshadow and brush from my "Benefit, Big Beautiful eyes" (see below)

4) EYESHADOW.
There are so many brilliant eyeshadows out there but the best I found to compliment my green eyes was "Benefit, Big Beautiful eyes" (RRP £23) which comes with 3 eyeshadows (a base shadow, a contour shadow and a liner shadow. The liner shadow is what I used in point no. 3 for my eyebrows). The set also comes with a concealer which I didn't like as it was the wrong shade and gave a cakey look.

5) EYELINER.
For me eyeliner completes a look. I use eyeliner on the inner part of my eye (skin between eyelashes and eye). I perfect to use a dark grey shade than a black as I have pale skin it looks just as dramatic but less gothic! My favourite was "Maybelline, Master Drama Khol Liner" (RRP £4.50)

6) MASCARA.
I have tried far too many mascaras and wasted a lot of money on ones that claim to make my eyelashes look bigger/fuller/longer etc but actually make me look like i've got spiders legs crawling out my eyes. My favourite mascara by miles is "M&S, Augograph False Lash Effect" (RRP £11.50) - the first mascara i've used that ACTUALLY does what it says. It gives a really nice false lash effect and I never feel the need to stick false eyelashes on since I started using this. Again as it's M&S it wasn't tested on animals so the Bunnys are safe with this product!

7) Bronzer.
I use bronzer to contour my face to give it a more natural (and sun kissed!) look. The best ones i've found are "Benefit, Hoola" (RRP £21.15) and "Bare Minerals, warmth" (RRP £19)

8) Blusher.
I am yet to find a blusher that I would recommend and I usually skip this step but if you've found a good blusher then a hint of it on the apples of your cheeks would work well

9) LIPSTICK/ LIP LINER.
To line the lips I use "Smashbox, The Nude Lip Pencil" (RRP £13) which comes in natural shades and one of the many lipsticks i've collected over the years. I actually really like Topshops range of lipsticks (RRP £8).

10) SETTING SPRAY.
To keep my make up on all day I use a finishing/ setting spray. The best i've found is "Urban Decay, All Nighter- Long-Lasting Makeup Setting Spray" (RRP £20). This holds you're make up in place all day/night and doesn't feel weird on your face or smell funny like others!

The above make up groups are all you will need in your make up kit!