Sandylion Essentials and other dimensional stickers are incredibly easy to work with, offering fully constructed, 3-D embellishments that simply stick right on to your card or scrapbook page. However, even at the best of times, it can sometimes be tricky to find inspiration, and the best way of combining your embellishment into your product with other techniques. So here's how I do it...
1/ GATHER YOUR MATERIALS
I'm a collage or 'cut and stick!' fan, when it comes to my own cardmaking, and I like to take the time to find papers, card and trimmings from my craft box to co-ordinate with the stickers I choose. When I find a perfect set of co-ordinating materials, I set to work!
2/ KEEP IT SIMPLE
The great thing about Sandylion Essentials and similar ranges such as Jolee's and La Petites, is that their embellishments are often intricate and detailed, meaning you can keep the decoration in the rest of your card relatively simple to offset the stickers perfectly. Is there anything better than a quick and easy card that looks stunning? ;)
3/ EXAMPLES
Here are two cards I recently made using the Sandylion Stickers sets I stock in my ebay shop,
Helios Crafts.
Both began with stickers I particularly love, then a rummage to find co-ordinating materials, through an experimental phase of positioning and playing about, and finally to the finished project.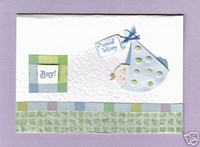 This baby card was created by glueing a strip of green mulberry paper along the bottom of the card. I didn't have any pale enough in tone to co-ordinate properly with the other materials, so I layered some white lace paper on top, which created a pretty, subtled check effect and gave me the overall shade I was looking for. I then stuck a strip of background paper across the card at the top of the first two papers to create my lower border. The greeting was created my sticking a square of background paper to the card, cuting a single 'boy!' from a string of words on the same background paper, and 3-Ding it with a pop-up glue dot. Two Sandylion Essentials stickers were given pride of place to create a simple, yet effective baby card.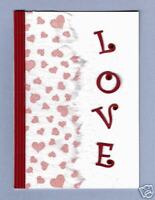 This romantic card would be perfect for a wedding or Valentine's card. This time round I used a torn section of a paper table cloth (yes - always be on the look out for materials to subvert into your craft projects!), trimmed the very edge of the card with some red corrugated card, and showcased the jewelled stickers down the right hand side of the card. Simple and smart (and it looks nothing like a tablecloth now!)
The best bit is, both sticker packs still have enough stickers left in them for me to create at least a couple of other cards from each package!
Visit
Helios Crafts
for Sandylion Essentials, other dimensional stickers, and bags of other inspirational embellishments.
Shiny Happy Crafting! :)