Making a Simple Mountain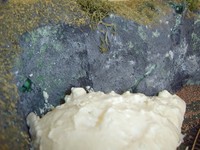 Here is A Picture of what i'm in the Process of building. The Effect is used from a Can of 'Mega Foam 750ml ' £5.00 from a good builders Merchant. Mine supply extra nozzles grab some you will need them. (i did warn you) Gloves are needed mine came with the can . Unless your gonna spend money on mega foam remover!.
Give the can a good shake, Plan what you want to do & then Just squirt. REMEMBER its expanding foam. Now the hard part waiting for it to dry. Give it 24hrs before you play with it. Read a book watch telly Just leave it alone. Now go back look at it if its not what you want pull it off & start again. (new nozzle needed) . If it is Ok Paint I use a test pot emulsion, I add different shades with my Humbrol acrylics not too much just a brush stripe here & There. Then add scatters, Lichen & Cork Boulders all can be found in my eBay shop. As you see very effective any Problems mail me.