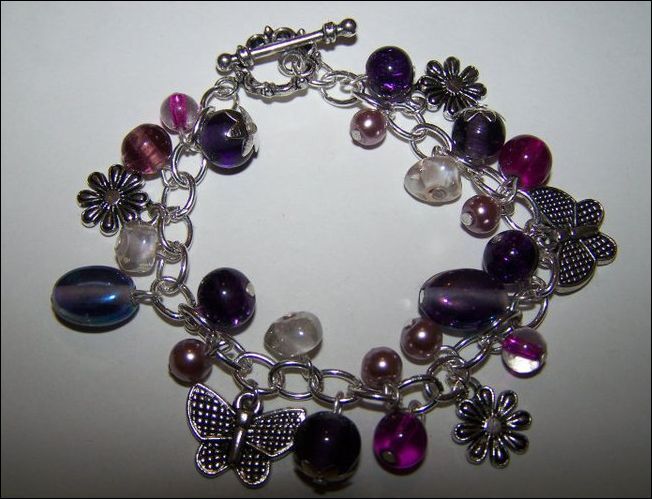 Making your own jewellery allows you to create a piece that suits your own unique style and matches your clothing, in a way that no store bought jewellery can. A charm bracelet can be a very personalised item of jewellery, created using charms that mean something special to you.
So, what do you need to create a charm bracelet?
Chain: A good, strong chain with good sized links is essential for making a charm bracelet.
Headpins: Good, strong headpins are also essential. These are used to add beads to your bracelet. The beads are strung onto your headpin and the headpin is then curled around the link of your bracelet, so the stronger they are the better.
Eyepins: Similar to headpins, eyepins will be needed if you want to hang charms underneath a bead on your bracelet.
Jumprings: Strong jumprings will be needed to hang charms on your bracelet.
Clasp: You'll need a clasp to fasten your bracelet. Lobster claw clasps or spring clasps can be used, but most charm bracelets employ the use of Toggle clasps. These clasps can be very decorative and come in two parts, one t-bar and one ring, one part is attached to each end of your bracelet and the bar is pushed through the ring to fasten.
Beads: Beads are needed to add colour to your bracelet. Most beads are suitable for charm bracelets. You will need to be sure that the hole is wide enough to fit onto your headpins and/ or eyepins, and not so wide that they will fall off, but this is where you can get creative and make your bracelet super pretty.
Charms: No charm bracelet would be complete without a few charms. There are thousands of charms available. Again, this is where you can get creative and personalise your jewellery with charms representing things which you care about.
Once you have these items, let your imagination run wild, and create a truly unique piece of jewellery.