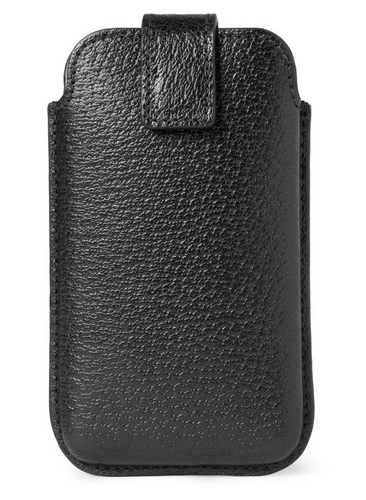 Metal cases for mobile phones have a number of advantages over other types of cover. With the increasing range of metal cases on the market, there are plenty of types to choose from for a snappy, stylish appearance.
Choosing Metal Cases and Covers for Mobile Phones
Metal is often the material of choice when it comes to designing a high end, luxury style cover for mobile phones. Slimline metal cases convey a smart and professional appearance and are the choice of material for many people when it comes to work phones as well as personal phones, particularly among those who network frequently or use their phone in professional company. However, the range of products on the market varies quite considerably, from premium designer cases to low cost metal cases for those on a budget. This means that metal cases are an option for everyone and most types of modern phone. Even the lower cost covers share a number of important features with their more luxurious equivalents. Metal provides a firm, rigid structure that is both robust and durable. When it comes to providing protection for mobile phones against shock and damage caused by dropping, knocking, denting, and scratching, metal is one of the best materials to use.
Possible Disadvantages
There are some disadvantages of metal cases and covers, including weight and bulk. Even lightweight cases are typically heavier than other materials such as plastic, but this is gradually becoming less of an issue as manufacturers strive to develop and incorporate more lightweight alloys into their case design. There is also the question of interference. Metal covers may also interfere with the mobile phone's signal, weakening reception and potentially shortening battery life. For this reason, many metal cases have a plastic cover at the top. Compared to plastic covers, the range of colours and finishes is somewhat limited. However, there is still a good choice for most mobile phones, including monochrome colours such as black and silver alongside more vibrant colours.
Type of Metal
The metals used in the manufacture of mobile phone cases share the similar characteristics described above. All metals are not the same, however, and some have benefits over others when it comes to factors such as weight, bulk, durability, and corrosion resistance. High end mobile cases often use lightweight aluminium shells. In some cases, these have undergone further processing specifically designed to make them tougher and more resistant to damage. Microarc oxidation (MAO) or plasma electrolytic oxidation (PEO) is one such process, involving the growth of tough crystalline oxide coatings on the surface of metals such as aluminium. A particular type of lightweight metal alloy used in more expensive phone covers is liquidmetal. It is an alloy containing different sized atoms, which gives it properties such as high tensile strength, excellent durability and superb resistance to corrosion. Liquidmetal's useful characteristics, including superb strength to weight ratio, has meant that is has even been used as a titanium replacement in military and aircraft applications. Among the other metals used are titanium alloys. Titanium has renowned hardness and strength to weight ratio, as well as an attractive lustrous appearance. Polished or brushed chrome is also often incorporated into designs for a smart, contemporary look.
Design
Because of the basic characteristic of metal cases, that is their rigid form, they are usually designed for a specific model of mobile and are not suitable for any other phone. Phones slot firmly into position and the case provides varying levels of cover, depending on design. Metal cases are designed to be permanent covers, rather than a case that the phone is removed from when in use. Most have holes for the camera and other features. This makes them suitable for those that use their phones frequently and want easy access to all functions, including the camera, volume control, headphone connections, and charging ports. One of the most popular designs is the clamshell case. This recognisable type of cover has a flip top. Snappy and stylish, it means the phone can be quickly accessed and looks smart when not in use. Other metal covers are more discreet and simply surround the phone to varying extents. Some provide protection to the back plate, while others simply surround the edge of the phone. If bulk is an important factor in design, look for covers described as having an ultra-thin or super slim profile. This means they are designed to be as slim as possible to enhance the natural elegant contours of modern phones.
Screen Protection
Metal covers will often come with a plastic covering over the screen. These may or may not provide access to the touchscreen, so be sure to check this out if quick access to the touchscreen is required. Hard plastic covers provide additional protection to the phone while not in use, but this needs to be weighed up against convenience. For many people, the touchscreen is an important component of the phone and it is frequently in use, so any restrictive covering would detract from the phone's inherent functionality. Metal covers may also incorporate a neoprene lining for extra impact protection. Some may contain linings of velvet or other soft fabrics, ensuring that the phone sits comfortably and adding a further luxurious element. Soft fabrics do not have the same shock absorption qualities as neoprene, however, and are primarily included for aesthetics.
Style and Colour
Monochrome colours such as black,, silver,, white, and grey are excellent for conveying a professional impression. Brushed silver or similar finishes are excellent choices for a case with a more conservative look. However, while traditionally metal covers have been available in a limited range of colours this is certainly changing. There are now a number of brightly coloured metal covers on the market that are both fun and stylish. Colours range from dark red and rich blue to gold, pink and purple. Brushed aluminium has a smart and contemporary appearance, while a gloss metallic finish is simple and classic in style. Patterned,, pictorial and even jewelled covers are available.
Accessories
Metal covers frequently come with a microfibre cleaning cloth. This will help to keep the cover in top condition.
Price
The price of metal cases and covers varies. At the top end of the market are premium cases constructed of specialist alloys designed to be as durable, resistant and lightweight as possible. Simple metal rims or bumper cases are available at a much lower cost. Always remember to shop around and compare prices between sellers, looking out for reviews and feedback for particular products and manufacturers.
Conclusion
Metal cases and covers for mobile phones come in different styles and designs, to suit various individual preferences and phones. Not only do metal covers provide superb protection for mobile phones, particularly those covers made of high quality alloys, but they can also enhance the natural functionality and appearance of phones. This ability to enhance mobile phone usage and functionality means that they are essential from a practical perspective as well as a style perspective. When it comes to appearance, metal covers are among the best type of cover for communicating an effortlessly elegant, contemporary style.