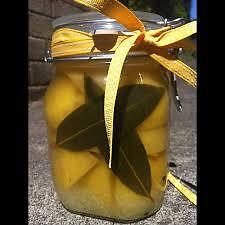 Preserved Lemons
To begin with you'll need these items:
Jar with a good lid
http://m.ebay.co.uk/itm/111357470213?nav=SEARCH
Lemons (unwaxed)
Salt
Herbs and Spices (your choice)
I choose between cinnamon stick and vanilla pods or chilli and bay leaves peppercorns ( the bay leaves and peppercorn or used as decoration and doesnt effect the taste).
So the first task is make sure your jar is steralised. You can do this by placing it into the oven after a good soapy wash. Pre heat oven gas mark 1 then place jar and lid upside down to dry in heat or using a dish washer is an easy option.
Now you need to make sure you have enough lemons to make the brine (lemon juice) and lemons to use to preserve it all depends on what size your jar is.
Take the lemons your using to preserve and clean them, then slice them into quaters leaving them still attached and rub alot of salt into the centre (as shown below).
Now put them into your jar with alot more salt in layer also adding any herbs or spices of your choice. Now finish up with a generous hand full of salt squeezing down all your ingredients. Top your jar up with some lemon juice and pop the lid on. You need to preserve these lemons for at least 3 months but are great to use in different recipes and to give as gifts. My favourite recipe is Chicken and Lemon which can be found all over the internet. Or you can pop a ribbon around the lid or even a personalised sticker on the jar to give it a extra something for a gift.
http://www.ebay.co.uk/itm/21-Gold-Border-Self-Adhesive-Label-Stickers-Jar-Jam-Pot-Label-Stickers-/111212201236?pt=UK_Crafts_StickersScraps_Decoupage_SM&hash=item19e4c38514