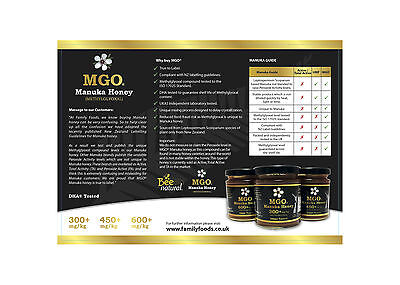 Manuka Honey
When buying Manuka honey, make sure you have researched the brand before you buy.
There are two types of honey on sale "Peroxide Based" Manuka honey and "Methylglyoxal rated" Manuka honey. There is a signifiant difference between the two, which the New Zealand Government and UK FSA are trying to resolve.
Peroxide based Manuka honey measures both the Peroxide Activity and the Non Peroxide Activity, to create a Total Activity rate. The New Zealand government have advised all suppliers of Total Activity Manuka to stop selling it.
Methylglyoxal based Manuka has been tested to the ISO 17025 Standard. It is an accurate test, which measures the unique Methylglyoxal compound only found in Manuka honey from New Zealand. Methylglyoxal rates should start around 300+mg/kg and increase to around 800+mg/kg.
Please refer to manukanews website for more information on this topic.
Family Foods Ltd only sells Methylglyoxal rated Manuka honey. We test our activity in the UK, in a independent laboratory using the ISO 17025 standard. All our honey is packed in BRC graded facilities. We use glass jars, rather than plastic, mainly because glass is easier to recycle and secondly because the Methylglyoxal compound is a stable compound. (Manuka based on the Peroxide activity levels in non-stable when exposed to heat and light).