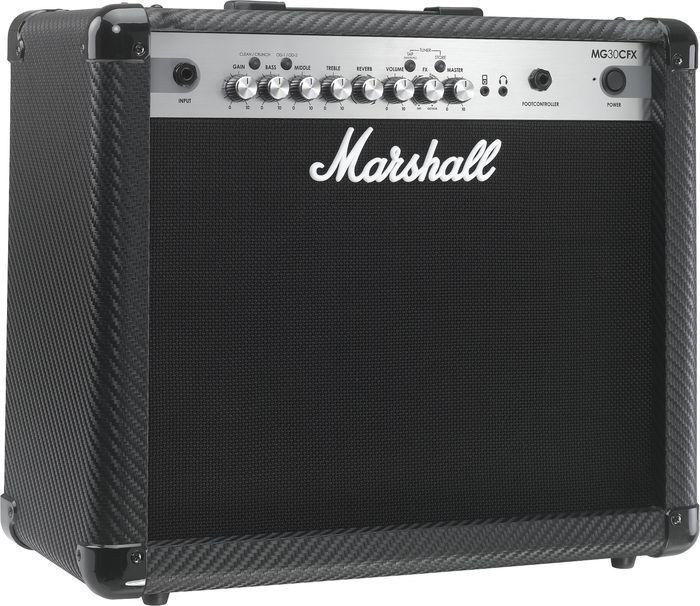 An electric guitar is only as good as the amp used with it. Amplifiers, as the name implies, amplify the strength of an electronic signal and increase its output power. Electric guitars need amplifiers to reproduce sound.
Marshall was one of the first companies to manufacture amplifiers specifically for rock music. Marshall is well known among serious guitarists as the premium brand in guitar amplification and has a rich history going back to the origins of rock music. In fact, Marshall's amplification technology has been instrumental in the spread of rock music in the last fifty years.
About Marshall Amplifiers
Marshall is one of the most popular amplifier brands in the world, patronised by some of the biggest names in popular music. Marshall amps have been a staple of rock music from the onset of the genre in the 1960s. In fact, the first popular Marshall amp, the Marshall JTM 45, has been hailed as a seminal amplifier that had a significant role to play in spreading the popularity of guitar based music across the world.
Marshall Amplifiers are known for their signature crunch sound. Classic Marshall Amps still use vacuum tubes which give a more organic, warmer sound, although the company also manufactures more affordable solid-state models.
It is nearly impossible to attend a rock music concert and not find Marshall's bold logo scrawled behind on the amplifiers. After over half a century of dominance, the Marshall brand continues to be respected among guitar enthusiasts.
Buying Marshall Amps
Over its long and storied history, Marshall has produced a wide variety of amps, from classic vacuum tube based amps to modern solid state amps. To the uninitiated, buying a Marshall amp can be an intimidating experience, especially with the number of options at their disposal.
Different Technologies Used in Marshall Amps
Marshall produces four types of amplifiers to meet market needs:
| | |
| --- | --- |
| Valve/Tube Amp | Valve or tube amps utilise vacuum tubes to amplify sound signals. These are the oldest type of amplifier on the market and are much desired for serious musicians for their superior sound quality and organic, warm tone. Much of Marshall's product line is powered by this technology. |
| Solid-State Amp | Solid state amplifiers ditch vacuum tubes in favour of transistors in the pre-amp and power sections. This results in cleaner sound at more affordable prices. Marshall's MG series utilises solid-state technology. |
| Digital Amp | Eschewing vacuum tubes and solid state transistors for software, digital amps recreate classic amp tones through software processing. Digital amps can be custom programmed and can recreate a wide variety of amp tones. Marshall's JMD series utilises this technology. |
| Hybrid Amp | Hybrid amps combine transistors, vacuum tubes and digital processors to create versatile amps that can fulfil multiple roles. Marshall's Valvestate amps use hybrid tech. |
Different Types of Marshall Amp Cabinets
Marshall manufactures combo amps as well as separate head and cabinets. Choosing between them is an important consideration when buying a Marshall amp:

Head


A head-only amp is essentially the amp itself, without any additional speaker cabinet. Think of this as the processor of the amplifier minus the actual sound reproducing cabinet. For serious musicians headlining major venues, investing in a powerful head amp is a must. Marshall manufactures head-only versions of most of its popular amps, including the legendary DSL and TSL series.
Caveat: A powerful head must be combined with an equally powerful cabinet to make the most of the amp.



Cabinet


Speaker cabinets are hooked up to head amps to project and reproduce sound. The number of cabinets can be increased as needed to meet the requirements of the venue. It is common for musicians headlining major venues to combine a single, powerful head amp with multiple cabinets to create a powerful 'stack'. Marshall has two cabinet lines, chiefly the MC and M412 series.



Combo


As the name implies, a combo combines both the head and the cabinet in a single unit. While this limits the power yielded by the amp since one cannot add extra cabinets, it does offer more convenience and lower prices. The head plus cabinet combo is perfect for practicing and for playing in smaller venues. Marshall offers a combo version of most of its popular amps.


Different Types of Marshall Amps by Instrument
While Marshall is today synonymous with electric guitar amplification, the company also makes amps for other instruments, including bass and acoustic guitars as well as keyboards and wind instruments.
| | |
| --- | --- |
| Electric Guitar Amp | As the name implies, these amps are used with electric guitars. Marshall's product line caters largely to electric guitar amplification. This includes the Vintage, DSL, TSL, Class5, Haze, Signature, MG, JMD series, etc. |
| Acoustic Guitar Amp | Marshall's AS range of amplifiers are meant to be used with acoustic guitars. These amps are created from the ground up for acoustic guitarists and include features such as a dedicated microphone channel, polymer dome tweeters and others. |
| Bass Guitar Amp | Bass guitarists require completely different amplifiers to faithfully reproduce the lower frequencies and tonal variations of the bass guitar. Marshall's VBA and DBA range of valve-powered amplifiers do exactly that by bringing the company's famed vacuum tube technology to bass guitar amplification. |
| Keyboard Amp | Marshall's LR range utilises AudioState technology and is designed to be used with a wide variety of instruments, including keyboards and wind instruments, when fitted with appropriate pick-ups. LR amps are highly versatile and find use in rock venues as well as school auditoriums and PA systems. |
Brief Overview of Marshall Range
As a premium manufacturer of amplification instruments, Marshall's range of products is vast and includes both vintage and modern amps. Marshall has periodically also teamed up with world famous guitarists such as Slash, Dave Mustaine, Joe Satriani, Paul Weller to name just a few. Here is a brief overview of the major amps in the Marshall catalogue of products.
Vintage Series
Marshall's Vintage series includes the company's most popular and ground-breaking amplifiers. This includes the ever popular JCM800 amp, the 1962 Bluesbreaker and the 1959 SLP. This Vintage line of amps features Marshall's legendary hand-built vacuum tube technology that gives these amps a distinctive warm, organic tone without compromising on volume or power.
JVM Series
Marshall's JVM series has been touted as the biggest innovation in amp technology in recent years. The JVM series of amps is based on classic Marshall vacuum tube technology, suitably updated for the 21st century. JVM amps are multi-mode, multi-channel and include a plethora of features to cater to the demands of contemporary rock music.
Handwired Series
The Handwired series is the ultimate in handcrafted, vintage technology. Each amp in the Handwired line is built by hand - a throwback to the first ever amps built by Marshall in the 1960s. The result is an extremely warm, organic sound that recreates Marshall's original tonal heritage. Of course, being handcrafted, this comes at a price.
Mode Four
Marshall's Mode Four amplifiers are essentially two amps in one, each with separate pre-amp circuitry. This results in a wide range of tonal variations capable of playing both classic, warm blues to heavy metal, making the Mode Four one of the most versatile amps on the market.
JCM2000 DSL
The original DSL was one of Marshall's best-selling amps ever. The company has now updated the product with a new range of JCM2000 DLS amps. The JCM DSL is the amp of choice for a number of guitarists, including Joey Jordison of Slipknot and Dave Baksh of Sum 41. The DSL is perfect for a wide variety of sounds, from classic Nashville country to warm, tone-rich blues.
JCM2000 TSL
An upgrade to the DSL, the JCM2000 TSL is bigger, louder and more versatile than its earlier iteration. The JCM2000 TSL range of amps is designed for professional musicians and features a wide range of innovations, including three footswitchable channels that essentially gives the guitarist three amps in one. Marshall sells both head units as well as combo TSL amps.
Signature Series
The Signature Series is the result of Marshall's work with a number of leading guitarists. Marshall works closely with the guitarists to reproduce their personal sound and tonal preferences in the guitar. This line includes the formidable 2203KK Kerry King (Slayer) amp, the SL5 amp built in collaboration with Slash, the YJM100 Yngwie Malmsteen amp, and the JVM410HJS Joe Satriani amp.
Besides these, Marshall also sells acoustic amps (AS series), bass amps (VBA and DBA series), as well as a number of other amps for electric guitarists, including the Haze, Class5, JMD1 series, etc.
Buying Marshall Amps on eBay
A wide variety of Marshall Amps can be found on eBay. To buy Marshall Amps on eBay, head to eBay's homepage and look under the Musical Instruments category. Alternatively, look up 'Marshall' in the search box. To narrow down the search results, look under specific categories, such as Marshall Pro Audio Equipment, Guitar Accessories, etc. The customer can also find specific Marshall models, such as the Marshall Haze amp,Marshall DSL amp, or Marshall Vintage amps.
Conclusion
Marshall is more than a mere brand; it is an institution respected by musicians all over the world. Marshall amplifiers are coveted by serious guitarists everywhere, and not without good reason. Marshall's rich, warm tone is the very essence of rock music and the brand is patronized by most of the leading guitarists in the world. The company also manufactures a wide variety of amplifiers to meet different needs, from small, affordable solid-state practice amps, to powerful valve-amps capable of headlining entire stadiums.