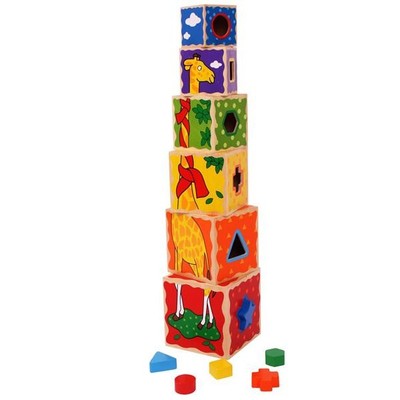 A Basic Guide
Toys have a significant role in a child's development, so it's important to provide the right toys for your child's age.
Very young children grow and learn quickly, developing skills and abilities as they play and learn about the world around them.


Infants

Young babies cannot proactively play with toys, but they can learn colours, noises and textures from them. Bright and colourful, simple toys are great for infants; choose toys which they can shake, hold on to or suck – such as rattles, squeezy dolls, teddies, and teething rings.

6-12 Month-Old Babies

This age group is much more active and inquisitive than young infants are, so simple toys which can be built, pushed, pulled, thrown or stacked are ideal for these children. Push Along Walkers or Wooden Stacking Blocks are perfect for this age group, as are balls, puppets and nesting toys.

1 Year-Olds

Children of this age are usually able to walk, and like trying out new things. 1-year-olds tend to enjoy, and benefit from, toys that they can be creative with, such as; Chunky crayons, cardboard boxes and finger paints. This age group are also able to play with toys which will help develop fine motor skills, such as wooden puzzles and toys with dials, lids and buttons.

Toddlers

By the time a child becomes a toddler, it is usually very physically active, interested in everything, and able to manipulate small objects with its hands and fingers. Toddlers generally enjoy playing with toys that challenge them – so this could be a basic jigsaw, for example, or something that needs 'putting together', such as a wooden train set or a simple construction kit. Children of this age also start enjoying toys they can play 'pretend' with – for example play food and kitchen utensils, realistic-looking dolls or play carpentry kits.

Older children

As children grow and develop more skills, their ability to concentrate increases, too. This means that older children can play with toys that require more advanced gross and fine motor skills, such as: riding a bike, aiming a ball at a goal or hoop, and knocking down skittles. They also start to understand interactive computerised games which can help them develop their linguistic and numerical skills.