Curtain Widths
A Step By Step Guide To Help You Calculate The Right Amount Of Fabric For Your Design

Measure the width of the track or pole
(inside finial to inside finial). When fitting a new track or pole, if possible this should be fitted 15cm above the window and 25cm each side of the window recess (this allows for the curtains to be stacked back away from the window). If you have a track that overlaps you need to measure both sides of the track and add them together. You must measure the pole or track and not the window recess.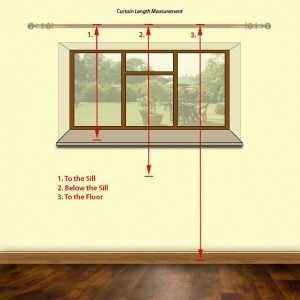 Curtain Lengths
You need to decide how long you want your curtains to be. They are usually hung:
Sill length- Measure 0.5cm above the sill or to your requirements.
Below sill- 15-20 cm below the sill or 2cm above a radiator
Floor length- Measure 1cm above the floor or just touching
Kicked- Measure 2/3cm on the floor
Puddled- Allow 15-30 cm on the floor. Take three measurements as floors or sills are not always level and take the shortest of the measurements.