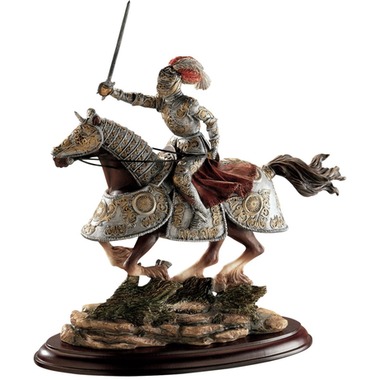 Toys and games are key to a child's daily routine and development. It is arguable that no era in history has had more impact on the toy market than the middle ages. Even though castles and models from that era are popular it is best not to forget the other toys that have influenced the products we see today.
Knucklebones – Currently known as Jacks. Played with five small objects known as bones. They're thrown into the air and the winner is the first player to successfully complete a series of throws.
Chess – A two-player strategy game that is played out on a 64 square-checkered board. It is the world's most popular board game having spawned professional competitions and a thriving online community.
Playing Cards – The most used game implement ever. Originating in a basic form in medieval times, however it is not known what games they were used for specifically.
The Historical Influence of Medieval Toys
For centuries people have believed that medieval toys died out and were not particularly fun to play. This could not be further from the truth as their influence on the toy market is still evident today. However, amidst all the influential products, the most recognisable under the medieval tag are.
Castles
Soldiers
Dolls
Figurines
Landscapes
Transport
Since the influence of medieval time is so far stretching, toy companies have tried to visually recreate the era. This includes environmental elements and historical architecture. Toy manufacturers have not missed a trick when it comes to acknowledging and being influenced by toys of the past. eBay has products for sale from the world's greatest toy companies, many of which have medieval themed ranges.
Medieval Castles
It is not just medieval toys themselves that have had a degree of influence. Medieval surroundings and architecture are famous for their appearance, which is why castles are so popular amongst children. The types of castle available include:
Castles can be both fun and educational. They help children not only embrace medieval life but also teach them about the surroundings they live in today. Most castles require building prior to use (especially kit forms) but that is just part of the fun. They allow children to recreate historical scenarios and prove just how fun medieval toys can be.
Medieval Military
Castles provide a great base to a toy environment but in order to create a scenario medieval military is required. Even though companies use creative licensing which alters historical accuracy, figures of knights and soldiers can be both realistic and relevant. Some knights and soldiers come in kit form and require basic construction. However once a kit has been fully constructed they are primed for painting and allow the user to be as creative as their imagination will allow.
eBay has all the variations of medieval military toys available for purchase. It is worth exploring the options that sellers offer in order to make sure you find exactly what it is you are after.
Medieval Transportation
During the medieval era transportation was in its formative stages, however this has not stopped toys being produced of what was available then. In many instances these toys are produced in model form and their attention to detail is undeniable.
Rough Cart – Used by craftsmen and tradesmen in order to move goods from village to village.
Palfrey – Clergymen and upper class merchants would use a palfrey due its reliability.
Wagon – Used for moving heavy goods and luggage.
Boat – Intended for international travel. Musicians and the upper class were the only people using this type of transport commercially at the time.
The above examples (boats excluded) would be pulled by either mules or horses. Toy companies produce them in order to allow children to create their own medieval scenarios. Even though they are considered peripheral, eBay has sellers who stock such merchandise and offer them at affordable prices.
Mythical Elements
Many toy companies have taken creative liberties by implementing fictional characters into their medieval toy ranges. They are intended to add even further appeal to the product for children of a younger age.
They may be fictional but they are a colourful addition to a child's set of toys. Buyers will find the above and more by using eBay's specialist toys and games section.
Types of Consumer
Medieval inspired toys are a large market with a loyal customer base. As with any toy market there are a variety of people who carry a different approach to both shopping and use. When it comes to medieval toys there are three types of common consumer.
Recreational Users – Those who are buying toys for play purposes. In many instances this will be a parent buying for children or children buying for themselves.
Collectors – Investing in toys is a different shopping experience. Older toys from popular companies can become valuable if they are hard to find. Collecting toys can be profitable if approached correctly.
Historical Recreationalists – Those who buy toys in order to recreate battle scenes and scenarios from history.
Obviously the type of buyer you are plays a large part in how you go about purchasing toys. For example, recreational users will be looking to buy individual units but historical recreationalists will be looking to buy smaller units in bulk.
Medieval Toy Brands
In every toy field there are a variety of brands competing for a customer's business.
It pays dividends to know a brands specialty before committing to a purchase, as it will help gauge the quality of product they deliver.
Visit a local hobby shop to get a hands on feel for the product before getting the best price from one of eBay's trusted sellers.
It is important to try a range of different products in order to see what suits a buyer's needs best.
Recreational users will not get the same experience in setting up a war scenario as historical recreationalists will and vise versa.
Some of the popular brands in the field include:
ELC Jousting
Playmobil
Lego
Wargames
Perry Miniatures
Every brand offers something different in terms of build quality and price. For those looking to invest in medieval toys, brands such as Playmobil and Lego offer the best resale value. Not every range carries an expensive price tag, as more affordable options are available. Those on a budget will find interest in ELC Jousting and Wargames offerings.
Used or New Medieval Toys
All shoppers face the question of whether to buy used or new. Each offer different advantages but you have to take each auction as it comes in most cases.
The biggest advantage of buying new is that the product comes direct from the manufacturer in original factory condition.
When it comes to kit models they will come ready for painting and in their initial-boxed state.
Buying used requires a keen eye in order to spot if the product has suffered either permanent damage or general wear.
Models can often come pre-assembled or with parts missing so be sure to question the seller on its contents prior to purchase.
In some instances when buying used medieval toys from eBay it is worth asking about how the item has been stored. Storing items in rooms in which the temperature fluctuates can have an effect on the toy that may not be immediately noticeable to the naked eye. Lofts and basements are known for this so it is best to be cautious when purchasing items that have been stored in those environments.
How to Buy Medieval Toys on eBay
Medieval toys are timeless and offer a tremendous investment opportunity to buyers. There is a wide range of toys (including all the aforementioned) available to purchase on eBay. To start searching for the perfect medieval toy use the sites navigational tools that are located on the left side of the home page. Click toys and games and then head into the pre-school and young children section. From there all the live auctions can be viewed.
Buying medieval toys is a simple process, when on a listing submit a bid, make a best offer or complete an immediate purchase via buy it now. Completing the checkout via PayPal will allow shoppers to take advantage of the buyer protection program. This will give buyers an extra level of security should a problem arise with an order.
Conclusion
Medieval toys are both fun and educational whilst providing young children with an outlet for their creativity. Learning about one of the most defining eras in world history comes in time. But using toys inspired by the time period is a great way to create a foundation for such knowledge. Even adults can gain from owning medieval toys due to some manufacturers offering collectable models that will (given time) rise in value. Buying medieval toys is not unlike purchasing other types of toys in the sense that buyers will have to do their research. This guide has been created to give shoppers all the information they need in order to buy affordable medieval toys from eBay.