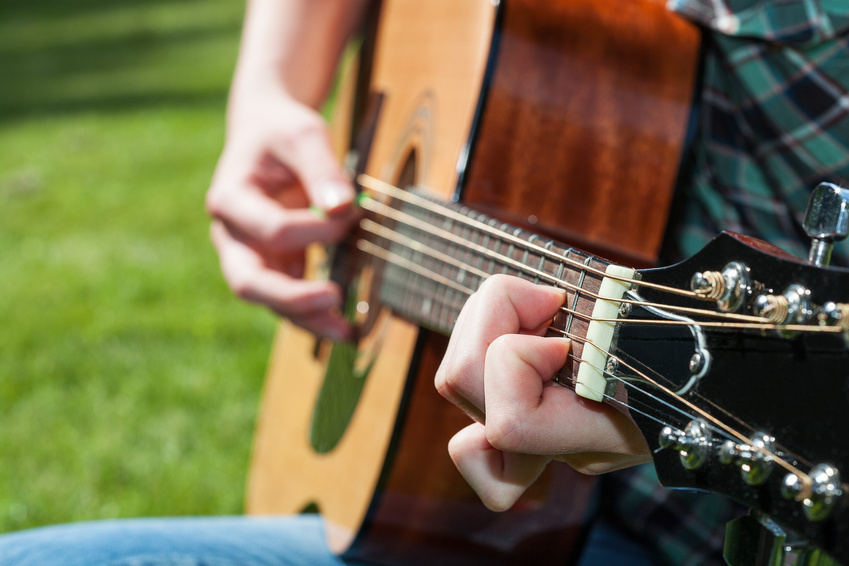 Acoustic guitar string gauge measures the tension of the strings. At between 0.13 and 0.56, medium gauge guitar strings produce more tone and volume than the tone and volume produced by light, extra light, and custom light gauge acoustic guitar strings. Before purchasing medium gauge strings, guitarists should consider several buying factors.
Medium Gauge Guitar Strings Overview

Most professional guitarists agree that only advanced players should play medium gauge acoustic guitar strings. Acoustic guitar manufacturers construct dreadnought and grand auditorium style acoustic guitars. Medium gauge strings work best on dreadnought style acoustic guitars. Dreadnought acoustic guitars possess thicker necks and wider bodies than the bodies and necks constructed for grand auditorium style acoustic guitars. The thicker necks and wider bodies make the dreadnought guitar more suitable to handle higher tension strings. Medium gauge strings produce a bolder, deeper sound that resonates in larger venues. Acoustic guitar players who integrate bass lines into their songs tend to benefit from the higher tension acoustic guitar strings.
Guitar String Materials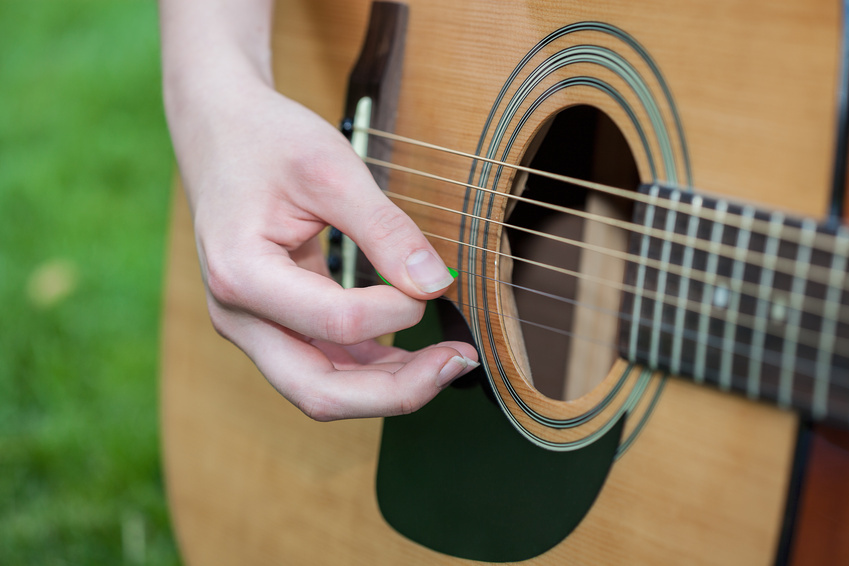 Acoustic guitar players must consider the type of materials utilised to manufacture medium gauge acoustic guitar strings. The options include 80/20 bronze, phosphor bronze, and coated strings.
Material

Description

80/20 Bronze

Produces soft, warm tone

Tendency to fade

Recommended for players transitioning from light to medium gauge strings

Phosphor Bronze

Adds a sharper edge to the tone

Long lasting sound

More durable than 80/20 bronze strings

Coated

Prevents corrosion

Ensures retention of original tone

Smooth to the touch
Acoustic guitar manufacturers experiment with combining string materials and coatings to create disparate sounding guitars. Guitar players can customise their guitars by requesting blended materials that include a thin coat on the medium gauge strings.
Acoustic Guitar Playing Style
Finger picking acoustic guitar players typically perform better using light gauge strings. More advanced acoustic guitar players who incorporate strumming into their music sets should consider medium gauge strings. However, medium gauge strings produce more stress on the fingers and hands. Some accomplished players master Fender or Martin medium gauge strings, but they choose lighter gauge strings due to the repetitive motion injuries they experience playing medium gauge strings. Some players play with light-medium strings, which include three bottom light gauge strings and three top medium gauge strings.
Acoustic Nylon Guitar Strings
Medium gauge acoustic nylon strings combine various levels of rectified nylon and carbon fibre. The bass strings possess a nylon core wrapped with silver plate wire that produces a softer sound that guitarists use for Spanish, flamenco, and classical music arrangements. An acoustic guitar that includes nylon medium gauge strings allow guitarists to alter tensions, from low tension for mainstream music to extra high tension that creates a fuller sound. Beginners should stick with low tension medium gauge guitar strings, until they improve their strumming skills.