What does MicroSDHC mean?
-
M
icro
S
ecure
D
igital
H
igh
C
apacity - most commonly used in modern (post 2007) mobile phones, and some newer SATNAV models, mainly TomTom.
What does SDHC mean?
-
S
ecure
D
igital
H
igh
C
apacity - most commonly used in all the modern digital cameras, and some newer SATNAV models, mainly TomTom.
Mobile Phone Memory:
MicroSD
:
Manufactured in 256MB 512MB 1GB 2GB
Originally manufactured and produced under the T-Flash or Transflash memory card name, the card was then formed and manufactured under the name MicroSD (Micro Secure Digital). This generation of memory cards are used by many mobile phone manufacturers which is what this format of memory card was developed for - mobile phones. Produced in capacity of up to 2GB, this format of card is used in pretty much every mobile phone that accepts and external memory card. Nokia and Samsung amongst the most common.
These have now moved on to be re-named MICROSDHC
MicroSDHC
:
Manufactured in 4GB 8GB 16GB 32GB
MicroSDHC is now the next generation after the pretty standard and low capacity microSD cards, or so you would think so. 2GB offers plenty of space for your pictures, at least you would think so, but the newer modern mobile phones are now being offered with better quality cameras, enabling better quality pictures to be taken meaning you now need more space hence the larger card capacities on offer. Customers are also utilising their mobile phones and using them for other things other than just making phone calls, e.g listening to their MP3 tracks on their phones, albums after albums, meaning more space required on a memory card to store such music. Hence the reason for the development of the
MicroSDHC
memory card.
Although you would think that the older type phones that use the MicroSD format would accept the newer MicroSDHC type of cards, they DONT! Your device needs to be SDHC compatible in order to accept the newer format.
Tip look for the SDHC logo on your product, which will confirm if it is SDHC or MicroSDHC compatible;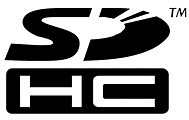 M2 Micro Memory Stick
:
Manufactured in 1GB 2GB 4GB 8GB 16GB
Basically Sony Ericssons answer to the MicroSD and MicroSDHC cards. Sandisk also provide their own equivalent to the Sony brand. Available in 1GB capacity through to 16GB capacity. Again for the 4GB and above memory cards your product needs to be able to accept the larger capacity cards. 1GB and 2GB will work with any Sony Ericsson mobile phone that accepts the M2 Micro memory card.
MMC
SD