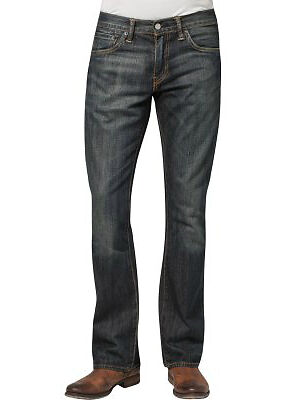 In the 1980s bootcut jeans became popular in Europe, America, and a few other countries; however, these alleged bootcut jeans were more similar to what is now known as bell-bottoms due to their wide flare at the legs. The pants flared off at the legs to accommodate covering boots. Over the years, bootcut jeans have transformed and evolved, and now many fashion moguls have taken to manufacturing and retailing bootcut jeans for men and women that feature only a slight flare towards the front. Bootcut jeans are a stylish alternative to baggy pants or extremely tight jeans, which have also been a recent trend.
Aside from being concerned about how their pants fit, most men also have a preferred jean style. This will include but is not limited to the denim style as well as the specific design and colour of the pants. The good news is, men's bootcut jeans are also available in a variety of denim style, colour and designs. These may include various denim washes as well as specifically created abrasions and treatments to create a faded look. Some designs may even include directional cuts, which provide a contemporary style for the fashion-forward male. This guide highlights the three fundamentals that men should consider when purchasing bootcut jeans.This includes finding the right style, fit, and colour to suit their individual characteristics.
Finding the Right Style
Every man has a favourite pair of jeans tucked away in a closet or drawer, and there must be a reason for that particular preference. It may be attributed to how the jeans fit his body, the colour, the style, or maybe it is just the number of compliments he receives when wearing it. The fact is that if he is comfortable wearing that particular jeans very often, there must be something about it that compliments his style. Some men prefer to have a solid-colour classic blue or black jeans that they can break in to create personalized washed-out look. Others prefer to buy jeans with a pre-washed look in order to immediately achieve that stylish effect.
Some jeans are also created with predefined creases at the knees, just above the hem and/or at the front pockets. This is done to simulate the worn look without actually having the colour washed out of the jeans. This is a stylish contradiction that has become a contemporary fashion statement in men's bootcut jeans as well as other styles.
Men's Bootcut Jeans Pocket Styles and Designs
Bootcut jeans pants do not generally have too many pockets, but due to the constant style evolution, different styles are constantly emerging. However, for bootcut jeans, the classic 4-pocket jeans (two in the front and two in the back) is more stylish than other pocket styles. Pockets should be close stitched to avoid bags and bulkiness when the pants are being worn. There are also styles that have pockets of a different colour than that of the pants; this may be a stylish modern look but should not be worn in all sizes and by all age groups. It should generally be left to the younger generation with a slim or petite built.
Rivets, Stitching, and Embellishments
Even the plainest blue jeans can be spruced up with coloured stitching and embellishments. However, these additions should be kept to a minimum as they can completely spoil the look of the jeans or make them look feminine. Most men ' s bootcut jeans have limited embellishments if any, and coloured stitching is generally limited to brown, beige, dark orange, or other similar colours. However, there are bootcut jeans with a wider range of coloured stitching, but finding them may require a more extensive search than the norm. The younger generation tends to prefer these types of jeans as opposed to the classic styles and designs that are more fitting for their predecessors.
Some stores stock bootcut jeans that they claim are suitable for both men and women. The buyer should exercise caution when purchasing these jeans and pay special attention to the amount and type of embellishments that have been added. Men should avoid pocket embellishments that resemble any form of flowers or pocket stitching with too many curves because they may add a more feminine flare to the jeans.
Finding the Right Fit
When purchasing bootcut jeans, finding any body type, it is always essential to locate the right pants size. The buyer should never assume that a size 32 pants in another jeans style will be the same for bootcut jeans. Always consult a size chart, preferably one provided by the prospective retailer. To determine an appropriate pants size, compare recent body measurements to the store-provided size chart. Below is a general men's bootcut jeans size chart that may be used in the event that a store does not provide its own size chart.
Men's Bootcut Size Chart
The buyer may find that his waist size corresponds with a size 71 bootcut jeans, but his hip and thigh width sizes corresponds with a size 76. It is always recommended to select the pants size that corresponds with the wider areas (hips and thighs) to achieve a comfortable fit. While the waist may be adjusted by a belt, adjusting the other areas may not be as easy.
The size chart below provides an estimated measuring guide for various pants sizes which could be useful for both online and instore shopping. Measurements are in cm. Sizes below are estimated and may vary by brand and manufacturer.
| Size | Waist | Hip | Thigh Width | Leg Opening | Inseam | Pants Length |
| --- | --- | --- | --- | --- | --- | --- |
| 71 | 39.5 | 49.5 | 28 | 23 | 84 | 114 |
| 76 | 42 | 52 | 29 | 23 | 84 | 114 |
| 81 | 44.5 | 53.5 | 30.5 | 24 | 84 | 114 |
| 86 | 47 | 54.5 | 32 | 24 | 84 | 114 |
| 91 | 49.5 | 56 | 33 | 25 | 84 | 114 |
There will rarely be an occasion when all body measurements align perfectly with a particular size. Therefore, the buyer should consult the retailer for recommendations and possible adjustments if necessary.
Finding the Right Colour
The most common jeans colours are blue and black, but in recent years, coloured jeans are becoming more popular in both online and local stores. The colour that consumers choose often reflect their sense of style, but they should also consider purpose of the jeans.
Men's Bootcut Jeans for Going Out
If a man is searching for bootcut jeans to go out in (parties, clubs, etc.), he can consider any colour as long it is appropriate for the event. The fact is, people do not wear their party clothes often, which means they do not wash them often. Therefore, party clothes will retain their "new" look for longer periods of time.
Men's Bootcut Jeans for Work
It is safe to say that work jeans are washed most often and will therefore fade a lot faster. Some men like the fact that their jeans will fade, but others would prefer to retain its colour for the longest possible time. Additionally, certain colours do not look appealing when faded; instead, they look ragged and will soon need to be discarded. Furthermore, if a man purchases jeans to wear in an office for Friday dress-down, he may not want faded jeans at all. For those who welcome a natural faded look, blue jeans are best for natural fading; they have a classic look when faded as opposed to the worn-out appearance other colour- faded jeans may have. Black jeans may also be considered; however blue jeans still result in the best natural, faded look.
Finding Men's Bootcut Jeans on eBay
You can find a large collection of men's bootcut jeans on eBay. You will be able to find different brands, sizes, and colours to match your personal taste and style. Simply perform a search for Men's bootcut jeans from the eBay homepage. If you prefer a particular brand, you may also include it it in your search, e.g., "Levi ' s men&'s bootcut jeans&". Aside from narrowing down your search to a specific brand, you can also select your pants size and length. It is recommended that you also select sizes above and below your usual choice for a wider and more accurate selection.
If you have a either specific colour or treatment in mind, it can be added as a filter as well. Once you find a pair of jeans you like, you can contact the seller to get more details on their sizes, shipping details, and return policies before actually making a purchase. If you plan to purchase items from different sellers, make sure you consult the size chart for each seller. While they may very well be the same, it is better to make an informed decision.
Conclusion
Buying the wrong pair of jeans can be a huge waste of money. Sometimes, men purchase a pair of jeans that is the right style but do not fit properly due to sizing issues, or a pair of jeans that is the perfect size, but the style and design do not compliment his body. Men can avoid the aforementioned issues by considering where he plans to wear the jeans and select the right style to suit the occasion. He should also select the right size using recent measurements and an updated seller size chart.
Once the basics have been covered, the buyer can now focus on designs and colours. He should peruse various styles of stitching, embellishments, and rivets to find suitable masculine options. Blue and black jeans are always good choices for any occasion, but younger men can choose to explore other colour options for a more contemporary style. When purchasing jeans, it is essential to have a large selection to choose from, and that can be found on eBay..