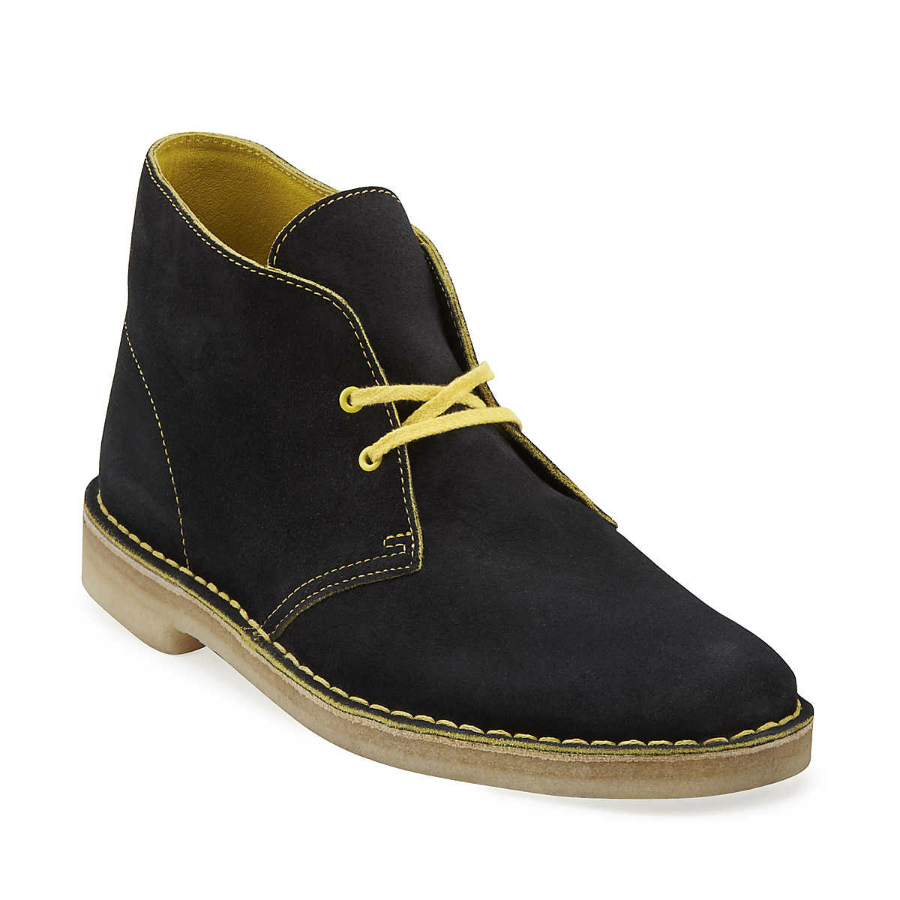 Desert boots are ankle high, relatively lightweight boots, traditionally made of suede with a soft crepe sole. They were worn by Montgomery's 8th Army when it fought Rommel's Afrika Korp in the North African desert during World War II, which is how they obtained their name.
Although desert boots have remained in fashion pretty much ever since, in recent years they have become extremely popular. This has led to an explosion of different types coming onto the market, some of which stick to the traditional materials, styles, and colours, while others do not.
For the man who is considering buying a pair of desert boots, it is sensible to learn a little about the types of deserts boots available, as well as about the different materials from which they are made, and the best places to buy them, before making a purchase. Due to the popularity of desert boots, they can normally be found in high street retailers. However the multiple chains tend to stock only their own, in-house brand, which can limit the choice available. To avoid this problem, desert boots can be bought online at sites such as eBay, which offers a wide variety of desert boots, from many different brands.
Desert Boot Essentials
The essence of a desert boot is its lightweight, simple uncluttered design, and soft crepe soles. These soles were ideal for fighting in desert conditions. They provided sufficient grip and traction to remain steady in dry sand, without the weight of normal boots that would tend to sink in and make walking on the dunes difficult. Desert boots did not need a chunky tread, as rain in the North African desert was rare and if it fell at all it was quickly absorbed by the sand.
Design Features of the Desert Boot
The style of the desert boot has always been unashamedly simple, almost plain. Boots made in wartime were intended to be practical and easy to manufacture. That philosophy has stuck, and although there have been some innovations, desert boots remain typified by clean, uncomplicated lines. They always come with laces, normally with just two or at the most three eyes on either side of the tongue. The uppers are put together from plain, unpatterned panels of leather, with the seams largely unadorned. Often a single piece of leather wraps all the way around from one side of the foot to the other, forming a simple, almost utilitarian cover and support for the wearer's heel. There is little or no padding, but due to the softness of the suede it is not required in order to give a comfortable fit.
Contemporary Design
These days the design of many desert boots tends to be rather elongated, with an almost pointed toe. This gives them a long, slender, almost elfin look, which is fashionable rather than necessarily being practical. Other desert boots have a more traditional, slightly squared-off toe, and more natural shape. These may be a touch less trendy, but are perhaps more comfortable for those who have broad feet.
The Sole of the Desert Boot
Imagine walking on dunes of soft, powdery sand and it becomes easy to understand why the desert boot has its characteristic sole. The sole is thin, flat, largely without tread, almost smooth. It is made from natural rubber crepe, for durability and lightness. The heel is low and unobtrusive, with the combination of sole and heel letting the wearer easily sense soft or unstable ground. Desert boots may not suit fell walkers and ramblers over muddy terrain. But as fashion items on the well paved streets of Chelsea they are superb.
Desert Boot Colours
The traditional colours for desert boots were naturally tan, buff, beige, and similar light shades of brown. Over time this has expanded to include chocolate brown and a range of non-traditional greys, blues, and all the other fashionable shades, such as reds and even greens. Other modern innovations include coloured laces, often contrasting with the rest of the boot. These are a matter of individual taste, and there are so many desert boots available they may easily be adopted or avoided as the wearer chooses.
Desert Boot Materials
Just as the sole of the desert boot was not designed for waterlogged ground, so the uppers are not intended for dealing with heavy weather. Nevertheless, modern desert boots can be found in a range of different materials.
Suede
The uppers of desert boots are traditionally made of suede, and this is still the overwhelming preference for modern desert boots. Suede is the soft, underside of the skin of an animal. Since it does not include the tough top layer of skin it is not as hardwearing as ordinary leather. Nor is it especially good at repelling water. Some desert boots today are treated with a water repellent spray finish. This also helps to keep dirt off the suede, and where available is a good option as it can enhance the life and long term appearance of the boots.
Leather
Leather is probably the next most popular material for desert boot uppers. Leather tends to be a little heavier than suede, but also more durable. It is better at repelling water, although it is by no means waterproof. Desert boots are not intended for wet weather, so this ought not to matter. In order to work well and be comfortable, the simple, unpadded design of desert boots does rather require a soft grade of leather. This can make the boots pricey. Although, since suede is also pricey that may not be a disadvantage.
Woven Textiles
Textiles are lightweight, making them very suitable for desert boots. As with the materials above, woven textiles are not especially durable and are not generally waterproof, but these are not the strengths of desert boots in any case. Textiles are generally cheaper than either leather or suede. Textiles may be either natural fibres, such a cotton, linen, jute, or synthetic. Natural fibres breath better, but synthetics will be more durable.
A Word on Sizes
When converting between UK and European sizes, there is sometimes a temptation to guess. This table should help ensure that sizing is not an issue. If in doubt, it may be wise to trade up half a size.
| | | | | | | | | | | | |
| --- | --- | --- | --- | --- | --- | --- | --- | --- | --- | --- | --- |
| UK Size | 7 | 7.5 | 8 | 8.5 | 9 | 9.5 | 10 | 10.5 | 11 | 11.5 | 12 |
| European | 40.5 | 41 | 42 | 42.5 | 43 | 43.5 | 44.5 | 45 | 46 | 46.5 | 47 |
Due to the pressure on manufacturers to keep their desert boots looking fashionable and slim, to meet the contemporary demand for that elongated look, it is particularly important for prospective purchasers with wide feet to ensure that they buy the right size.
Finding Desert Boots on eBay
If you are thinking of buying a pair of desert boots first decide what they will be worn with. These are not boots for wearing with a suit, any more than for wearing on a long hike. They are ideal for pairing with smart casual trousers or semi-formal wear.
Sites such as eBay carry a vast selection of desert boots from the major brand names, and in a varied selection of colours. To search for desert boots on eBay is simple. Just enter a short phrase such as 'men's desert boots' into the search bar that can be found on each page. This will bring up a list of results, which you can then narrow down by selecting the colour, size, type of upper or other choices that appeal. This makes it easy to find the ideal pair of desert boots on eBay. In choosing a seller, consider going into the seller's profile and noting their feedback score. Those sellers with the highest feedback scores are referred to as 'top-sellers'. You do have the option of sorting the results to only show those listing posted by top-sellers. If the seller does not specify the size of the desert boots, you can contact the seller and request this information by going into their profile and clicking on the contact link.
Conclusion
Desert boots are popular for their simple, relaxed style. Their background as lightweight fighting boots for arid terrain has inadvertently equipped them to suit well paved city streets, and their simple construction has given them clean lines, making them fashionable and comfortable to wear.
The original tans, browns, and beiges of the desert boot are still extremely popular choices, but they have been joined now by fashionable reds, greens, blues, and greys. Desert boots have retained their laces, and for the most part their flat crepe soles, but their style has evolved to become more slimline and elongated to suit contemporary tastes. That said, the range of desert boots is very wide, and the prospective purchaser who knows where to look will find himself spoilt for choice.
The high street is not always the ideal place to buy desert boots, as a far wider selection can be obtained from online sites such as eBay which stocks a very broad selection of desert boots in suede, leather and textiles, making it a good place to find the perfect pair.